League News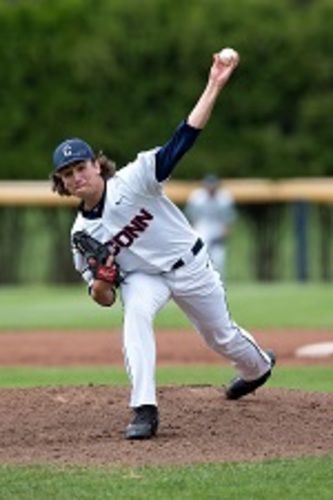 06/01/2017 9:00 AM
Article By: CCBL Public Relations Office
Story courtesy of Wareham Gatemen
Before he even started his first semester at the University of Connecticut, Mason Feole was an accomplished young pitcher.

In 2016, the lefty was named Rhode Island Gatorade Player of the Year, Providence Journal All-State Player of the Year, First Team Louisville Slugger All-American, and USA Today First Team All-USA. His time with The Prout School in Wakefield, Rhode Island was certainly great, so Feole didn't want to venture too far from home.

"It gives my family an opportunity to come see me play and compete. They're my biggest fans and my best friends, they're always rooting for me," Feole said. "The opportunity to be able to play so close to home and to have 10 to 20 people that you know -- and know love you a lot -- come see games and be a part of that is definitely a big thing for me."

Feole is just a freshman, but you wouldn't be able to tell. His seven wins in the regular season lead all Huskies pitchers, including two victories against nationally ranked teams.

This summer, Feole is heading to the Gatemen for his first year in the Cape Cod Baseball League, but it isn't his first experience playing collegiate summer baseball. He made five starts last summer for the Worcester Bravehearts of the Futures Collegiate Baseball League the summer after his senior year of high school. The Gatemen have four preseason exhibition games against FCBL teams between June 5th and June 9th.

"That's going to be a blast. It's going to bring back a lot of memories of playing in the Futures League," Feole said. "It was a lot of fun being out there. And being able to play against teams you've already played against, it's going to be really cool."

But as a New England native and a lifelong fan, Feole's is achieving one of his biggest baseball goals this summer with the Gatemen. He's also following in the footsteps of one of his favorite Major League Baseball players, Nick Swisher.

"I'm just looking forward to the opportunity to play in one of the most prestigious collegiate leagues. It's been a dream of mine to play on the Cape," Feole said. "I've heard amazing things about the history of it, especially playing for the Gatemen."

You can listen to Mason Feole's full interview with Gatemen broadcaster Connor Federico, as they talk about Mason's New England roots, his great freshman season with UConn, and his personal keys to success by clicking here.