League News
01/19/2001 2:01 PM
Article By:
Hall of Fame Ceremony
19 January 2002
Cape League Hall of Fame Inducts Second Class

CHATHAM - If Anaheim Angels' all-star outfielder Darin Erstad's words of gratitude were any indication of the success of the Cape Cod Baseball Hall of Fame, then it may be said the Hall of Fame has achieved in the span of two years vast popularity and credibility as a standing institution that has become as much a part of the Cape Cod landscape as the 117-year-old Cape Cod Baseball League itself.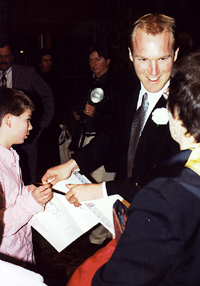 Anaheim Angels' all-star Darin Erstad signs autographs after being inducted in the Cape Cod Baseball League Hall of Fame Saturday, Jan. 19, at the Chatham Bars Inn. See Stories and photos.
Sean Walsh/CCBL 2002

Humble and gracious for his two-year Cape League experience, the former Falmouth Commodore and 1994 Cape League MVP espoused the rigors of the nation's top collegiate summer baseball league as one, which propelled him to the forefront of Major League prospects following the summer of 1994. On the heels of batting .302 for Falmouth in 1993, Erstad followed his first season in the Cape League with an MVP year, batting .340 and becoming the Anaheim Angels' first pick in the first round of the 1995 Major League Baseball First-Year Player Draft.

Erstad, who said he collected his first-ever paycheck as an employee at the since defunct Bradlees' Department Store in Falmouth in the summer of 1993, noted that the Cape League not only helped him sharpen his skills and realize his full baseball potential, but that it offered him his first valuable experience away from home, alone from his family and friends and on his own. He said that Falmouth Commodores general manager Chuck Sturtevant took a chance on recruiting the University of Nebraska outfielder and that it was a chance he did not take lightly.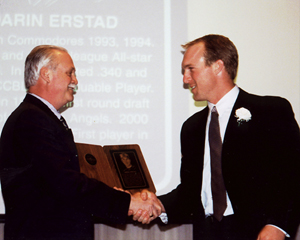 Falmouth Commodores General Manager Chuck Sturtevant congratulates 1994 Cape League MVP Darin Erstad on his induction into the Cape Cod Baseball League Hall of Fame.
Sean Walsh/CCBL 2002

"If I hadn't been given that opportunity," Erstad said, "who knows where I'd be."

And in spite of being a Gold Glove American League all-star, Erstad said that his induction into the Cape Cod Baseball League Hall of Fame was the crowning accomplishment, thus far, in his still formative baseball career.

"By far and away this is the biggest individual accomplishment of my life," Erstad said. "This means the most to me… this is the best."

A day marked by deep emotion, humorous anecdotes and tales of glory in the old days of the Cape League, Erstad's poignant commentary on the import of Cape League baseball was preceded by six other inductions. Joining Erstad in the Class of 2001 was the late Cal Burlingame, the late Tony Plansky, New York Yankees third baseman Robin Ventura, former CCBL Commissioner and Harwich Mariners Manager Fred Ebbett, Kansas City Royals' Chuck Knoblauch and Terry Steinbach. Only Erstad and Ebbett could attend the ceremonies.

Nevertheless, the families of the late Plansky and Burlingame both attended and marked the moment and memory of the new inductees with intense pride. Cape League vice president and Hall of Fame committee member Jim Higgins filled in for Wareham Gatemen President and General Manager John Wylde - who had fallen suddenly ill prior to the ceremony - to induct former Wareham Gatemen all-star Chuck Knoblauch (Texas A&M). Longtime Cape League umpire Curley Clements was also on hand to share a few words about the Gold Glove American League all-star infielder. Knoblauch, who was a Cape League all-star in 1987 and who roomed with Mo Vaughn that summer, was crowned the 1987 Cape League Batting Champion with a .361 average. He was also named the top Prop Prospect that year before being drafted in the first round (25th pick overall) along with Vaughn (23rd pick overall) of the 1988 Major League Baseball First-Year Player Draft. He finished that summer in Wareham tied with Vaughn for the league lead in doubles with 17. Knoblauch has been a member of four World Series champions (Minnesota and New York).

"He (Knoblauch) had an air about him… a certain quality … you just know they're going to the Major Leagues," Higgins said.

Tony Plansky's wife Betty, now 90, and his two sons Carlton and Tony Plansky Jr., along with the extended Plansky clan, were all on hand to accept their patriarch's induction plaque. Bourne Braves General Manager Randy Vacchi was also on hand to share that there are still people who lived in Bourne at the time Tony Plansky played in the Cape League (1929 and 1933-1939) and who all said his influence on them was far-reaching.

"The measure of man is not how tall he stands but how often he bends to help others," Vacchi said.

Plansky, whose name graces the track at Williams College, was track coach at Williams for 31 years following an All-Pro football career with the New York Giants and eight years in the Cape League. A native of South Boston, Plansky is buried in a tomb near the base of the track named for him at Williams. His wife Betty said that it is widely known the track team meditates at the burial place of the former coach prior to each meet. The Cape Cod Baseball League Hall of Famer's influence on those around him, even in his absence it seems, remains steadfast and strong.

Former Cotuit Kettleer manager and current head coach at Wake Forest University George Greer was on hand to induct former Kettleer and Major League all-star catcher Terry Steinbach into the Hall of Fame. Steinbach batted .431 for Cotuit in 1982 and drove in 54 runs (a league record). He could not be in attendance for the induction ceremonies due to prior family commitments. Greer, who recruited Steinbach to play for Cotuit, noted that the slugger was drafted by the Cleveland Indians out of high school and that upon arriving at Lowell Park for an away game a day after the season had already begun in 1982, Steinbach proceeded to step into the batter's box at Falmouth's Fuller Field and rip a "line drive that went through the pitcher's legs and landed about three feet in front of the centerfielder…. He was just a hitting machine."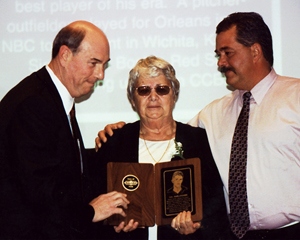 Cape League Commissioner Bob Stead
congratulates the Burlingame Family on the induction of former Boston Red Sox pitcher and Cape Leaguer
Cal Burlingame into the Hall of Fame.
Sean Walsh/CCBL 2002

Bob Stead, who knew inductee Cal Burlingame when Burlingame was an umpire and Stead a 23-year-old baseball coach at Dennis-Yarmouth High School, said Burlingame was a "ballplayer's ballplayer… a man of integrity, man of honesty."

Former State Senator Jack Aylmer, who played with Burlingame at both Barnstable High School and in the Cape League, also spoke of Burlingame as perhaps the greatest all-around player of his time (late 1940s, early 1950s).

Also inducted were former Cape Cod Baseball League Commissioner and Harwich Mariners Manager Fred Ebbett, a Quincy native. Ebbett, who was introduced by his daughter Mariah Ebbett and Chatham A's Manager John Schiffner, began his lengthy baseball career in 1959 when he first began teaching and coaching at Harwich High School. He coached for 22 seasons at Harwich winning championships in 15 of his 22 years, before matriculating as manager of the Harwich Mariners. Schiffner got his first taste of the Cape League playing for Ebbett.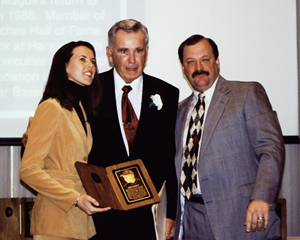 Mariah Ebbett (left) and longtime Chatham A's Manager
John Schiffner congratulate Cape League Hall of Fame Inductee Fred Ebbett.
Sean Walsh/CCBL 2002

Schiffner said Ebbett helped his players realize their potential not merely as ballplayers, but more importantly as young men. "He said baseball's important, but don't get consumed by it," Schiffner said, and added later that it was under Ebbett as Cape Cod Baseball League Commissioner that he got his first taste of coaching in the Cape League. Ebbett played an instrumental role in eliminating the use of aluminum and metal bats that had been used by the Cape League for 10 years (1974-1984).

The Second Annual Cape Cod Baseball League Hall of Fame Induction Ceremony was sponsored by the Chatham Bars Inn and in part by Cape Cod Potato Chips and the United States Army.

-- Sean Walsh/CCBL Public Relations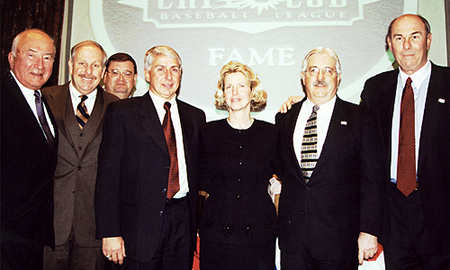 The Cape Cod Baseball League Hall of Fame Committee
poses following the 2nd Annual Induction Ceremony.
Standing, from left, are Dick Sullivan, Jim Higgins, Chairman Paul Galop,
Bob Corradi, Judy Scarafile, Barry Souder and Bob Stead.
Sean Walsh/CCBL 2002

Cape League Hall of Fame Inductee Fred Ebbett (far right) shares a light moment with longtime friends Dick Sullivan and Judy Scarafile.
Sean Walsh/CCBL 2002


Former Senator, Cape Leaguer and Hyannis Mets founder Jack Aylmer chats with Hyannis Mets Vice President Peter Scarafile prior to Aylmer's speech and induction of New York Yankees third baseman Robin Ventura into the CCBL Hall of Fame. Ventura starred for the Hyannis Mets in 1987.
Sean Walsh/CCBL 2002


Emcee and Boston news anchor
Scott Wahle lightens the crowd with his charm and quick wit during Hall of Fame induction ceremonies.
Sean Walsh/CCBL 2002


ESPN baseball analyst and Cape League afficionado Peter Gammons chats before speaking at the 2nd Annual Cape Cod Baseball League Hall of Fame Induction Ceremony.
Sean Walsh/CCBL 2002


Cal Burlingame
A native of Cotuit and graduate of Barnstable High School, former Boston Red Sox minor league pitcher Cal Burlingame played in the Cape Cod Baseball League for the Cotuit Kettleers, the old Barnstable Town Team and Yarmouth. Five times he was named a Cape league All-Star and was considered by many as the best player of his era. A pitcher and outfielder, Burlingame also played in the National Baseball Congress Tournament in Wichita, KS for Orleans and followed his stellar amateur and professional baseball career as an umpire in the Cape Cod Baseball League.


Fred Ebbett
Fred Ebbett's illustrious baseball career began in 1959 when he first came to Harwich High School as a teacher. For 22 years Ebbett coached the Harwich High School baseball team and in those 22 season his teams amassed an amazing 15 championships. Following his high school coaching career, Ebbett went on to manage the Harwich Mariners and later, he served as Commissioner of the Cape Cod Baseball League (1984-1996). Instrumental in returning the league to strict use of wooden bats in 1986, Ebbett is also enshrined in the Massachusetts Baseball Coaches Hall of Fame.


Darin Erstad
A former Cape Cod Baseball League two-time all-star (1993-94) and 1994 Cape League MVP, Erstad played brilliantly for the Falmouth Commodores before embarking on a stellar Major League Baseball career with the Anaheim Angels, a career he remains in the midst of. An American League All-Star and Gold Glove Award winner, Erstad first showed his athletic brilliance in high school as the Associated Press North Dakota Athlete-of-the-Year, while earning all-state honors in football, hockey and track. ironically, Erstad's high school in Jameston, North Dakota did not have a baseball team -- he played American Legion baseball throughout high school. He was first drafted by the New York Mets in 1992, and later drafted again by the Anaheim Angels in 1995 as the first pick in the first round of the Major League Baseball First-Year Player Draft. Recruited by Creighton and the University of Nebraska, Erstad went on to play both football and baseball for the Cornhuskers, not only leading the baseball team in virtually every offensive category, but playing in the Orange Bowl for the NCAA Football National Championship. Twice, Erstad was named to the final Cape League All-Star Team (1993 and 1994).

Chuck Knoblauch
Chuck Knoblauch was the Cape League batting champion in 1988 with a .361 average, following that all-star summer with the Outstanding Pro Prospect Award and a first round draft selection. The American League Rookie of the Year in 1991, Knoblauch was named to the American League All-Star team 4 times and was a Gold Glove Award winner in 1997. A four-time World Champion with the Minnesota Twins and New York Yankees, Knoblauch is now with the Kansas City Royals.




Tony Plansky
South Boston native Tony Plansky played for Bourne in 1929, following that summer with an All-Pro season with the New York Football Giants. He would later play for Bourne from 1933-1939. A gifted athlete, Plansky ended coaching the track team at Williams College for 31 years. The track at the school now bears his name. He was a six-time Cape League all-star and two-time batting champion. He played minor league baseball for the Philadelphia Phillies organization in 1931 and was National Decathlon Champion at Georgetown University. He was named the 62nd Greatest Athlete of the 20th Century by the Boston Globe.



Terry Steinbach
Terry Steinbach played for the Cotuit Kettleers in 1982 and left an indelible mark on Elizabeth Lowell Park, hitting .431 and leading the league in hits (75), total bases (129) and RBI (54). A 14-year veteran of Major League Baseball with the Oakland A's and Minnesota Twins, Steinbach was a three-time American League all-star and was an integral part of the World Champion 1989 Oakland A's. Following the 1982 Cape League season, Steinbach was named league Most Valuable Player.


Robin Ventura

Robin Ventura
Robin Ventura played alongside Albert "Joey" Belle for the Hyannis Mets in 1987 after an incredible college season at the University of Oklahoma. Billed as the top college prospect that season, Ventura went on to win the prestigious Golden Spikes Award as the nation's top collegiate player, and was eventually named the Collegiate Player of the Decade for the 1980s by Baseball America. A longtime American and National League All-Star and numerous Gold Glove Award recipient, Ventura was a 1987 Cape Cod Baseball League all-star, batting .370 just behind 1987 Cape League batting champ Mickey Morandini who came in at .376. Ventura played in 40 games that summer, collecting 54 hits and driving in 37 runs, tops in the league in that department. He was second in runs scored with 41, fourth in total bases with 83, third in walks with 37, fourth in hits with 54, first in game-winning RBI with 7 and tied for third in home runs with 6. He played for the United States in the 1988 Olympics, was a three-time All-American and was also named the top Cape League Pro Prospect in 1987.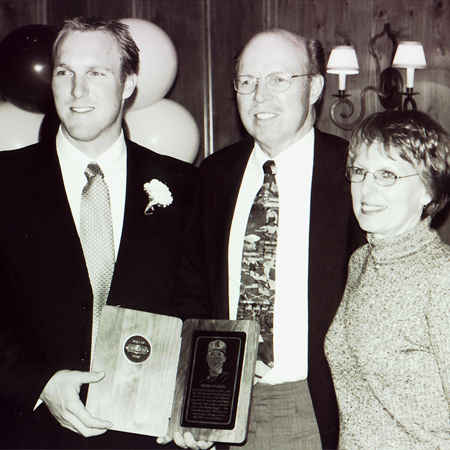 The Erstad Family is aglow with pride following the Jan. 19 CCBL Hall of Fame Induction Ceremony.
Sean Walsh/CCBL 2002

Peter Gammons got a big kick out of the fact Anaheim Angels superstar Darin Erstad was named Bradlees Employee of the Month when the Cape League Hall of Famer played for the Falmouth Commodores.
Sean Walsh/CCBL 2002


Former Cape League MVP and all-star Darin Erstad takes a special moment with his former house parent, Carol Costa of Falmouth, following the CCBL Hall of Fame Induction Ceremony.
Sean Walsh/CCBL 2002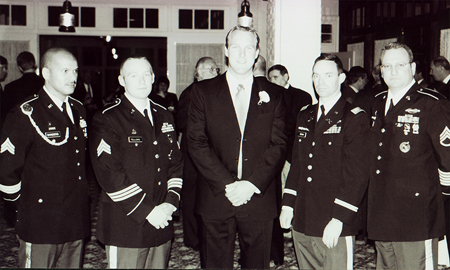 Anaheim Angels' and new Cape League Hall of Famer Darin Erstad poses with members of the U.S. Army, sponsors of the Hall of Fame Induction Ceremony.
Sean Walsh/CCBL 2002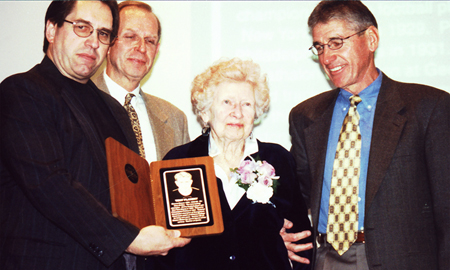 Bourne Braves General Manager Randy Vacchi congratulates the family of the late Tony Plansky on their patriarch's induction in to the CCBL Hall of Fame.
Sean Walsh/CCBL 2002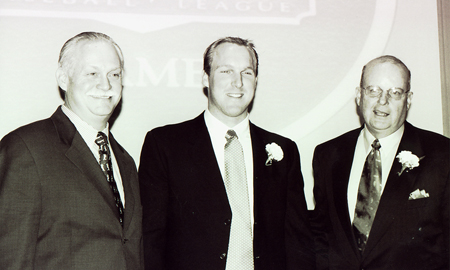 Falmouth Commodores GM Chuck Sturtevant (left) and Wake Forest Head Baseball Coach George Greer (right) congratulate Darin Erstad upon his induction into the CCBL Hall of Fame.
Sean Walsh/CCBL 2002

Longtime Cape League umpire Curley Clement chats about new Cape League Hall of Famer Chuck Knoblauch and year Knoblauch won the Cape Leageu batting crown.
Sean Walsh/CCBL 2002


Former Cotuit Kettleer Manager George Greer and longtime CCBL official Barry Souder accept the plaque on behalf of CCBL Hall of Fame Inductee Terry Steinbach.
Sean Walsh/CCBL 2002