League News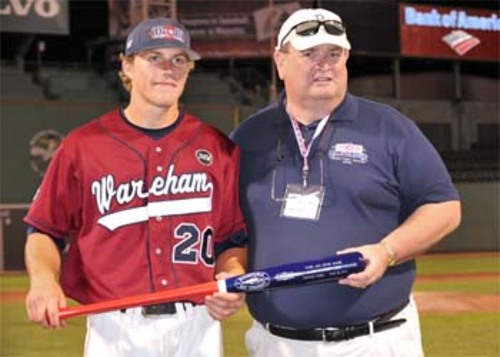 07/29/2010 2:48 PM
Article By:
BOSTON ---- Most would consider simply visiting Fenway Park a special and cherished experience. But for those who actually get the opportunity to play on one of the oldest and most beloved fields in the country, it is nothing short of a dream come true.

Last night, as the Cape League All-Stars took the field, many were living out a scenario they may have never imagined. Although the East All-Stars fell to the West All-Stars 5-0, none would let that taint their experience, especially East MVP Caleb Ramsey (Houston).

"It's literally a dream come true. You grow up begging and wishing to step on the field, and to get to play here is unreal," he said.

Ramsey, a member of the first-place Y-D Red Sox, hails from Cypress, Texas. Although the East put on a bleak showing, he went 2-for-4, with one stolen base. Although he credits some of his performance to luck, Y-D field manager Scott Pickler knows it's Ramsey's experience that set him apart from the other East All-Stars.

"He came out and performed like he's performed all year long. The jitters didn't bother him. He's a veteran, he understands this league, he's been consistent all year and I think he handled it here today," he said.

His experience has made a large impact on the Red Sox. He's hitting .317 with 15 RBI. But the numbers are not important to Ramsey. He treasured the opportunity to play in the All-Star game with rivals and to be coached by other managers.

"I really liked (playing with players from other teams)," he said. "You get to meet so many people up here and now it's like everywhere you travel you get the chance to know somebody. The coaches make you realize that there's no pressure and to just go out and really enjoy an experience like this, because it may only come once in a lifetime," he said.

One thing is certain; he will never forget his Fenway experience.

"Being a Cape League All-Star and MVP is beyond any expectations I had. I was grateful for the opportunity to just be able to come up here and play," he said.