League News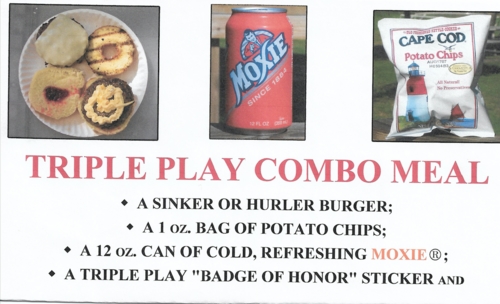 04/19/2020 5:24 AM
Article By: Michael Lane
The donut burger grew into a staple novelty item at Yarmouth-Dennis Red Sox games here in the Cape League. It then spread around the country, being sold at some minor-league ballparks, food festivals and other places where unhealthy food is easily accessible. But if it wasn't for Bob Phillips, known by many as Burger Bob, the legendary donut burger would not exist.

In June of 2003, on a ferry trip to Martha's Vineyard with fellow Y-D board members, Bob Phillips presented them with a press release for an invention he wanted to have at the Y-D Backstop Grill. The press release outlined the four types of original donut burgers. The Outside Sinker would be on a plain cake donut. The Inside Sinker would be on a cinnamon sugar cake donut. The Down-The-Middle Sinker would be on a powdered sugar cake doughnut. Lastly was the Hurler Burger, a fitting name for some people, would be on a jelly donut and topped with canned cheese whiz. The upgrade from a regular bun to a donut replacement would be free for anybody who wanted it.

According to Phillips, numerous people thought it was just a joke he was making to try and pass time on the ferry ride. But Phillips was not kidding around, and in July of 2004 the first ever donut burger was born.

In a conversation with Phillips this past summer, he talked about how every Cape League franchise is unique. Some fields have lights, some have a playground for kids, some have catchphrases, and so on. To Phillips, the fan experience at the ballgame is just as important as what is happening on the field. The donut burger created something special for people to talk about and add to the experience of attending a Y-D game.

Phillips' infectious personality was the perfect fit to get the donut burger off the ground. Between his constant persuasion, his burger hat, the sticker's he would offer to those who upgraded, trying the donut burger became a full experience for fans. Often fans would gather around the Backstop Grill to see what the donut burgers looked like or watch someone else try it.

Phillips kept track of every sale from July of 2004 until August of 2013 when he stepped away after years of volunteering at Y-D. In the 10 year span they sold a total of 8,038 donut burgers.

Since 2013, the count has risen well above 8,000 donut burgers. Every summer, storms of reporters, players and fans from all around the country try the legendary donut burger at Red Wilson Field. Phillips may have stepped down after many years volunteering at Y-D, but his legacy has carried with the donut burger as iconic staple of the Y-D experience.