League News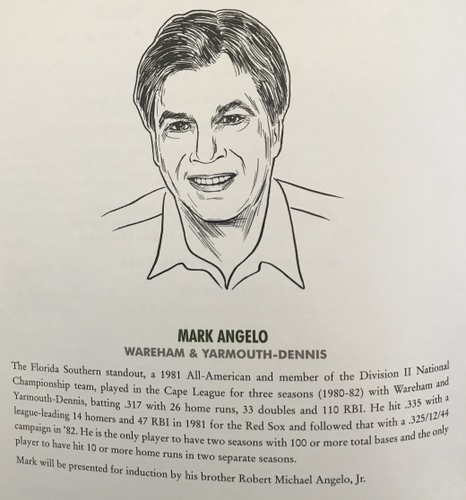 04/19/2020 3:30 PM
Article By: Paul Galop
Legendary CCBL slugger Mark Angelo passed away on April 13, 2020 at home in Orlando, FL after a valiant ten-year battle with pancreatic neuroendocrine cancer. He was 59.
The left-handed slugging first baseman had staggering statistics in his unique three-year stint in the CCBL. Mark was a college All-American at Florida Southern where his team won the Division II national championship in 1981. Mark had dominating offensive numbers at the plate for the Wareham Gatemen in 1980 and continued his spectacular batting prowess for the Yarmouth-Dennis Red Sox in 1981 and 1982. Remarkably, Mark batted well over .300 in each of his three CCBL seasons and is the only CCBL player in history to have two seasons with 100 or more total bases and the only player to have hit 10 or more home runs in two separate seasons.
Mark was inducted into the CCBL Hall of Fame in 2009 and was presented for induction by his brother Robert Michael Angelo, Jr. (see attachment for his 2009 CCBL Hall of Fame media guide as well as his acceptance speech photo).
Mark always maintained his amicable relationship with the CCBL long after his playing days and Hall of Fame induction. He always kept in tune with CCBL happenings and was one of the best of the best that ever graced the CCBL fields. But even more impressive, Mark was a much better person than he was a player, and he was a great player! His great nature and contagious smile will be sorely missed. Mark is survived by his wife Lisa and two children Briana and Mark, Jr., sister Michele Angelo and husband Steve Eramo, and brother Robert Angelo and wife Theresa. Godspeed Mark, you are now safe at home!
For Mark's full obituary, please go to: https://careyhandcolonialchapel.com/obituary/Mark-Angelo