League News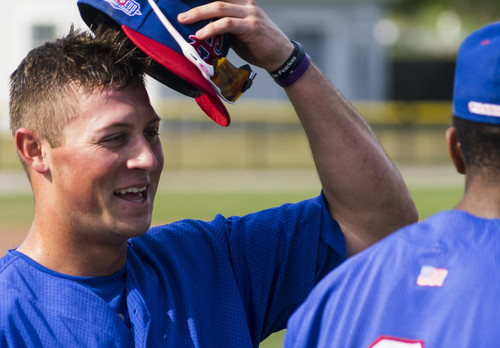 05/30/2020 5:35 AM
Article By: Taylor Viles
Another year, another remarkable number of former Cape Leaguers expect to hear their names called in the first round of Major League Baseball's 2020 draft on June 10.
In both 2018 and 2019, the MLB's first overall picks were CCBL alums Casey Mize and Adley Rutschman who suited up for the Wareham Gatemen and the Falmouth Commodores, respectively. 2020 is primed to produce no change as multiple recent polls have former Chatham Anglers outfielder/first baseman Spencer Torkelson ('18, '19) to be selected by the Detroit Tigers at the number one spot.
In Torkelson's first year on the Cape, his presence was felt as he hit .343 with 10 home runs over 31 games in the regular and post-season, helping the A's all the way to the championship series. In his second year he only played in five games but managed two home runs and seven RBIs in 13 at-bats.
As Torkelson lit up Cape Cod in 2018, so did New Mexico State infielder Nick Gonzales this past summer season. He took home the league MVP and helped the Cotuit Kettleers to their first championship win since 2013. Gonzales is pegged to be drafted within the first six picks.
It's hard to follow a year like last year, as 14 of the 30 first-round selections made had playing experience on the Cape. However, this year, the numbers are still high as potentially 10 could be selected in the first round.
According to Cape League President Chuck Sturtevant, this is on track with the total number of players in the MLB today. "If you take the major leagues as a whole," he said, "and you take out all the foreign ballplayers and all the...kids who were drafted out of high school, one in every three college players in Major League Baseball played on the Cape."
In recent years, it's become a normality to hear many former Cape Leaguers' names called in the first round. In fact, only once in the last eight years has there been fewer than 10 Cape League alumni drafted in the first round, which is evidence of the high level of play that Cape Cod Baseball has displayed for over 100 years.
Sturtevant attributes this level of play to league coaches. "They go out and recruit...year in and year out to bring in the top talent of college baseball," he said.
The Cape League's MLB draft dominance continues well past the first round. In 2019, 43% of the players drafted in the first four rounds had spent time on a Cape League diamond. In this year's top 200 prospect rankings, looking past the first round, 39% are Cape League alumni.
That's not considering the countless players who were rostered by a Cape League team but never ended up playing a game. If they had, that stat would be considerably higher.
This year's first-round talent was spread throughout the Cape as seven of the league's 10 teams are represented. Here's a breakdown of the projected first-round picks with Cape League experience for this year's draft, according to the MLB.com top prospect rankings:
1. (1) Spencer Torkelson, 2018/2019 Chatham Anglers 2. (5) Nick Gonzales, 2018/2019 Cotuit Kettleers 3. (8) Reid Detmers, 2018 Brewster Whitecaps 4. (17) Patrick Bailey, 2018 YD Red Sox 5. (21) Carmen Mlodzinski, 2019 Falmouth Commodores 6. (22) Cade Cavalli, 2018 Wareham Gatemen 7. (23) Cole Wilcox, 2019 Orleans Firebirds 8. (25) Bryce Jarvis, 2018 Cotuit Kettleers 9. (26) Bobby Miller, 2018 Brewster Whitecaps 10. (27) Austin Wells, 2019 YD Red Sox
(Interesting note: only 29 first-round selections will be made this year due to the Houston Astros losing their first-round pick in the sign-stealing controversy.)
Recent MLB.com articles by Jim Callis and Jonathan Mayo offer two different takes on this same list with some additional Cape League names making an appearance.