League News
07/13/2020 4:32 AM
Article By: Taylor Viles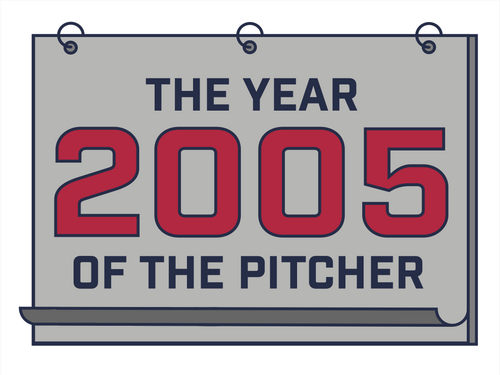 The pitching prospects that came to Cape Cod in the summer of 2005 brought next level talent to the league, the likes of which haven't been repeated since.


Fans come to Cape League games to watch rising stars compete and usually would rather cheer through an intense and high scoring ballgame than endure a pitcher's duel where few runners cross the plate. But after 2005's uptick in strikeouts and majestic mound domination, it became clear any action was entertaining and it's just as exciting to cheer your favorite team to a shutout against their close rival.

The summer began low-scoring with Bourne and Cotuit battling to a 1-1 draw on the first day of the season. It ended similarly, as game one of the championship series featured stellar pitching performances by both sides and Orleans taking a 1-0 walk-off victory. That was a trend over the course of the summer, as 46% of games ended with one team scoring one or fewer runs during the game.

Not only were games low-scoring, but there were also 68 games decided by either one run or a tie; a sign of reliable starting pitching and a disciplined bullpen.

"There were some guys in the league that year who were exceptionally talented," said longtime Falmouth Commodores Manager Jeff Trundy. "Back then it was customary to only see four or five guys hit over .300, a big part of that was because the arms were so good."

Comparing future Cape League seasons, pitching was unmatched that year as the league-wide Earned Run Average (ERA) was 3.16 at the summer's conclusion. Twice since 2005 that record was bested (2006- 3.14, 2010- 3.05), but overall in those 15 years, the average ERA for Cape League pitchers was 3.61, which 2005's season sits well below.

Former Harwich right-handed pitcher Adam Ottavino remembers that season as "the first wave" of hard throwing pitchers. "The hitters hadn't adjusted to that kind of pitching yet so it makes a lot of sense that there were so many guys from that year that did really well," he said.

In Cape League records, the official statistics from 2005 only qualify a pitcher's ERA if they'd pitched at least 35 innings, but there were multiple players who registered fewer innings and were still remarkably effective.

Derrick Lutz and Steven Wright are two closers who stand out as possible overlooked gems from the 2005 Cape League pitching class in terms of ERA. Both tied for the league lead in saves with 12, but each had under 30 innings pitched (IP). Lutz pitched his way to an unimaginable 0.00 ERA in 25 innings with 39 strikeouts helping Chatham to the Western Conference Finals. Wright was almost identical, notching a 0.63 ERA over 28.2 innings with 41 strikeouts. He finished off the game against Lutz's Chatham to send Orleans to the Championship Series. Wright also pitched the final two innings against Bourne to secure the (then) Cardinals the Cape League Championship. His domination that summer contributed to being a 2nd round selection in the 2006 MLB draft.

Additional future MLB stars were rostered in the summer of 2005, most notably Andrew Miller (Chatham) and Tim Lincecum (Harwich). Miller finished the season a perfect 6-0 for the Anglers with a 1.65 ERA- good enough to secure him a tie with Falmouth's Tim Norton for the league's "Outstanding Pitcher Award."

In 39 IP, Lincecum was lights out allowing only 14 hits while picking us 68 strikeouts. "I have this vivid memory of the hitters coming back...from the [batters box] after facing Tim [Lincecum] at Harwich and just going 'this isn't even fair'," said Trundy. The future San Francisco Giants starter posted a 0.69 ERA over the summer.

"He was just on another level at that point," said Lincecum's teammate Ottavino. "I just remember every time he pitched, it was like an event… It's kind of crazy that he wasn't already in the Major Leagues."

The current New York Yankees reliever remembers the summer of 2005 fondly and acknowledges it helped him gain recognition. "My numbers were as good as [some of the best pitchers in the league] even though I didn't have any notoriety. I felt like that was my chance to show I was on the same level."

Ottavino pitched remarkably well allowing only 10 earned runs in 51 IP. Perhaps even more impressive was he didn't allow any home runs. The Harwich pitching staff, led by Lincecum and Ottavino, led the Cape in least home runs allowed with 11 as well as in strikeouts with 445.

Falmouth was a close second registering 432 strikeouts, greatly in part to the aforementioned Norton, who notched a team-leading 77. Norton is a player who was never highly recruited but turned his exquisite pitching performance on the Cape into a jumpstart for his career. The Commodores signed him as a temporary player but Norton quickly proved his worth, winning the Coca Cola "Pitcher of the Week" after a stellar first start to his season going eight innings allowing only two hits in an eventual 7-0 Falmouth victory.

"[Norton] was overjoyed to be a part of the Falmouth team and the Cape Cod League and I think that attitude certainly lent itself to the performance that he had," said Trundy. Norton became the ace for the 'Dores finishing second in the league to Wareham's Daniel Bard with his 77 strikeouts as well as IP with 61.

The flamethrower Bard clocked 99 MPH during the all-star game that summer and was a force for the Gateman picking up 82 strikeouts in 65 IP, almost one-and-a-half strikeouts per inning. The future Boston Red Sox reliever was third on the Cape with a 1.25 ERA.

To further illustrate the impressive showing by Cape League pitching in 2005, stats were collected on every pitcher who had below a 2.00 ERA and had pitched at least 25 innings. 24 pitchers fit those categories that year averaging 41 IP, well above the qualifying 35. To put that in perspective, since the 2005 season, that feat hasn't been duplicated.