League News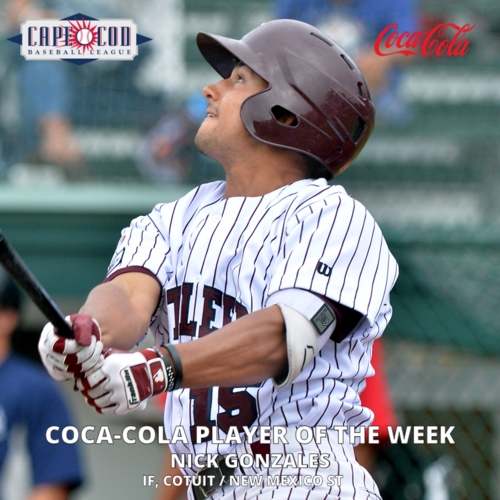 09/24/2020 11:52 AM
Article By: Michael Lane
Nick Gonzales Making Great Impression:
Last summer Nick Gonzales won the Cape League MVP and helped lead the Cotuit Kettleers to a Cape League Championship. After being selected 7th overall in the MLB Draft in June, Gonzales has spent this summer at the Pittsburgh Pirates alternate training facility in Altoona, PA. Gonzales has already impressed people within the Pirates organization for how quick he is adjusting to the new level of baseball. He is already adjusting to the improved caliber of pitching and learning all the defensive shifts. Gonzales arrival with the big-league club could come earlier than expected next season.

Luke Voit Growth to a Star:
Luke Voit played for the Harwich Mariners team in 2011 that won the Cape League Championship. Now Voit is a key member of a Yankees team that is looking to win a World Series this October. The path to this point wasn't an easy road. Just two years ago, at age 27, Voit was in AAA with the St. Louis Cardinals trying to get an opportunity to prove himself. After being traded to the Yankees, Voit has established himself as a quality player. This year Voit leads the MLB in HRs, currently with 21, and is a potential candidate for the American League MVP.

Chase for the NL Rookie of the Year:
With just a week remaining in the shortened MLB season, two of the three leading candidates for the National League Rookie of the Year are former Cape League players. The current favorite to win the award, Jake Cronenworth, played with the Orleans Firebirds in 2014. Alec Bohm, a former Falmouth Commodore, is also a candidate for the award. In his short time in the majors, Bohm already has two walk-off RBIs for the Phillies that has helped their playoff push.

Kyle Lewis Navigating Challenges
Kyle Lewis, a former Orleans Firebird, is the leading candidate for the American League Rookie of the Year. Lewis has made an impact both offensively, leading rookies with 11 HRs, and defensively, making numerous highlight reel catches in centerfield for the Mariners. He has had this success in a year full of challenges. Between COVID, wildfires in the northwest, and taking a stand against police brutality along with players across the league, the Mariners had four games cancelled in a nine day span. Lewis spoke with the New York Times about the experience.

Stephen Piscotty Leads Fight Against ALS

Stephen Piscotty, a former Y-D Red Sox outfielder, lost his mother in 2018 to the ALS disease. Since then he has actively led fundraisers to help fight the disease. Despite the current pandemic making fundraising more difficult, Piscotty has not slowed down his efforts. Currently they're running a virtual fundraised via Zoom.