League News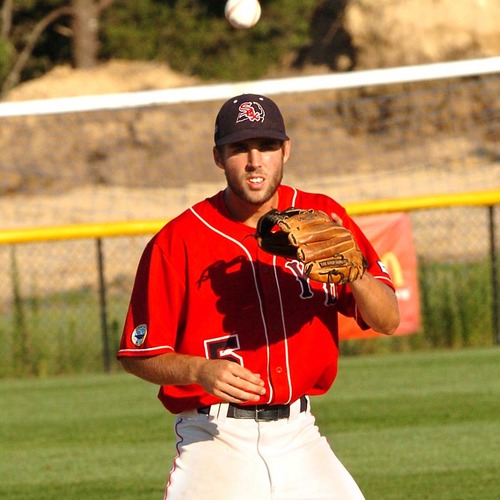 10/27/2020 4:13 AM
Article By: Taylor Viles
The World Series is well underway as the Los Angeles Dodgers look to win their first since 1988 tonight against the Tampa Bay Rays.

The Rays have never won a World Series in the team's 22-year history.

Among the players competing in the October Classic, 11 are Cape League alumni; (not including either coaching staff) four from Tampa Bay, and seven from Los Angeles. There are two instances where an alum from one team shares an interesting connection with an alum from the opposing team in this World Series.

Before the big league careers, not only did some of these athletes play on Cape Cod, they were also teammates during the same summer years ago. Back in the 2008 summer season, Dodgers outfielder AJ Pollock and Rays reliever Aaron Loup each suited up for the Falmouth Commodores.

Pollock was a force on Cape Cod in 2008. He finished the season first in hits (61), doubles (15), and slugging percentage (.556). On top of that, he finished second in league batting average to his Falmouth teammate Jimmy Cesario as Pollock hit .377 in 40 games. He was chosen for the all-star team, played that season at Veteran's Park in Chatham, registering two hits and an RBI in front of scouts. At season's end, Pollock was crowned league MVP for his play.

Loup pitched in nine games for Falmouth as a reliever that season. Mostly utilized for one inning per outing, he compiled a 6.07 ERA and registered just under one strikeout per inning.

Loup has pitched out of the bullpen in three games so far this World Series and has two holds. Pollock has a hit and a walk in four at-bats

In some games on Cape Cod in 2011, both Pollock and Loup contributed to the Commodores eventual victory. On July 2, Pollock collected five hits including one RBI in a 3-2 victory. He also scored the games winning run in the top of the ninth inning to put his team on top. Loup pitched 1 ⅔ innings out of the bullpen allowing just one hit and no runs. If it had not been for being taken out with two outs in the eighth, Loup would have collected the win.

Loup's longest outing of the season came during an 18-4 Commodores blowout victory 10 days later. He pitched four innings in relief registering four strikeouts and no runs. It was his only win of the season. Pollock collected three RBI's in six at-bats during the contest.

Thanks in part to the strong play of both players, the Commodores finished 2nd in the West Division. They were eliminated in the second round of the playoffs during the postseason.

Pollock and Loup aren't the only teammates turned World Series opponents on display this postseason. Dodgers outfielder Chris Taylor and Rays catcher Mike Zunino took the field for the Yarmouth-Dennis Red Sox in 2011.

Neither player played the full season for YD, but while each was on Cape Cod, they showed tremendous potential.

Taylor played his first game with the Red Sox on July 2 and rarely missed a game after that. He played until his team was bounced from the playoffs by the 2011 league champion Harwich Mariners in early August. During the season, Taylor hit .270 with eight doubles; reliable numbers which he's continued the pattern of producing during his big league seasons. Taylor couldn't record an RBI in YD's four playoff games but did collect four hits including another double.

This World Series, Taylor has been a force wherever he's placed in the lineup. He has three RBI's, two of them coming on a home run to get Los Angeles on the board in game two.

On Cape Cod, Zunino made the most of the 11 games he competed in. He hit .303 with two doubles during those games.

The second to last game Zunino played in on Cape Cod was a 12-3 victory against the Hyannis Harbor Hawks on July 17. He picked up his second and third RBI's, respectively, as he tacked on three hits to greatly improve his average. Taylor also showed up in the blowout, recording three hits and two RBI's of his own.

Game six of the World Series is tonight and Cape League eyes will be on these four athletes to compete hard against each other in the same way they once fought with one another to win games on Cape Cod.