League News
07/24/2009 1:19 PM
Article By:
24 July 2009
Cox, West Shine Through Rain at Fenway
By Mike Campbell, CCBL Intern
BOSTON, Mass.—Even Mother Nature could not dampen the spirits of the players or the 14,317 fans in attendance at the Under Armour Cape League All-Star game at Fenway Park. In a rain-shortened contest, the West All-Stars triumphed 3-0 at the first East vs. West battle at the iconic home of the Boston Red Sox.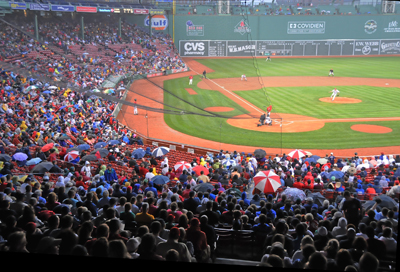 All Stars at Fenway Park
CCBL photo by swilson
The show was stolen by the West pitching staff, which combined to shut out a stellar East lineup. Brandon Workman (Wareham; Texas), Jack Armstrong (Wareham; Vanderbilt), Eric Pfisterer (Wareham; Duke), and Stephen Harrold (Bourne; UNC Wilmington) combined to surrender only one hit and no runs over the four-and-a-half inning game. After Harrold pitched a flawless top of the fifth and the game became official, the decision was made to call the game.

"All nine of our guys scheduled to pitch have great arms," said Cotuit coach Mike Roberts, "so I'm disappointed that more of them didn't get to pitch. But our guys who did all did a great job."

The West began their scoring in the first, capitalizing on an error by East third baseman Jedd Gyorko (Brewster; West Virginia). After a ground ball hit by West left fielder Todd Cunningham (Falmouth; Jacksonville St) squirted by Gyorko, Zach Cox (Cotuit; Arkansas) ripped a Rob Rasmussen (Orleans; UCLA) offering off the base off the wall in center for a triple, scoring Cunningham. Cox would later score on a fielder's choice off the bat of catcher Cody Stanley (Cotuit; UNC Wilmington).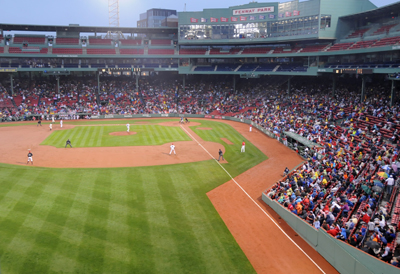 All Stars at Fenway Park
CCBL photo by swilsonn
Cox would drive in the home team's third run in the bottom of the second, singling off Kyle Blair (Brewster; San Diego) to drive in B.A. Vollmuth (Falmouth; Southern Miss).

Cox earned the West Most Valuable Player honors for his stellar effort at the plate. His finished the night two for two with a triple and two runs batted in.

"It's a great experience (playing at Fenway)," said the MVP Cox, "It's a once in a lifetime opportunity. I just wanted to make the most of it."

"He handles the bat very well," said Roberts of Cox. "He's a wonderful young man, and no one deserves (to be) MVP more than he."

Chris Sale (Florida Gulf Coast) earned MVP honors for the East, striking out one in a flawless bottom of the third.

The last time the Cape League All-Stars played at Fenway was in 1987, in a contest versus the Atlantic Collegiate Baseball League All-Stars. This year was the first time that teams representing the two separate divisions have played in a venue outside of the Cape League home parks.

Mike Campbell can be reached at [email protected]

Interns: Chris Blake, James Chandley, Ashley Crosby, Phil Garceau, Michael Campbell, Katy Ann Fitzpatrick