League News
08/01/2008 10:25 AM
Article By:
1 August 2008
For All-Stars and Their Fans, the July 26
Game Was an All-American Family Event
CHATHAM, Mass. -- It was an all-American family event, as American as summer baseball on the Cape, in fact. It was the 2008 Under Armor Cape Cod Baseball League All-Star Game Saturday at Veterans Field.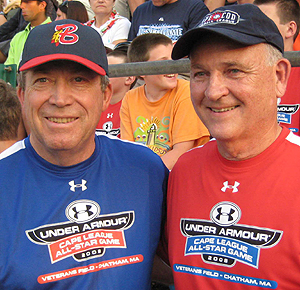 Honorary All Star Captains, Noel Kinski and Art Quirk
There were hot dogs and hamburgers. There were kids chasing home runs and foul balls in the hopes of having them signed later by possible future major leaguers. There were members of the U.S. Military All-Star Baseball Team taking part in the ceremonies, even entering the Baseball Factory Home Run Hitting Contest.

There were the firefighters of Chatham Fire Department, who watched the game from atop their trucks in front of the station across from the field.

And there were the best of the best in college baseball out on the diamond, signing autographs in tents before the game and putting on an impressive show as the sun set.

The events began well before the first pitch was thrown shortly after 7. By 2, Veterans Field was abuzz with cameras, scouts and fans. Blankets began appearing on the hills as families staked out the best spots from which to watch the game. Scouts crowded into the bleachers behind home plate. NESN crew members hustled around, running cables, setting up cameras and interviewing players.

Extensive pre-game ceremonies included recognition of sponsors who make the game – and the league – possible, and this year had the added touch of presenting honorary captains for the two squads – one of whom starred on the Cape exactly 50 years ag o.

Dartmouth College graduate, former Major Leaguer and 1958 Orleans pitching (9-0, 1.12 ERA) and batting (.475) star Art Quirk was the East squad's honorary captain, while Noel Kinski, a Cape League Hall of Famer, was given the honor for the West. Kinski, a former Providence College star, was 10-1 for Sagamore in 1965 and was chosen to play in three straight Cape League All-Star Games (1964-1966).

Both "old-timers" received specially made trophy bats to commemorate the occasion.

And then the game was on, with 8,629 fans cheering, and media down by the dugouts and around the press box honing in on the stars. The game, which early on was dominated by the pitchers then morphed into a high-run game, was stopped twice -- once for an unexpected interruption by a few enthusiastic fans and once at 9:11 p.m. in order to commemorate the events of Sept. 11, 2001.

By the end of the night, everyone in attendance had something to remember, whether it was the game itself or simply the atmosphere of summer baseball at its best.

Ashley Crosby, CCBL Intern ([email protected])


Interns: Chris Blake, James Chandley, Ashley Crosby, Phil Garceau, Stefanie Marini, Laura Rasmussen