League News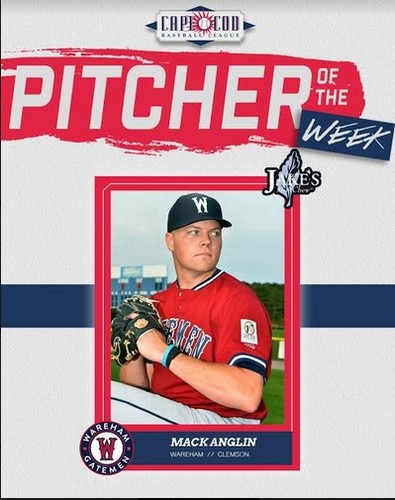 08/03/2021 5:05 AM
Article By:
Pitcher of the Week: Mack Anglin (Wareham, Clemson)

Since joining the Gatemen on July 19th, Mack Anglin has been tremendous in his three starts. The Clemson Senior has 16 strikeouts and just three walks in 12 ⅔ innings pitched for Wareham. This past week, Anglin went up against the best two records in the West, lasting 8 ⅔ IP and surrendering just six hits and one walk on his way to striking out 12 combined in two starts against Bourne and Cotuit. Anglin owns an unblemished 0.00 ERA, 0.79 WHIP, and hitters are batting a sheer .159 against the righty from Marengo, Ohio.
"Try Jake's Mint Chew today for a healthy alternative to tobacco. Visit www.jakesmintchew.com for more information and use
promo code "cape cod" for 15% off your first order.
Chew Healthy, Chew Jake's!