League News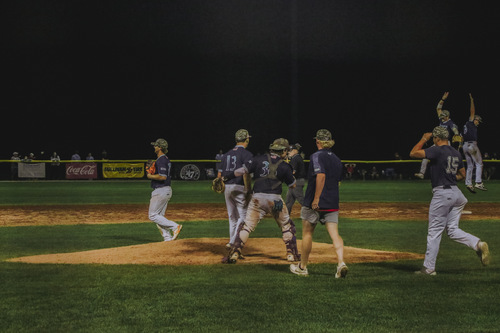 08/11/2021 4:43 AM
Article By: Taylor Viles
One of the best offenses in the Cape League went silent on Tuesday night at Doran Park. The Bourne Braves finished the regular season with 164 home runs (2nd in the league) and 463 total bases (1st), but in game one of the Cape League Championship Series, Brewster only allowed Bourne five hits and zero runs.
It was a pitcher's duel from the beginning as both starters got through the first inning facing the minimum.
Griffin Green (Virginia Tech) was on the mound for Brewster. His expert-level performance continued for five innings as he only allowed three hits and two walks while striking out seven.
Bourne sent Jake Bennett (Oklahoma) to the mound, the lefty has pitched well this season but received little run support shown by his 0-2 record and a 2.89 ERA. Tuesday night was no different. In his second inning of work, Bennett allowed a double to score two runners in the second inning. That was all Brewster needed to take game one by a final score of 2-0.
The double came courtesy of Kurtis Byrne (Texas Christian) who connected on a 3-1 pitched a roped it to deep left field.
The Braves left nine runners on base, an area of concern to address before game two. Multiple times, Bourne had the leadoff runner on base but failed to advance them into a scorable position. The combination of Green and Michael Prosecky (Louisville), who went 3.1 innings with two hits and five strikeouts, showed no mercy and Bourne continued to struggle. Brewster's mound domination continued for the final two outs of the game when Dale Standavich (Rutgers) was brought in to shut the door and did so with strikeouts of the only two Bourne batter's he faced.
Pitching was a prevalent topic following the rainout on Monday. Both teams were in need of a reset to rest the arms, especially a Bourne team that needed multiple pitchers to overtake the Cotuit Kettleers in the first round.
The rainout gave Bourne the option of starting a pitcher who appeared in the first round. Although he didn't confirm it, the Bourne pitching coach acknowledged that because this is the championship series, "anything is possible," he said."
Brewster Manager Jamie Shevchik said that just because the possibility is there to start a pitcher because of the rainout, it's not a decision that should be taken lightly.
"We'd be pitching them on shorter rest that we've been giving them," he said "Is a championship worth putting your kid at risk? To me, it's not."
Brewster has a chance to take home their second championship since 2017 tonight back home at Stony Brook Field. Will Bourne take advantage of the extra rest and use all their available pitchers in order to return to Doran Park on a win?
First pitch is set for today at 4 p.m.