League News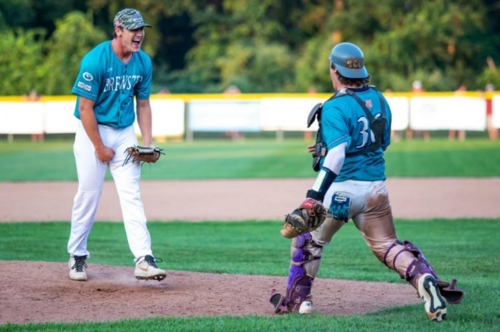 08/12/2021 4:22 AM
Article By: Taylor Viles
After a disappointing game one loss to the Brewster Whitecaps at home 2-0, the Bourne Braves didn't waste time showing why they finished with the best record on Cape Cod (24-9-3). In the first inning, the team sent eight runners to the batters' box tallying five runs, courtesy of two long home runs. Dalton Rushing (Louisville) and Max Anderson (Nebraska) provided the damage for Bourne.
After the wild start, Bourne's fire seemed to all but die.
After allowing the five runs before recording an out, Brewster's starting pitcher Chris McElvain (Vanderbilt) settled down and finished the inning unscathed. He ended with five innings, five runs and nine hits.
In the bottom of the first inning, Bourne's starting pitcher Michael Sansone (Fairfield U), coming off a rough start in the first game of the playoffs (4 ER over 2 innings), quickly gave two runs back in the bottom of the inning due to a Zach Neto (Campbell U) longball.
Brewster Manager Jamie Shevchik said once he saw Bourne's onslaught to begin the game, he knew it was then the Whitecaps needed to make a choice: fight their way back or surrender to a powerful offense and try to win in game three. It soon became clear which option his team chose. "It didn't happen until we scored two runs in the bottom of the inning where we knew [we had a chance]. We barreled up a lot of baseballs so we figured that we were going to have a shot."
Sansone allowed another run in the third inning due to a Jake Thompson (Oklahoma State) double to score Chris Lanzilli (Wake Forest) helping Brewster to inch closer. From there, the Whitecaps scored one in the fourth, two more in the fifth to take the lead, and the backbreaker; four in the seventh inning to give Brewster a 10-6 lead which would turn into the final score.
Bourne's sixth run came to tie the game in the sixth inning on a perfectly placed squeeze situation with a speedy Colby Thomas on first base and catcher Peter Burns at the plate.
The game was hitter-dominated from start to finish as the teams combined for 27 hits on the evening. Fourteen of those came off Brewster bats and according to Shevchik, it was the most hits the team had recorded all year. Brewster continued to hit runners home inning after inning and although Bourne only scored one run after the first, it was not for a lack of chances and players reaching base safely.
The Braves finished the game stranding 10 runners on base. Most notably, in the top of the seventh inning with the score still knotted at six, Bourne loaded the bases and failed to capitalize.
The victory gave Brewster their second championship victory over Bourne since 2017.
"We wanted to use everything that we had today to get this series wrapped up in Brewster," said Shevchik. He continued to say that some seasons have been forgettable, but not this year's summer and the squad he put together will be hard to forget. "This is a team that I'm going to miss when they're gone and we're going to stay close."