League News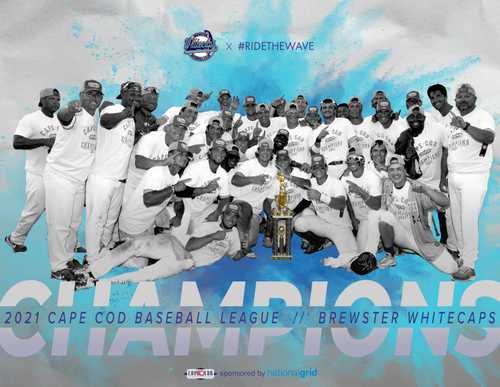 08/14/2021 4:20 AM
Article By: Ethan Kagno
In a rematch of the 2017 Cape League Championship series, Bourne and Brewster played a couple of emphatic games, both of which broke records with nearly 10,000 total fans in attendance. The Brewster Whitecaps topped the Bourne Braves in a two-game sweep to take home the Arnold Mycock Championship Trophy in front of an electric crowd at Stony Brook Field on Wednesday evening.
Brewster Whitecaps: (22-11-3 Regular Season Record, 4-0 Postseason Record, 2021 East Division & CCBL Champions)
Postseason
Despite losing one of the best pitchers on the Cape in Bryce Hubbart (Florida State) right before the playoffs, the Brewster Whitecaps didn't skip a beat. The Caps swept both their series wins against Harwich and Bourne in dominant fashion, striking out 47 batters en route to a championship victory.
Michael Prosecky (Louisville) made two relief appearances, one of them resulted in a win against Bourne in Game 1 of the championship series. In addition, he pitched seven innings, struck out nine, and allowed no earned runs among the 29 batters he faced.
Teddy McGraw (Wake Forest) started Game 2 against Harwich in the first round of the playoffs, where he whirled six innings strong and allowed just one run with nine strikeouts in Brewster's 5-4 win. He later came in to finish what he started in the final game of the postseason, coming in for a perfect ninth inning to capture the Whitecaps' third championship since 2000.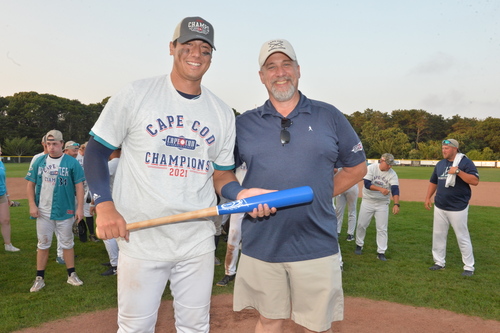 Chad Castillo (California Baptist) received the Star of Stars Award for Playoff MVP. The Santa Ana, CA native went 6-for-15 (.400) throughout the playoffs, including a 2-RBI performance in their first clash against Harwich, that later resulted in the game's only two runs. Later in Game 2 against Bourne, Castillo scored three times and helped ignite a four-run seventh inning to take back the lead in what would result in a 10-6 final and series win.
Regular Season
As previously mentioned, Bryce Hubbart (Florida State) was outstanding. His 45 strikeouts were tied atop the league with Harwich's Trey Dombroski (Monmouth). Hubbart was 3-1 and allowed just three earned runs in 31 innings pitched that resulted in a 0.87 ERA which ranked second. His .133 BAA also ranked second among qualified pitchers and sported an impressive 0.71 WHIP.
In addition to Hubbart's elite performance this season, the Whitecaps had another elite option in the bullpen in Dale Stanavich (Rutgers). One of the best closers in the league, Stanavich finished the regular season with six saves (2nd) and tallied two more in the playoffs. The lefty appeared in 12 games and posted a respectable 2.25 ERA with 30 strikeouts in 16 innings of work.
On the offensive side, the Whitecaps took some hits to their roster around the MLB Draft, but also added some prolific bats to the lineup. Colin Davis (Wofford) was in the midst of an MVP-caliber season before being selected by the Seattle Mariners in the seventh round (204th overall). Davis hit an insane .420 batting average alongside a league best 13 stolen bases at the time, which was still good enough to be tied for second in the Cape League, despite playing in roughly half as many games.
One of the bigger names the Caps added after the college baseball season ended, was outfielder Spencer Jones (Vanderbilt). The 6'7" Vandy Boy collected 24 hits in 25 games as Brewster's leadoff man, seven of which went for extra bases en route to a .312/.424/.481 slashline with a .905 OPS. Jones also displayed tremendous overall tools by stealing six total bases while showcasing himself defensively with numerous acrobatic plays in center field.
Fast forward to next year…
Coach Jamie Shevchik knows how to win, and has fun doing it. No matter the roster for next year -- which considering the Cape League should be filled with talent -- Brewster will look to keep the tide rolling as they look to bring home a third league championship during his tenure for the Whitecaps.