League News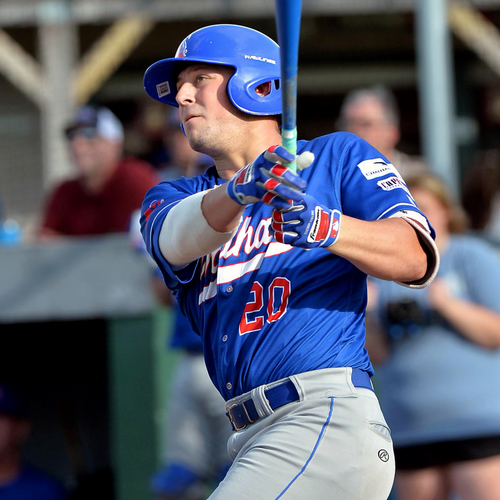 01/24/2022 10:30 AM
Article By: Kaley Brown
It is no secret that the Cape Cod Baseball League (CCBL) produces star-studded, highly sought-after Major League Baseball (MLB) prospects, and former Chatham Angler Spencer Torkelson proved just that back in 2020.

Torkelson was selected by the Detroit Tigers with the first overall MLB Draft pick two years ago, becoming the third CCBL alumni in a row to be chosen at the start of the Draft.

The infielder led the nation with 25 home runs in 2018 as a freshman, just one shy of the NCAA freshman record, and smashed former Sun Devil Barry Bonds' first-year home run record by the end of March that same season (11). Torkelson finished his inaugural collegiate season with 66 total hits through 206 at-bats, 59 runs, 53 runs batted in, 38 walks, and slashed .320/.440/.743.

After the completion of his freshman collegiate season, in his first summer as a member of the CCBL, Torkelson helped lead the Chatham Anglers to an Eastern Division title with a wondrous postseason showing. In just six games during the 2018 CCBL playoffs, Torkelson had nine hits in 24 at-bats, three of those being home runs and two of them being doubles. In the regular season, the infielder tallied 27 total hits, 25 RBI, 20 walks, 18 runs, and seven home runs, finishing with a .333/.472/.704 stat line.

Torkelson returned to Chatham for the 2019 season, but only played in five games.

All of Torkelson's collegiate and summer baseball accomplishments were clearly enough for the Tigers to confidently select him first overall in the MLB Draft two years ago. Torkelson is currently listed as Detroit's top prospect and was recently ranked as Baseball America's No. 5 prospect in all of baseball for the upcoming 2022 season. Torkelson rightfully has earned his place as a highly-rated prospect after quickly moving up the Minor League Baseball (MiLB) ranks, making it all the way to the Tigers' Triple-A affiliate Toledo Mud Hens in his first professional season this past year.

Torkelson began his first full season in MiLB at the start of the 2021 season with the High-A West Michigan Whitecaps where he played 31 games and slashed .312/.440/.569, recording 34 total hits, 28 RBI, 21 runs, five home runs, and 24 walks with his first pro team.

The third baseman, the position Detroit anticipates Torkelson permanently playing, was promoted to the Tigers' Double-A affiliate Erie Seawolves after a little over one month of time spent with West Michigan. Torkelson played 50 games with Erie, slashing .263/.373/.560 and accumulating 46 hits through 175 at-bats, 36 RBI, 33 runs, 30 walks, and 14 home runs.

Torkelson was promoted to the Toledo Mud Hens in mid-August, finishing his first season as a pro with the team. He logged a .238/.350/.531 stat line, hitting 11 more home runs, tallying 35 runs, 27 RBI, and 23 walks.
The question thus arises: when will Torkelson make his Major League debut with the Motor City team? Considering the fact that he made it all the way to Triple-A in his first full season as a member of the Tigers' system, it would not be surprising to see him don the Detroit uniform in 2022.