League News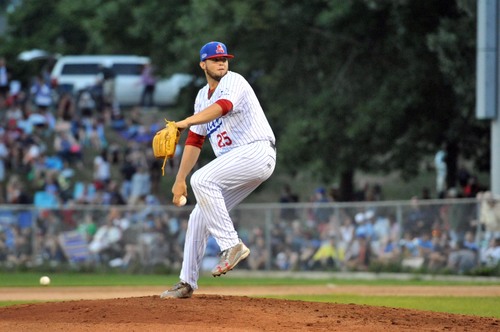 05/05/2022 12:48 AM
Article By: Kaley Brown
While he was overshadowed by the Toronto Blue Jays' offseason starting rotation moves such as inking Kevin Gausman (Harwich '11) and Yusei Kikuchi to contracts as well as extending Jose Berríos, right-hander Alek Manoah (Chatham '18) has excelled through the first month of the 2022 Major League Baseball (MLB) season. Though he is not the ace of the pitching staff, Manoah is spinning impressive numbers and has already solidified himself as a reliable arm every fifth day for the Blue Jays.

Prior to being drafted by Toronto with the 11th overall pick in the 2019 MLB Draft, Manoah spent three years as a member of the West Virginia University baseball team where he posted a career 2.81 ERA through 58 appearances, 34 of which were starts. He compiled 218 innings of work and 249 strikeouts from 2017-2019; batters hit just .212 against him all-time.

An important arm in the Anglers rotation during their 2018 championship appearance season, Manoah possessed a regular-season ERA of 2.70 through seven starts and 45.1 innings pitched plus 48 strikeouts. The Miami, Florida, native made two postseason starts for Chatham, tossing 12 innings along the way and logging 20 strikeouts and allowing three walks.

Manoah only made nine total starts in the Blue Jays Minor League Baseball (MiLB) system over the 2019 and 2021 seasons (the 2020 MiLB season was canceled due to Covid-19) before being called up to the big leagues in late May 2021. He posted a MiLB career 1.54 ERA through just 35 innings of action between the Single-A Vancouver Canadians and Triple-A Buffalo Bisons. Manoah also struck out 54 batters and owned a measly 0.80 WHIP.

In his first career MLB start, Manoah faced the New York Yankees the same day he was promoted to Toronto and promptly shut them out through six innings pitched. He punched out seven batters and allowed just two hits and walks apiece. Over 20 starts in
his rookie season, he owned a 9-2 win-loss record and tossed 111.2 innings. Manoah struck out 127 batters, good for 10.2 strikeouts per nine innings.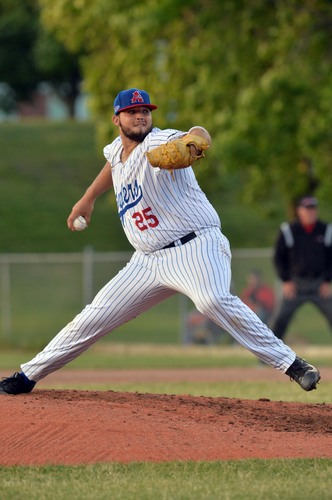 Though he struggled with his command in 2021, allowing a total of 77 hits and 40 walks his rookie year, he still put up magnificent numbers. He has taken things up a couple of notches in his second MLB season, to say the least.

As of Wednesday, May 4, Manoah has cemented himself as a mid-rotation arm in Toronto, starting in five games through the first month of the 2022 campaign. He has earned the victory in four of his five starts. Over the course of 31 innings pitched, Manoah has recorded 32 strikeouts and owns a 1.45 ERA. Batters are hitting an average of .167 off of him and possess a .229 on-base percentage when facing the righty. He has only let up five runs and eight walks to kick off his second year in the majors.

On the majority of the rest of MLB's teams, Manoah's performance thus far would probably be their best out of all of their starting pitchers. However, the Blue Jays are getting outstanding production out of their rotation. Gausman is an early Cy Young candidate, touting a 2.27 ERA through five starts and 31.2 innings, plus 41 strikeouts. Not to mention, he has yet to allow a single walk or a home run as of May 4. His FIP stands at 0.50 and he's averaging 11.7 strikeouts per nine innings. On top of Manoah and Gausman, Berríos is spinning a solid season of his own with 20 strikeouts over five starts and 24 innings pitched.

Nonetheless, it is hard to believe that Toronto and their fans are upset about the state of their starting pitchers. Manoah is just 24 years old and is the real deal. He is dominating the rest of the American League East (AL East) and has helped lead the Blue Jays to second place, a 15-10 record and 3.5 games back of the first-place Yankees. As long as Manoah and his teammates continue handling their opponents the way that they have through the first four weeks of the season, Toronto has a legitimate shot at contending for the AL East title and making a major postseason run in October.