League News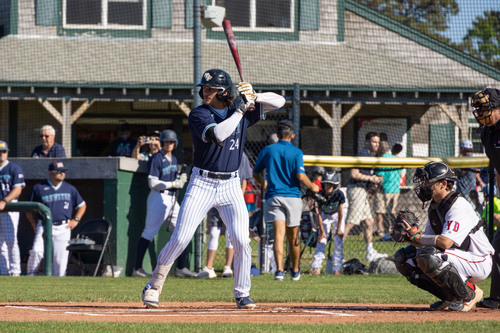 06/26/2022 10:49 AM
Article By: Brian Butler
As the Cape League surged past its one-quarter mark this week, many teams added new members who hoped to make a quick impact following their arrivals. While the major storyline of the week was one manager's chase of history, there were many standout performances all over the Cape. With the calendar set to flip to July, it's time to take a look back at the players who made a major mark this past week.

Bourne Braves (5-4-3): Matt Shaw, SS, University of Maryland

Matt Shaw didn't debut for the Braves until last Saturday, but he put together an impressive first few games to try to make up for lost time. The Bourne shortstop slashed .375/.421/.625 for the week, adding two extra base hits and two steals to his scalding start. Shaw's week was highlighted by a 3-4 performance against Orleans in which he doubled, swiped a bag, and crossed the plate in the Braves 4-2 victory.

Brewster Whitecaps (5-7-0): Alex Freeland, SS/2B, University of Central Florida

Alex Freeland spent the week showing off his power for the Whitecaps. The Golden Knight middle infielder smashed three extra base hits for Brewster, driving in five runs in the process. Freeland crushed two home runs over his five games this week, extending his league lead to four. The Brewster shortstop currently leads the league with a .394 isolated power, while his seven RBI places him in a tie for fifth.

Chatham Anglers (4-7-1): Cy Nielson, LHP, Brigham Young University

Cy Nielson baffled hitters in his two appearances for the Anglers this week. The Chatham lefthander pitched 7.2 innings across his two outings, allowing just two hits while striking out ten. The Brigham Young pitcher also allowed just one unearned run across the two showings, lowering his ERA on the season to 1.63 to go alongside holding opposing hitters to a .158 average. Nielsen's strong week also vaulted him into a tie for fifth in the league in strikeouts.

Cotuit Kettleers (9-2-1): Jackson Kelley, RHP, Mercer

The Kettleers continued their strong start this week, again making it difficult to choose just one player to highlight. However, Jackson Kelley's performance over the past seven days has been nothing short of extraordinary. The Cotuit righty made two appearances in relief, logging 5.1 innings pitched and allowing just two hits without walking a batter. Kelley also fanned 10 batters in his impressive week, bringing his season total to a league-leading 17. The Mercer Bear has also yet to allow a run in his 9.1 total innings on the campaign, holding hitters to a paltry .129 batting average and .161 slugging percentage.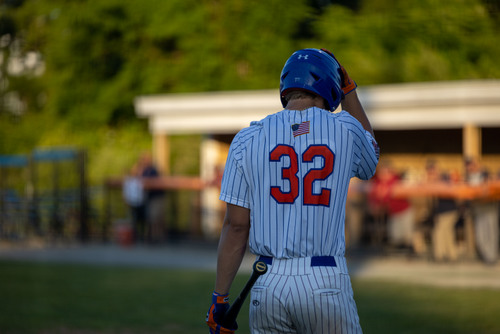 Falmouth Commodores (5-6-1): Colby Halter, SS, University of Florida

Falmouth put together a solid week, with Colby Halter helping to lead the way. Halter hit .412 on the week, bringing his average on the season up to .375. The Commodore infielder walked five times and was also hit by a pitch, giving him an on-base percentage of .565 for the week. Halter also swiped four bags on the week, putting him in fourth on the Cape with six. The Gator has currently reached safely in all nine games in which he's appeared for Falmouth, and ends the week riding a four-game hitting streak.

Harwich Mariners (5-7-0): Sean Sullivan, LHP, Northwestern

Sean Sullivan showed out this week for the Mariners. The lefthander appeared in two games for Harwich, tallying 7.0 total innings pitched and recorded the win in Friday night's victory over Cotuit. Sullivan punched out eight across the two appearances, allowing just four hits and walking one opposing batter. The Wildcat lefty's ERA sits at just 1.04 on the campaign, alongside a meager .69 WHIP.

Hyannis Harbor Hawks (5-5-2): Cole McConnell, OF, Louisiana Tech University

Cole McConnell is out to a very strong start for the Harbor Hawks. The Hyannis outfielder hit .400 over the past week, helping lift his season slash line to .344/.421/.375. McConnell put together a five-game hitting streak to end the week, highlighted by a 3-4 performance in the second half of their doubleheader on Monday. The Louisiana Tech product also added three RBI and a stolen base to his stat sheet this week, in addition to three performances in which he reached base multiple times.

Orleans Firebirds (6-5-1): Travis Honeyman, OF, Boston College

That Travis Honeyman's so hot right now. The Orleans outfielder continued his torrid output, slashing .400/.481/.600 for the week. Honeyman currently holds the league lead in runs created with 12.429, and ranks second in batting average (.385), homers (3), and isolated power (.359). The Firebird also added three more multi-hit performances to his impressive campaign, and ended the week riding a five-game hitting streak.

Wareham Gatemen (4-7-1): Hogan Windish, 2B/LF University of North Carolina at Greensboro

Hogan Windish compiled an impressive week for the Gatemen. The Jefferson, North Carolina native hit .381 on the week, adding two doubles and scoring three times. Windish's .364 batting average currently ranks fourth in the circuit, with his three doubles placing him in second. The Wareham utilityman's 6.5 runs created also places him in third amongst the league's hitters.

Yarmouth-Dennis Red Sox (6-4-2): Michael Boeve, 3B/1B, University of Nebraska

While the major highlight of Y-D's week was their legendary manager Scott Pickler breaking the league record for wins on Saturday night, Michael Boeve put together an outstanding performance. Boeve hit .375 on the week, and added seven walks against just three strikeouts to give him an impressive .375/.565/.438 weekly slash line. The Red Sox infielder also added three RBI and two stolen bases to his impressive week.