League News
06/28/2022 5:00 AM
Article By: Ethan Kagno
Week two surely did not disappoint. A record was beaten, an undefeated streak ended, and some new faces arrived on Cape to start their summer's. Here's what you should know for week three.
Headlines:
Pickler Becomes Cape League's Winningest Manager
In his 25th season, Yarmouth-Dennis Red Sox Manager, Scott Pickler tied former Chatham Anglers head coach, John Schiffner in all-time Cape League wins on Friday, earning his 539th victory. Pickler notched his record-breaking 540th win on Saturday in Cotuit as many flocked to Lowell Park to witness history.
After the game, Pickler remained humble about his record-setting achievement, adding "it isn't me, it's the players, the assistant coaches, and that's what has made this so rewarding."
Pickler's squad rides into Monday sitting atop of the Western Division standings at 8-4-2, and have outscored their opponents by 20 runs. If amassing his 540th win wasn't impressive enough, Pickler's Y-D squad will look to capture their seventh league championship since 2004, all of which have been coached by the winningest manager in Cape League history.
Cotuit Unbeaten No More
The Kettleers started their 2022 campaign unbeaten in 10 straight games. The Kettleers were too hot to handle after their scorching 9-0-1 run which saw them tally league-bests in runs scored (65) and runs against (26), good for an impressive +39 run differential. Harwich was able to cool down the Kett's bats after allowing just two runs in Friday's 4-2 victory at Lowell Park. Yarmouth-Dennis traveled to Cotuit and handed the Kettleers their second straight loss on Saturday, which also happened to be Y-D skipper, Scott Pickler's record-breaking win. Despite their first two losses of the season, Mike Roberts' aggressive offense and dominant pitching staff has been a tremendous all-around team effort. Player's such as Ryan Ritter (Kentucky), Brooks Baldwin (UNC Wilmington), Chandler Simpson (Georgia Tech), C.J. Kayfus (U of Miami), Kade Morris (Nevada), and Jackson Kelley (Mercer) have all enjoyed great starts to their respective summer's. Cotuit will look to pick up their league best, 11th win tomorrow evening against Orleans.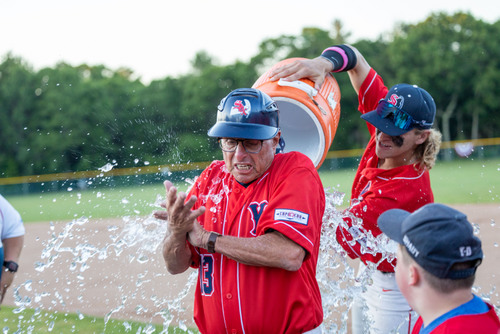 Player To Watch:
Chandler Simpson
Although he's not related to Marge or Homer, Chandler Simpson is still a name to know. The 134th ranked 2022 MLB Draft prospect (according to MLB.com), has showcased his elite speed both at Georgia Tech, and so far this summer with Cotuit. He has seven stolen bases this season, which trails only teammates Brooks Baldwin (UNC Wilmington) and Victor Scott (West Virginia), who have nine and eight thefts, respectively. Not only is he a menace on the basepaths, but he also led D1 in batting average (.433) and swiped 27 bags for the Yellow Jackets. In addition, Simpson proves to be a tough out as he generated a .506 on-base percentage during his sophomore season, and struck out just 16 times in over 200 at-bats. As July's draft gets closer, Simpson will look to continue to raise his draft stock as part of Cotuit's aggressive base-stealing approach.
Marquee Matchup:
The Sox Are Hot
Yarmouth-Dennis vs Harwich - June 28, 6:30pm at Whitehouse Field
The Red Sox head to Harwich to take on Ivran Romero and the Mariners in the late game on Tuesday night. Romero (San Diego) is coming off a solid outing against Bourne on June 20th when he fanned eight Braves in 4.1 innings pitched. He has yet to allow a run this summer and is scheduled to make his first start for Y-D who is hot as of late, winning eight of their last 10 games. Harwich is coming off a 6-5 loss against Wareham, and will look to rebound against the Sox. On the Harwich side, Tommy Seidl (Alabama) and Nick Goodwin (Kansas State) have impressed, combining for nine extra base hits so far this season.