League News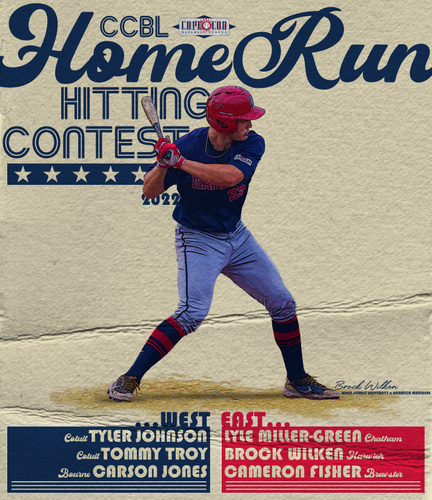 07/21/2022 12:25 PM
Article By: Brian Butler
Saturday's Cape League All-Star Game and the surrounding festivities will celebrate some of the best and brightest stars the league has to offer this summer. Without a doubt, one of the most exciting events of the day will be the home run hitting contest, a display of some of the most elite power hitters in the Cape League. As the league's All-Star Saturday events approach, it's time to take a look at the sluggers that will showcase their spectacular strength on Saturday afternoon.

East Division:

Brock Wilken, 3B, Harwich Mariners, Wake Forest
A top prospect in the 2023 draft class, reigning Cape League MVP Brock Wilken will appear both as a Home Run Hitting Contest participant and an All-Star starter at third base on Saturday. Wilken has homered three times for the Mariners this summer in 73 at-bats. The Harwich infielder also launched 23 taters on his collegiate spring, and is poised to pepper the Spillane Field bleachers and beyond with home run balls.

Cameron Fisher, OF, Brewster Whitecaps, University of North Carolina at Charlotte
A newer addition to the Brewster roster, Cameron Fisher has wasted little time demonstrating his ability to destroy a baseball. Fisher has appeared in just 13 games so far for the Whitecaps this year, but has already left the yard thrice across his 44 at-bats on the summer. The 49er outfielder has homered in back-to-back games entering Thursday night's action, including an incredible display of power on Tuesday night in Chatham in which he launched a solo shot to right field that landed by the fire station across the street from the top of Veteran's Park's right field hill.

Lyle Miller-Green, OF/1B, Chatham Anglers, Austin Peay
Despite being a late addition to the field, Lyle Miller-Green may have the most raw power of any participant in the competition. Miller-Green returned to the Anglers partway through the season, and has seen limited playing time, notching 27 at-bats in just 11 games. The Chatham first baseman has just one home run on the year, but his batting practice is consistently something that leaves witnesses in awe. Although he only has one homer this year for Chatham, he had eight last summer, a mark that was good enough for third on the Cape. The Austin Peay product's light-tower power will certainly be something to behold when he takes his cuts at Spillane Field on Saturday afternoon.

West Division

Tyler Johnson, 1B/LF, Cotuit Kettleers, Coastal Carolina
The current league leader in dingers is Cotuit's Tyler Johnson, who will look to further stake his place as the Cape's home run kingpin. Johnson possesses a smooth left-handing swing that has produced six homers for the Kettleers this summer. The Chanticleer utilityman has a sensational .286 isolated power rating, which places him in fourth place in the division, and will look to carry that power into Saturday's festivities.

Tommy Troy, SS/2B, Cotuit Kettleers, Stanford
The second Kettleer appearing in the Home Run Hitting Contest is Tommy Troy, a middle infielder that certainly knows how to hit his homers in bunches. Troy is currently tied for second in the circuit in round-trippers at five, with four of those coming across two multi-homer games for Cotuit. The Stanford product is also slugging a whopping .718 at the time of writing, which ranks second in the East, with his spectacular .338 isolated power rating also ranking second.

Carson Jones, OF, Bourne Braves, Virginia Tech
Another recent addition to his respective team, Carson Jones has only appeared in nine Braves contests, but already has proved to have incredible pop, already notching an extra base hit of every variety. While he has just one home run, the fewest of any of the competition's participants, so far on the summer, Jones put on a tour de force at the league's annual Fenway Day, blasting balls well beyond the bullpens in right field. The Virginia native has tremendous power, and will look to prove that to the baseball world on Saturday in Wareham.