League News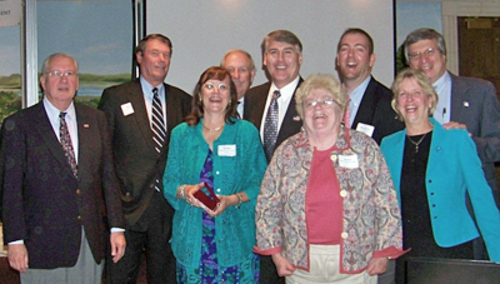 10/12/2011 9:29 AM
Article By:
HYANNIS—It's official.
Kim Wolfe, secretary of the Cape Cod Baseball League and the Hyannis Harbor Hawks, was awarded the prestigious Hank Farnham Unsung Hero Award at the Hyannis Area Chamber of Commerce annual dinner on October 5.
It was a great evening for Kim and the many, many friends and colleagues who attended the annual Awards Dinner and Annual Meeting .
After a standing ovation, Kim was presented the award, a handsome clock, by incoming Chamber president Warren Rutherford.
Kim had this to say in her opening remarks, "I want to thank the entire Chamber for this incredible honor. To be recognized like this for doing something that I just really enjoy is hard to comprehend. As most of you in this room know, volunteerism is a great thing and goes a long way to creating the sense of community we have here on Cape Cod. When I arrived on the Cape a little over 30 years ago, I was pleasantly surprised at all there was to do and see here."
She spoke of her 25-plus years of involvement with Big Brother/ Big Sisters and how she got started in baseball.
"I joined some committees and before I knew it I was very involved and had met many incredible people," Wolfe added. "One of those folks was Peter Scarafile who asked me if I would host a college ballplayer from the Hyannis team of the Cape Cod Baseball League. That was 1998.
"I decided to take two players so they could talk to each other about the game, since I'm not really a baseball person," continued Wolfe. "I even read the newspaper to them, asking "what does 'fanned a batter' mean?' I've learned a lot over the years but I have to admit, sometimes at meetings, comments still go right over my head."
Kim concluded her comments with this statement, which is so much like Kim to say this, "I know it sounds like a cliché to say I've gotten more than I've given, but the things I've been able to experience from my volunteer life make that true."
Another standing ovation and Kim "sailed" off the stage and rejoined her friends and family. All agreed, there is no one more deserving of this award than Wolfe.
Sincere congratulations to Kim from the entire Cape League family!