League News
09/18/2001 11:33 AM
Article By:
for immediate release: 18 September, 2001
The Cape League Wishes to Express Condolences
for Our Country's Great Loss

The Cape Cod Baseball League wishes to extend its deepest condolences to the thousands of victims and families affected by the tragic events in New York, Washington D.C. and Pennsylvania on Tuesday, Sept. 11.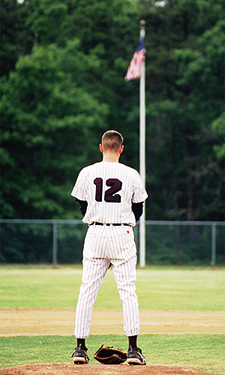 Former Cotuit Kettleer Tony Fontana (1999) pays his respects to Old Glory at Lowell Park in the last season Cotuit won the Cape League title.

Photo by Sean Walsh/CCBL 2001

While the 2001 Cape League season had finished less than a month before these tragedies occurred, the entire Cape League community is no less concerned for the well being, safety and good fortune of all Americans.

The Cape League recognizes we may be entering a most trying and difficult period in our nation's history. It is our hope that the League can continue to offer an enjoyable albeit brief respite from the difficult times ahead and that Americans find solace once again in the great game of baseball and that the freedom to play and enjoy baseball is preserved forever.