League News
09/23/2001 11:32 AM
Article By:
for immediate release: 23 September, 2001
Former Cape League duo Earn Rave Reviews
from the Boston Red Sox

BOSTON - The Cape Cod Baseball League held its head high and proud Sunday at Fenway Park as two of its former stars received top honors from Minor League affiliates of the parent team Boston Red Sox.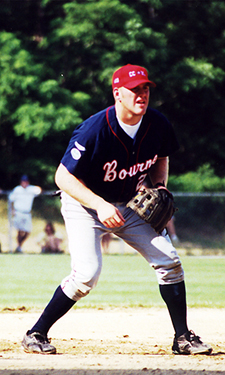 Former Bourne Braves all-star Kevin Youkilis (2000) was named the Lowell Spinners
Player of the Year for 2001.
CCBL File Photo/Walsh

Former Bourne Braves all-star Kevin Youkilis was named 2001 Player of the Year for the Lowell Spinners, the Class A Affiliate of the Boston Red Sox in the New York-Penn League. Toward the end of the season, Youkilis was called to the Augusta Green Jackets of the South Atlantic League, a higher-level Red Sox Single A Minor League affiliate. Youkilis was recruited to play for Bourne in 2000 from the University of Cincinnati. When he arrived on Cape Cod in June 2000, he took the league by storm, earning a starting role at third base for the West Division All-Star Squad. A week later, Youkilis was named the top Cape League third baseman for the 2000 season and started at third base versus Team USA, providing the Cape contingent with clutch hitting and fielding.

All totaled, Youkilis wrapped up the regular season for the Braves with a .309 batting average, four home runs and 40 RBI in 44 games. A star at the University of Cincinnati before being drafted in the 8th round (243rd pick overall) by the Boston Red Sox this past June, Youkilis was congratulated by Boston Red Sox manager Joe Kerrigan - also a former Cape Leaguer -- at Fenway Park Sunday along with fellow former Cape League star Greg Montalbano.

Montalbano was named the Pitcher of the Year for the Boston Red Sox AA affiliate Trenton Thunder after going 3-3 with a 4.50 ERA and 45 Ks in 48 innings pitched. He walked only 14 batters.

The hopeful future star of the Old Towne Team, who had a stellar pitching career at Northeastern University (19-7, 2.55 ERA, 217 Ks, 65 walks), first hurled in the Cape League in 1998, going 1-1 for the Wareham Gatemen with a 2.86 ERA. The all-time leader at Northeastern in strikeouts (217) and shutouts (5), Montalbano came to Cape Cod again in 1999, earning First Team All-Star Honors as a starting pitcher by leading the Orleans Cardinals to the Cape League playoffs with a 5-1 record and 1.29 ERA.

Montalbano is also tied for 4th on the Northeastern University all-time list in saves (5), is third in wins (19), third in ERA (2.55) and is the only pitcher in Northeastern baseball history to post more than two shutouts in any one season (4).

Pena Shines in Major League Debut

ARLINGTON, TX - Another former Cape League, Wareham Gatemen and Northeastern University baseball star truly shined in professional baseball for the first time in his career this week - Carlos Pena of the Texas Rangers.

Pena, who made his long-awaited Major League debut on Sept. 5, belted two home runs versus the Oakland A's on Sept. 19, the first former Northeastern player to ever hit a Major League home run, according to Northeastern University's web site -- www.gonu.com/baseball.

Pena led Wareham to the Cape League Championship title in 1997 when he hit .318 with 8 home runs and 33 RBI and was named the 1997 Cape League Most Valuable Player.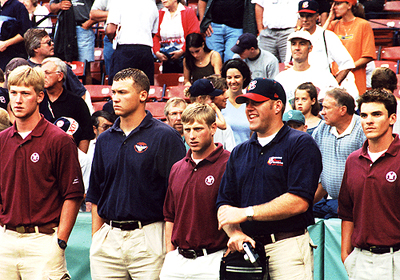 Just over one year removed from Cape League stardom, former Bourne Braves all-star and University of Cincinnati star Kevin Youkilis (second from right) tore up Single A ball in the South Atlantic League in 2001 for the Augusta (GA) Green Jackets, a minor league affiliate of the Boston Red Sox. Youkilis is pictured here with former LSU and Wareham Gatemen standouts Ryan Theriot (far right), Mike Fontenot (third from right), Ryan Barthelemy (Hyannis/Florida State) and Tyler Parker (Wareham/Georgia Tech). Fontenot is now with the Batlimore Orioles following his MVP season in 2000 with Wareham.
Sean Walsh/CCBL 2000