League News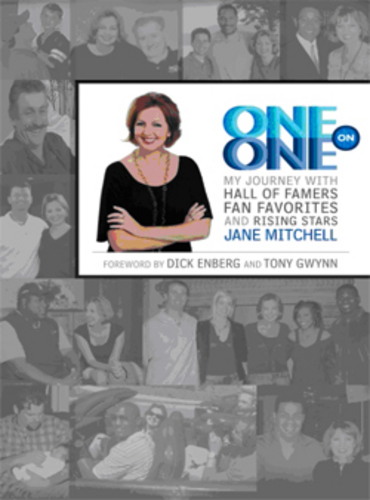 06/03/2011 3:21 PM
Article By:
Jane Mitchell book signing fundraiser for the CCBL
CCBL Hall of Fame, Hyannis on 18 June at 12:00 noon
On Saturday, June 18th, Jane Mitchell, on-air reporter/producer of Channel 4 San Diego will host a book signing/fundraiser for the Cape Cod Baseball League at the JFK Museum at 12:00pm.

Jane's book, "One on One − My Journey with Hall of Famers, Fan Favorites and Rising Stars" with a foreword by Dick Enberg and Hall of Famer Tony Gwynn, will be the topic of her talk.

Jane is excited to help raise some much-needed funds and to meet some of this season's players as she shares words of encouragement from some of the present San Diego Padres who played in the Cape League, including Chase Headley, Aaron Harang, Brad Hawpe, Nick Hundley, Wade LeBlanc, Cory Luebke, Tim Stauffer and Joe Thatcher, as well as Padres and CCBL alumni Anthony Gwynn Jr., Chris Young, Geoff Blum, Mark Loretta and Jerry Hairston. Many of them have been featured on Jane's television show.

Jane will speak about her experiences in "telling the good sports story" with the likes of Ted Williams, Adrian Gonzalez, Dave Roberts and Larry Lucchino. Besides the San Diego Padres connection to the CCBL, Jane was also the last person to interview Ted Williams! Her TV show, "One on One with Jane Mitchell," featuring Ted Williams won Jane an Emmy. During the book-signing fundraiser, Jane's never-seen-on-the-East Coast episode with Williams will be available for viewing.

Through the years, Mitchell's work in San Diego has had many Cape Cod and Boston ties. Her close personal friend, San Diego Padre and Hall of Famer Tony Gwynn, saw his own son, Anthony Jr. play for the Brewster Whitecaps in 2002. Jane documents and acknowledges the Cape Cod Baseball League in her book as part of Anthony's journey. In his role as head baseball coach for San Diego State University, Tony Gwynn has seen the benefits of and has high respect for the CCBL. This summer, one of his players, Kris Bryant, will play for the Chatham Anglers.

Jane will also be documenting her trip to Boston and Cape Cod for Channel 4, San Diego, and will make that video available to the league for its archives.
Sign up early to reserve your space!

Send $40 check payable to "Cape Cod Baseball League – H of F"
and mail to 449 Braggs Lane, Barnstable, MA 02360.

A large portion of the $40 will be donated to the League and the JFK Hyannis Museum.
John Garner, Jr.
Director of Public Relations & Broadcasting
(508) 404-7434
[email protected]

Joe Sherman
Senior Web Editor
Special Projects Coordinator
[email protected]