League News
03/18/2003 10:35 AM
Article By:
for immediate release: 18 March, 2003
Cape League Keeps Churning Out Major League Prospects

WAREHAM – Each spring, Baseball America publishes a list of its projections for each Major League Baseball team's top 30 prospects. All totaled, some 900 high school or college-aged players get the nod as the cream of the nation's crop -- the best of the best.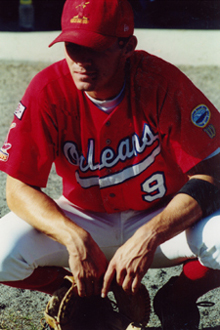 Top collegiate propsects like former Orleans Cardinals' shortstop Russ Adams (2001), now making a name for himself in the Toronto Blue Jays' organization, represent the caliber of players the Cape League continues to funnel to Major League Baseball year after year.
CCBL File Photo/Sean Walsh

And for yet another year, the Cape Cod Baseball League has seen its share of the prospective rookie market rise, and rise considerably.

Of the top 850-plus Major League prospects listed, 298 of those players were from 4-year college baseball programs, 301 from high school, 98 from junior colleges, 113 from the Dominican Republic and 43 from Venezuela. How does the Cape League fit into the picture?

According to Cape League official statistician and Wareham Gatemen President/General Manager John Wylde, of the nation's 298 top collegiate prospects in 2003, 119 or 39.83% of them had all played in the Cape League. Astoundingly, that number counts for 6% increase over Cape League players named as top Major League prospects last year. In similar fashion, the Cape League boasted 183 former players amid the ranks of current Major League players (2002).

"Our review of CCBL players in Major League Baseball during the 2002 season highlights our success at the Major League level," Wylde said. "I think it is just as important to see how we stand with future Major League Baseball prospects."

Interestingly, the Chatham A's were represented with the highest number of Major League prospects with 20, followed by the Y-D Red Sox (15), Cotuit Kettleers (14), Orleans Cardinals (14), Falmouth Commodores (13), Wareham Gatemen (13), Harwich Mariners (12), Hyannis Mets (10), Brewster Whitecaps (9) and Bourne Braves (8).

The Cotuit Kettleers' organization, however, stands at the top of the list for Cape League teams with current Major League players at a staggering total of 30, followed closely behind by the Hyannis Mets at 25 and the Wareham Gatemen at 24. Following those top three franchises are the Chatham A's (23), Brewster Whitecaps (19), Orleans Cardinals (18), Y-D Red Sox (17), Falmouth Commodores (16), Bourne Braves (14) and Harwich Mariners (13).

In the 2000 Major League season, the Cape League boasted 187 players as alumni, a number that has slightly decreased the past two seasons to 184 in 2001 and 183 in 2002.

Sean Walsh/John Wylde – Special to the CCBL/2003
For more information, please contact John Wylde at (508) 295-3956