League News
08/03/2003 9:48 AM
Article By:
for immediate release: 3 August, 2003
Cape League Divisional Races Go To The Wire
Orleans & Brewster vie for East Title
Bourne, Hyannis, Cotuit battle for West Supremacy

CAPE COD, Mass. – The battle for playoff berths will go right down to the wire as six of the 10 Cape League teams still have a shot at postseason play.

With two days remaining in the regular season, the Orleans Cardinals and Brewster Whitecaps are tied for the league lead with 49 points, four points ahead of third place Chatham A's. Thanks to a grand slam homer by Rodney Allen, the Cardinals posted a 13-5 win over Y-D last night, while the Whitecaps defeated Chatham, 3-1. Chatham travels to Brewster at 5 p.m. and Orleans hosts Harwich at 7 on Monday.

In the "Wild and Wooly West", the pitching-rich Bourne Braves (47 pts) nurse a slim two-point lead over the second place Hyannis Mets (45 pts) and are now six points ahead of the third place Cotuit Kettleers (41 pts). Bourne defeated the Kettleers, 8-3 while Hyannis kept pace with a 4-3 come-from-behind win at Wareham. Bourne hosts Y-D at 4:45 and Cotuit visits Hyannis Monday at 5 p.m.

KeySpan's "Home Runs for Housing" Swings $10K to Cape Cod Housing

KeySpan Energy Delivery, the largest provider of natural gas in the Northeast, announced it will donate $10,000 to the Housing Assistance Corporation (HAC) as a result of the 125 home runs hit to date by the Cape Cod Baseball League (CCBL). The donation is part of KeySpan's "Home Runs for Housing" campaign, which raises $100 for HAC each time a Cape Cod Baseball League player hits a home run.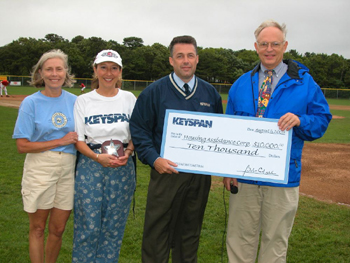 KeySpan Energy presented a check for $10,000 to the Housing Assistant Corp., before Tuesday's Hyannis at Yarmouth-Dennis regular season finale game. Taking part in the ceremony were (L-R): Deb Converse of the Housing Assistance Corp., Susan Carlson of Keyspan, Joe Carroll of Keyspan and Rick Presbrey of Housing Assistance Corp.
Barnicle/CCBL 2003
KeySpan pledged up to $10,000 to the non-profit --with the CCBL teams hitting the 100 home run mark on July 18th. HAC is the lead organization working on the important issue of affordable housing on the Cape.

"KeySpan has a longstanding relationship with the Cape Cod community and is pleased to be able to provide this kind of housing support," said Nick Stavropoulos, President of KeySpan Energy Delivery-New England. "The fact that the great game of baseball played a role is even better," Stavropoulos continued. KeySpan is sponsoring the CCBL for the second year in a row.
The $10,000 "Home Runs for Housing" donation will be presented to Cape Cod-based Housing Assistance Corporation at the Hyannis at Yarmouth-Dennis game Tuesday (Aug. 5) at 5 p.m.

League Championship Broadcast Live on WCIB, Cool 102 & Teamline

The CCBL league championship game (s) will be broadcast live on WCIB, Cool 102 (101.9 FM, 50,000 watts), including the second and, if necessary, third games of the series. Larry Egan and John Garner will be the radio broadcasting team on Cool 102 and Free Teamline (www.capecodbaseball.org).

SportsPix Offers Action Photos For All Cape League Teams & Players

Cape League fans, when the season is over, the action continues with SportsPix! SportsPix, the official photographer of the Cape League, offers high quality professional action photos of all Cape League teams, and photos can easily be viewed at no charge right online. Just click on the "News and Photos" section on the Cape League website (www.capecodbaseball.org) or go directly to the SportsPix site (www.SportsPix.biz). You'll like what you'll see!"

Coca Cola Player and Pitcher of the Week

Cotuit's C.J. Smith is this week's Coca Cola Player of the Week. This week, Smith was an offensive machine going 9-23 (.391) with two doubles, two triples, and two homeruns. Smith also drove in eight runs while crossing the plate five times himself. Bourne's Eric Beattie is this week's Coca Cola Pitcher of the Week. Beattie surrendered just two hits, no walks, and no runs in Wednesday's complete game shutout of Falmouth. Beattie also struck out six batters en route to his fourth win of the season. –Gregory Feeley CCBL PR (508) 432-9786

Rawl Gets It Done

Brewster's ace Aaron Rawl (South Carolina) is feared by batters across the league. Rawl's fastball, topping out at 96, seems to be un-hittable, along with a curveball that gets past most batters. Rawl has yet to lose a game with a 5-0 record. Aaron has a 1.20 ERA and has stuck out 41 batters. J.C. Holt (LSU) is the top hitter again this week. J.C.'s batting average climbs each week, and this week rests at an impressive .388. Holt is reliable at the plate, and has 50 hits already this season. Holt is also reliable in his usual position in centerfield, but also proved to be an asset to Brewster's infield. J.C. has been playing second base, and has exhibited his superior skills as an infielder as well, being apart of many double plays. Holt's LSU teammate, Ryan Patterson, has been hitting well, and is now the second RBI leader with 24. Patterson is batting a .277 with two homeruns. Brewster is tied for first with the Orleans Cardinals with an overall record of 23-16-3. The race to the playoffs is on between Orleans, Brewster, and Chatham who all look to grab a spot of the 2003 CCBL playoffs. –Sarah Hinkley CCBL PR (508) 432-7288

Braves Look Again To Pitching Down Stretch

The Bourne pitching staff has been one of the toughest on hitters all season. Led by their big three Eric Beatty (Tampa), Kyle Schmidt (Georgia Tech), and Vincent Bongiavanni (Miami) the Braves boast the lowest ERA (2.12) and no team has thrown more shutouts (6) or given up fewer homeruns (7). Beatty's performance this week was the Brave's best. Beatty pitched a complete game shutout of West rival Falmouth Wednesday, 3-0. Beatty gave up just two hits and struck out six en route to his fourth victory. Schmidt found himself on the short end of a 2-1 decision against Cotuit. Schmidt gave up just one earned run on one hit while striking out six. Bongiavanni earned his third victory of the season at Orleans Thursday, 2-1. Bongiavanni allowed one run on four hits while striking out ten. It was the second start in a row that Bongiavanni retired ten batters by way of the K. Tim Grant (Dartmouth) appears to have settled in to his role as closer picking up his third and fourth saves. –Gregory Feeley CCBL PR (508) 432-9786

Allen Hits a Grand Slam Against

Tied for first, Orleans Cardinals smashed the Yarmouth-Dennis Red Sox 13-5 Sunday night. In the top of the fourth, Rodney Allen (Arizona State) bashed a grand slam over left center field. The shot scored Jason Jaramillo (Oklahoma State), Cesar Nicolas (Vanderbilt), and Myron Leslie (Southern Florida). Allen has 29 hits this season and is batting a .225. The game ended in seven innings, and the win secured Orleans tie for first in the East Division with Brewster. The Cardinals are 24-17-1.
Cesar Nicolas leads the CCBL in RBI's with an astounding 28. The Home Run King is batting a .254 with 36 hits, 5 home runs, and 11 doubles, the most of any Cape League Player this season. Matt Cooksey (George Mason) has joined the leader boards this week with his quickness around the base path. Cooksey is second in the league in stolen bases behind Jonathan Tucker of Hyannis. Cooksey has stolen 14 bags this season, and has a .393 on-base percentage. Matt has also scored 27 runs for the Cardinals. Rhett James (Florida Sate) has the most wins this CCBL season. James posts a 7-1 record and a 2.60 ERA. Rhett has sent 65 batters back to their dugout after striking them out. James has struck out more batters than any other pitcher in the CCBL. Rhett's teammate, Brandon Camardese (Miami), another Florida native, is among the top ten pitchers for the league posting a low 1.08 ERA. Camardese is 3-1 on the season and has stuck out 26 batters. –Sarah Hinkley CCBL PR (508) 432-7288

Carlson Is Part of CCBL History

Zane Carlson (Baylor) already the Cape League career saves leader, is now the only player to have more than ten saves three seasons in a row. Zane has saved 12 games in the last two seasons, and saved his tenth game of the season against Falmouth on Saturday night. Carlson stuck out three consecutive batters to become the only player to save more than ten games three years running. Zane remains the all time save leader with 34 saves as a Chatham A. Chatham rallied Tuesday night against Harwich for a win. Chatham was trailing in extra innings 3-2. Ryan Klosterman (Vanderbilt) smashed the ball over left field to tie the game at three a piece. After a single by Matt Anderson (UC Irvine), Jeff Frazier (Rutgers) hit in a single to centerfield to send Anderson home to win the game. Chatham won 4-3 in ten innings. Anthony Raglani (George Washington) homered in consecutive games. Raglani homered Saturday night against Falmouth, and Sunday night against Brewster. Anthony is third in the league with six homeruns for the season. Raglani is batting a .254. Chatham is in second place in the East Division, still hoping to clinch a play-off spot. The A's are 22-19-1. –Sarah Hinkley CCBL PR (508) 432-7288

Y-D Still Holds Best Hitters

The Yarmouth-Dennis Red Sox have had the highest team batting average all year, due to their outstanding lineup. The Red Sox are in third place in the East, with a 19-22-1 record. Y-D has a collective batting average of .260, higher than any other Cape League team. Y-D has four players in the top ten batting list. All-Star, Hyung Cho (Houston), holds the fifth spot with a .336 average. Sean Gamble (Auburn) is right behind him with a .319. Gamble has 36 hits on the year. Trevor Crowe (Arizona) and Chris Malec (UC Santa Barbara) hold the eighth and ninth spot, respectively. Trevor is hitting a .287, while Chris is hitting a .284. Trevor Crowe has the most triples of any player in the CCBL. Crowe hit his fourth triple against the Orleans Cardinals on Sunday night. Closer, Justin Maier (LSU) still has an ERA under one. Maier posts a 0.87 ERA with 37 strikeouts in 20.2 innings. –Sarah Hinkley CCBL PR (508) 432-7288

McCann, Swindle and Hedrick stand as Top league leaders

The Harwich Mariners are closing up the season currently standing in fifth place in the East with 37 points, ten points away from first place Brewster and Orleans. Brad McCann (Clemson) is a Cape League leader in batting with a .283 average placing him in ninth place. Robert Swindle (Charleston Southern) leads the league in wins with six and Justin Hedrick (Northeastern) is second in the league in strikeouts with 60. The Mariners blew out second place Hyannis Saturday 9-2. Swindle pitched a complete game, allowing only two runs on twelve hits and striking out six. Jeff Dragicevich (California) had a two run double in the fourth. Chuck Jeroloman (Auburn) went 3-for-5 and Tug Hulett (Auburn) went 2-for-3 with three runs scored. Shannon Sprouse (Citadel) put an end to Orleans comeback as Sprouse came on with two outs in the ninth striking out the only batter he faced as Harwich beat out the Eastern Division leaders, the Cardinals 3-2 Friday night at White House Field. Jeff Nieman (Rice) allowed no runs on four hits through seven innings while walking two and striking out four in the win. The Mariners took a 3-0 lead on an RBI double by Chuck Akers (MTSU) and an RBI single by Wyatt Toregas (Virginia Tech) The Mariners suffered a close defeat against the Chatham Athletics as they scored twice in the bottom of the 10th to come on top 4-3 Tuesday night. With two outs in the top of the 10th, Tony Festa (UC-Riverside) singled up the middle to score Tug Hulett (Auburn) for a 3-2 Mariner lead. Chatham proved the night was not over as Ryan Klosterman hot a solo homer with two outs to tie the game at 3-3. The next batter Matt Anderson singled to center. Jeff Frazier (Rutgers) followed with a hit to center that beat past Harwich's Cory Newman (S. Illinois) to score Anderson for the game winning run. Cotuit's rally, a 7-6 come-from-behind victory over Harwich lead the Mariners stunned in the bottom of the ninth Monday night. The Kettelers were down 6-4 as Jon Hardy started off the ninth inning rally with a single to right. Eric Neilson drew a walk and the next batter C.J Smith, singled to load the bases. Hardy was able to score on Blake Gills single to right and Jeff Baisley singled to right center to score Nielson and tie the game 6-6. Poor field management by the Mariners caused lefty, Jeff Fiorentino to ruin the Mariners positioning hitting a game winning single straight up the middle to score Smith. –Liz Logan CCPL PR (508) 945-9492

Fuld and Jackson Lead Second Place Hyannis Mets

Fleet centerfielder Sam Fuld (Stanford) and lefty hurler Zach Jackson (Louisville) are leading the playoff run for the Hyannis Mets. Following Saturday's 3-for-4 effort vs. Harwich,, Fuld was second in the league with a .375 batting avg. and led the CCBL with a .445 OBP. Jackson leads the league with a perfect 6-0 record and a 1.88 ERA., following a 9-0 win over Chatham August 1. Jonathan Tucker (Florida), who also went 3-for-4 vs. Harwich, leads the league with 15 stolen bases. Austin Tubb, sidelined for the season with an injured shoulder, is still tied for the CCBL league lead with 10 saves with Chatham's Zane Carlson. The Mets kept pace in the West Division with a 4-3 win at Wareham Sunday night, paced by two doubles and two runs scored by Brian Hall (Stanford). – John Garner, Jr., CCBL Director of Public Relations & Broadcasting

Cotuit Hanging Around

With two games to go and just four points behind second place Hyannis, the Kettleer's are poised to make this division race interesting. C.J. Smith (Florida) had six extra base hits (2 2B, 2 3B, and 2 HR) including a two-run walk off homer to beat Orleans in 11 innings, 2-0 Saturday. Paul Lubrano (Georgia) allowed just one hit over the first nine innings of the contest and matched a league season high 14 strikeouts. Clay Timpner (Central Florida) knocked three doubles in Monday's 7-6 win over Harwich. Eric Nielsen (UNLV) has been one of the league's hottest hitters over the last three weeks. Since July 16, Nielsen hit .420 (21-50, 4 2B, 1 3B, 1 HR, 12 RBI, 1 SB). Over that period he was tied for first with 11 doubles, second in slugging (.486) and third with 23 RBI. –Gregory Feeley CCBL PR (508) 432-9786

Wareham Shutouts Two

As the season winds down the Gatemen are still putting forth sterling performances. Jeremy Sowers (Vanderbilt) shutout Chatham Monday, 2-0. Sowers yielded just four hits while striking out five. Sowers has allowed two earned runs or fewer in each of his last eight starts. Trey Taylor (Baylor) threw a four-hit, 5-0 shutout at Bourne Saturday. Taylor did not allow a walk and struck out five. Adam Lind (South Alabama) had two doubles and drove in three runs in a 13-4 win against Brewster Tuesday. Wednesday Lind homered twice at Hyannis. His performance was not enough though as the Gatemen fell 6-5. –Gregory Feeley CCBL PR (508) 432-9786

Metropoulos and Gogal lead the League in Batting and Pitching

The Falmouth Commodores currently stand in fifth place in the West with 29 points, 16 points away from first place Bourne Braves with 45 points. Joey Metropoulos (USC) still leads the league in Home Runs with 11. Jeff Gogal leads the league in pitching with a 2-1 record in 37 IP with 22 hits, 6 BB and 42 strikeouts. Although the Chatham Athletics came out on top Saturday 6-3, two Commodores continued to shine. Metropoulos hit his league leading eleventh home run and Jeremy Slayden (Georgia Tech) added a sol-homer in the second. The Commodores threatened the Kettelers Wednesday night in the bottom of the ninth with Jeremy Slayden (Georgia Tech), Drew Anderson (Ohio State) and Brett Johnson (UNLV) trying to finish what they started. The Commodores, however, couldn't pull through and suffered the 4-5 loss to Cotuit at Guv Fuller Field. The Falmouth Commodores had better luck Monday night as they beat out first place Bourne Braves 6-2 at Coady School Field. Trailing 1-0, the Commodores scored three runs in the sixth, two runs in the seventh and one run I the ninth. Chris Tracz (Marist) went six innings for the win, allowing one earned run on nine hits. Stanford's Chris Lewis went 3-for-4 for Falmouth with a double and an RBI. Joey Metropoulos (USC) and Brent Johnson (UNLV) each went 2-for-4 with an RBI. –Liz Logan CCPL PR (508) 945-9492
John Garner, Jr.
CCBL Director of Public Relations & Broadcasting
(508) 790-0394 [email protected]