League News
08/09/2003 2:19 PM
Article By:
for immediate release: 9 August, 2003
Braves Advance Past Mets in 1-0, 13-inning Thriller

BOURNE--A Michael Butia single in the 13th inning gave the Bourne Braves the only run of Game 3 of the West Division Playoffs against the Hyannis Mets on Saturday at Coady Field. The Braves recovered from a Game 1 Hyannis win with two straight victories, securing their first finals appearance in franchise history. This deciding game of the series proved to be one of the most dramatic and fundamentally sound games in the Cape League this season.

That all-important run was scored for the Braves by Sean Dobson, who led off the 13th with his second hit of the game. Jeff Palumbo laid down a sacrifice bunt to move Dobson into scoring position. The Mets opted to walk Justin Maxwell intentionally, a strategy that initially paid off when Hyannis reliever Graham Taylor got Clifton Remole to fly out to left field for the second out.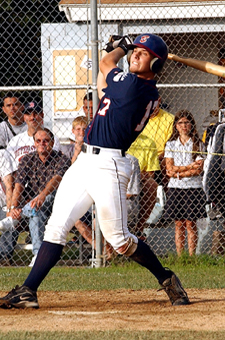 Michael Butia's follow through swing after driving in the series winning run for Bourne in the 13th inning of the deciding game against Hyannis
SportsPix/2003

But when Mets pitcher Sean Walker entered the game, he walked pinch-hitter Ryan Morgan to load the bases for Butia. After fouling off one 2-2 offering, Butia laced a line drive down the left field line to bring home Dobson with the series-winning run.

Picking up the win for the Braves was reliever Tim Grant, who was untouchable in six innings of work that came just one day after a perfect ninth inning against the Mets in Game 2. Grant fanned two and walked one, giving up no hits and retiring 13 batters in a row between the eighth and 12th innings. He preserved the shutout that was started by Vincent Bongiovanni, who allowed the four Hyannis hits and three walks while striking out five in seven-plus innings.

The most remarkable pitching performance of the day unquestionably belonged to Hyannis starter A.J. Shappi, who fired off 10 shutout innings for the Mets. Shappi let up just four hits and two walks with three strikeouts. Pitching true to his trademark style of efficiency, he threw only 102 pitches in his outing.

Shappi's briefest inning came in the fifth, when he got three outs on just four pitches. Devin Ivany led off the inning with a gorgeous bunt single, but a not-so-gorgeous bunt by Matt Tolbert allowed Mets catcher Richard Mercado to throw out Ivany at second. Two pitches later, Shappi forced a weak ground ball and started a 1-6-3 double play to end the inning.

The Mets later threatened to score in consecutive innings, but the threats were crushed both times by Bourne's skillful defensive work. Sam Fuld reached with a leadoff walk in the seventh inning, advancing to second base when Donny Lucy also walked. Fuld was sent home on a base hit to shallow center by Mark Sauls, but he was cut down by a perfect throw from Maxwell in center field.

In the eighth inning, a Mike Athas single and the only Bourne error of the game put runners on the corners with one out. The runner at first, A.J. McCauley, was erased when he was caught stealing by a pitch out on an 0-1 count. Jonathan Tucker was then robbed of a base hit by an amazing diving catch by Dobson in left field. The stellar defense continued into the ninth inning, when Palumbo made a diving stab of a grounder to second base and threw out leadoff hitter Fuld.

Bourne came close to putting runs on the board twice before the 13th inning. They put runners at first and third with two outs in the eighth and 12th innings, but the Hyannis outfield brought ends to those scoring opportunities. Maxwell flied out to Fuld in center field to end the eighth, and Tim Bush hit a sinking liner to right field that was snared on the run by Sauls to end the 12th.

The loss for Hyannis went to Taylor, who put the eventual winning run on base in the 13th. He went 2 2/3 innings, allowing three hits and the one run with two walks (one intentional) and one strikeout.

Stats of note...at the end of nine innings, both teams had identical totals of no runs, four hits, and one error; the Braves were able to rattle off four more hits to help make the difference...both managers applied a small-ball approach to winning the game; there were seven leadoff singles in the game, and all of them were followed by a sacrifice bunt attempt, six of which were successful...nobody was successful, however, in stealing a base, with all three potential basestealers cut down by catchers Mercado and Ivany.

Will Bussiere, Hyannis Mets
www.hyannismets.org