League News
01/27/2006 2:31 PM
Article By:
for immediate release: 27 January, 2006
SportsPix and Cape League Develop Lasting Memories
CAPE COD, Mass. – In 2001, along with five partners, former Boston Celtics general manager Jan Volk created SportsPix, which for the past several years has been the official photography company of the Cape Cod Baseball League.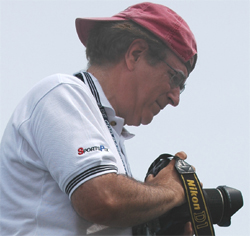 Jan Volk takes great pride in documenting
the players, action and story of the Cape League
swilson / CCBL
Specializing in high school, college, and youth sports action photography, the SportsPix goal is to help young athletes and their families preserve the memories of a special time in their lives.

Volk, a graduate of Columbia Law and Colby College, always had a passion for photography, which grew throughout his college career. For years, he photographed action sporting events.

However, it was not until he became a parent – and a first-time grandparent on Friday with the birth of his granddaughter, Eva! – that he realized the importance of recording such events. As his own children progressed in their sports careers, particularly his son, Volk began to chronicle high school and college sports. Other parents quickly became interested in the high quality photographs, as they found it was difficult to capture such images on their own. As digital technology advanced, Volk and his partners decided to utilize the Internet to make these photos available, and SportsPix was born.

Volk served as GM of the Boston Celtics from 1984 to 1997 and presided over the Green's last two NBA World Championships in 1984 and 1986 during the "Big Three" era of Larry Bird, Kevin McHale, and Robert Parish. Other Boston players during this era included current Celtics GM Danny Ainge, current broadcaster Cedric Maxwell, All-Star guard Dennis Johnson, Hall of Famer Bill Walton, and current Pacers coach Rick Carlisle. During most of his tenure with the Celtics, Volk was considered the foremost authority on the NBA salary cap.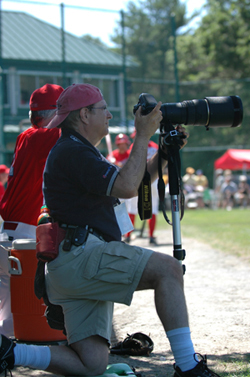 Jan Volk works for the highest quality photographs.
swilson / CCBL
Although Volk approached the Cape Cod Baseball League after the creation of the company, a partnership was not immediately formed.

However, during the winter of 2003, CCBL President Judy Walden Scarafile approached Volk. At the start of the 2003 season, SportsPix became the official photographer for the league.

"Jan Volk and SportsPix have taken the Cape League to another level when it comes to photography," Scarafile said. "They provide top-quality action shots that enhance our website and well as offering media, players and parents photos of a memorable season."

SportsPix makes a conscious effort to identify and document the CCBL for future reference when players from the league eventually enter Major League Baseball. Prior to SportsPix's involvement with the league, it was difficult to find individual player photos because few were catalogued in a systematic fashion.

The website currently boasts 35,000 pictures of CCBL action, including both team shots and individual photos. Orders of individual photos are shipped within days. Since the CCBL has a national fan base, various orders for these priceless images are requested throughout the United States.

In addition to CCBL photos, the website also features 350,000 images from high school and college sports, as well as other special events. For those who can not witness the games or want to capture these memories, SportsPix provides an excellent solution. Visit www.sportspix.biz on the web -Courtney Reilly, CCBL Intern, [email protected]