League News
01/30/2006 2:41 PM
Article By:
| | |
| --- | --- |
| Reprinted from Tar Heel Monthy, September 2005 | 30 January, 2006 |
Tar Heel Contingent Shines On The Cape
by Eric Adler
ORLEANS, MA. — Walking off the field at Eldredge Park that sultry summer night, Robert Woodard acknowledged the crowd, tipping his cap and waving his hand to a mob of applauding fans.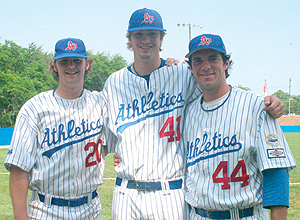 SUMMER SUCCESS. Robert Woodard, Andrew Miller, and
Matt Danford (L to R) were one game from the Cape
championship series with the Chatham A's.
photo by Eric Adler / 2005
To the uninitiated, Woodward's gracious gesture – and the overwhelming adulation coming from the other side of the fence – would appear to belie the fact the Chatham A's just had their dreams of a Cape Cod Baseball League championship dashed, coming up a couple of runs short to the Orleans Cardinals in the rubber match of the East Division Championship series.

After all, it's not uncommon for athletes to abscond to the locker room or team bus in the throes of a season-ending loss.

But in keeping with the tradition of every Cape League post-game, Woodard remained on the diamond long after the final out was recorded. He granted interviews, signed autographs, and posed for photos. And he did it all smiling, absorbing the fan-and-media friendly atmosphere one final time, as if to burn the moment into his memory forever.

"These people just love you, and even though there's no gesture or gift that could thank them enough, I tried to show them a small sign of my appreciation," said Woodard. "Here we are, at the lowest point of our season, and yet there they are, on their feet cheering for us like we just won the championship."

Being treated like royalty in resort towns like Chatham, Bourne and Brewster, wasn't a bad way for Woodard, joined by six of his University of North Carolina teammates, to spend their summer.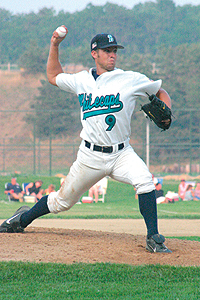 Whitecap closer Justin Hovis logged
a team-best eight saves for the
Brewster Whitecaps last summer, and
was rewarded with the team's annual
"fireman" award for best relief pitcher.
photo by Eric Adler / 2005
Nearly one half of the Tar Heel's pitching staff, along with one position player, made the trek north to test their prodigious talent in the invitation-only Cape League; widely recognized as the country's top amateur baseball league, which often lavishes its players with food and housing, yet does not charge admission to games.

True to its self-proclaimed motto, The Cape League – "Where the stars of tomorrow shine tonight" – is an MLB breeding ground, giving its ardent followers a chance to discover the Nomar Garciaparra's, Jeff Bagwell's and Barry Zito's of the world before the rest of the nation.

In fact, 197 current major leaguers cut their teeth in the Cape League as collegians. But playing on the peninsula doesn't guarantee a green light to the major league. Many CCBL alumnae have languished in the minors, proof that such launching pads can dampen as well as invigorate dreams.

But for the UNC squad, it's appeared to have done the latter, particularly for the highly-touted ace Andrew Miller.

Long, lean and lanky, the six-foot-six southpaw was the most polarized player on the Chatham A's, and the entire league for that matter, but it had nothing to do with his towering physique.

Last summer as a freshman, Miller struck out 48 batters in 40 innings, notched a 2.03 ERA, and topped it off by being named the league's number one pro prospect by Baseball America.

That accolade, coupled with the on-going rumor he'll be taken first overall in June's major league draft, made Miller the one player everyone, from as far east as Orleans to as far west as Wareham, came out to see. He was the reason many fans set up their lawn chairs at 7 a.m. to reserve a spot for the 7 p.m. show.

Trying to live up to such seismic expectations can surely have an adverse effect on an athlete, but the equable Miller proved wise beyond his years by never allowing the constant spotlight to get to him.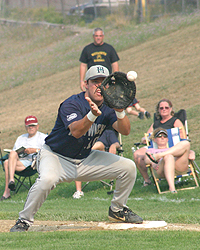 As a freshman first baseman, Chad
Flack hit .213 with 16 RBIs for the
Harwich Mariners this past summer.
photo by Eric Adler / 2005
"As a freshman last year, I didn't feel I had anything to prove. This year, I felt as if I did," said Miller. "But I tried not to think about the pressure, because there's no reason to scare myself into pitching bad. I just blocked everything out as best as possible."

That pragmatic approach, combined with his trademark 96 MPH fastball and downright deceptive 84 MPH slider, has continued to be a formula for success. A two-time Cape League all-star, Miller went 6-0, posted a 1.65 ERA and struck out 66 batters in 49 innings.

Honored for his sterling season, the Gainesville, Fla. native was bestowed with the Robert A. McNeece Award for outstanding pro prospect (as voted by the scouts), and was the co-winner of the B.F.C. Whitehouse Award for the league's most outstanding pitcher.

What distinguishes Miller, according to Chatham Field Manager John Schiffner isn't just his natural skills, but his relentless dedication to make himself better.

"Last year Andrew was a thrower, and a successful thrower, but he'd be over 100 pitches by the fourth or fifth inning," Schiffner said. "This year, he extended himself by allowing hitters to get themselves out instead of trying to get them out himself, and that's helped our team out tremendously."

While Miller may have been the ace of the A's, Woodard was the ace in the hole.

After a breakout season this spring, in which he went 8-0 and was named UNC's pitching MVP, the righty with pinpoint control picked up where he left off, compiling a 5-1 record and 2.53 ERA, while walking just four batters in 46-and-one-third innings.

"Robert just does everything right," Chatham pitching coach Tyler Kincaid said. "He controls the running game, and he throws his pitches [fastball, hard and soft slider, change-up] for strikes. He doesn't throw as hard as other guys, but he's got great movement on all of his pitches, so batters never know what they're going to see. They can never adjust."

Woodard's formidable play earned him an all-star selection, player of the week honors (July 2), and a share of Chatham's most outstanding pitcher award, along with Long Beach State's Jared Hughes, and, of course, Miller. The success he enjoyed has only made him hungrier to reach baseball's apex.

"I know that statistically the odds are not in your favor," said Woodard, a junior. "Baseball is like a pyramid. It gets narrower and smaller at the top, but getting a taste of success down here has given me the confidence I can make it to the next level."

The same can be said for six-foot-four UNC junior Daniel Bard, who led the Cape League with a whopping 82 strikeouts (in 65 innings) as a member of the Wareham Gatemen.

After a rocky spring in which he logged a 4.22 ERA at Chapel Hill, Bard relished his time above the Mason-Dixon line, going 3-3 with a 1.25 ERA, and was named the MVP of the West Division in the 43rd annual all-star game.

"Daniel came to the field everyday with a purpose and a mind set to get better," said Wareham pitching coach Ryan Beggs. "He's got a mid-90s fastball, a great change-up and curve, and uses his slider as his out pitch. He did whatever we asked him to do and is just a high-class kid on and off the field."

Bard had multiple games in which he racked up double digit strikeouts, including a show-stopping performance against Brewster in his penultimate outing of the season. The Charlotte native took a no-hitter into the ninth, walked just two and fanned 10.

"The one knock on Daniel early on was that he'd lose focus for an inning, but he worked on that, and as the season went on he got better and better," Beggs said.

Chatham A's reliever Matt Danford (3.18 ERA in 22.2 innings) and Bourne Braves set-up man Andrew Carignan (1.44 ERA in 25 innings) also played valuable roles for their teams. But none made a bigger splash out of the bullpen than Brewster Whitecaps reliever Jonathan Hovis.

Undrafted following his junior year this past spring, Hovis boosted his stock by posting a team-best eight saves with a 1.52 ERA. Those gaudy stats made him the recipient of the Whitecaps' annual "Fireman" award for best relief pitcher, though Hovis said it was just a by-product of a constructive season.

"My main goal was to develop my pitches, particularly my change-up, and I did that up here," Hovis said. "I feel like I developed it to the point where I can throw it whenever I want to, and pitching against the best hitters in college baseball only made me better."

It's no secret that baseball's law of averages favors pitchers, but that's especially true of the Cape League, where batters not only face most school's number one starter, but are forced to hit them with wood bats – a novelty for many accustomed to hearing a ping upon contact.

Trading metal for maple and aluminum for ash is no easy task. But Chad Flack, UNC's big-swinging slugger, handled the transition better than most players a year out of high school, hitting a respectable .213 with 16 RBIs for the Harwich Mariners.

"Freshmen usually struggle up here and have a tougher time than most adjusting to the pitching and wood bats," said Harwich Field Manager Steve Englert. "But by no means was Chad overpowered in this league, and that's something to say for a freshman."

Englert was so thrilled with Flack's effort, and even more with his buoyant disposition, he was one of three players asked to come back next year.

"Chad's a great character kid, he's very personable, and just wonderful to have in the dugout," Englert said. "He plays hard and plays with a smile on his face everyday."

As for how Flack fared against his Tar Heel teammates, he had moment he'd like to remember, others he'd prefer to forget.

"There were times I hit them pretty well and other times when they made me look stupid," said Flack, UNC's team MVP in '04. "But our pitchers are the best in the country, so facing them up here helped me out a great deal."

For many players, the Cape League is just a stopover on their way toward baseball's upper echelon. But for the seven UNC standouts, it was a whole lot more, and they'll be the first to tell you that.

"The Cape League is everything I hoped it would be," said Hovis. "I've made new friends and got to play against the best players in the country every night. All in all it's just been a great experience with great memories that'll stay with me forever.