League News
02/08/2006 2:43 PM
Article By:
for immediate release: 8 February, 2006
CCBL Hall of Famer George Greer
Named Cyclones Manager
CAPE COD, Mass. – Legendary CCBL field manager, player, and Hall of Famer George Greer has been named manager of the Brooklyn Cyclones, a Class A short season minor league team of the New York Mets in the New York-Penn League.

Greer, head coach at Wake Forest for 17 record-setting seasons, has been named the franchise's sixth manager in six years. Coach Greer has 1,082 career wins to his credit, including 714 at the NCAA Division I level.

The former UConn All-American is well known for his time as field manager for the Cotuit Kettleers for nine seasons (1979-1987), winning three league championships and two Manager of the Year awards.
During his time with Cotuit, Greer managed future major leaguers Ron Darling, Greg Vaughn, Will Clark, Terry Steinbach, and John Franco.

He also performed in the Cape League as a player, where he was a teammate of the late Thurman Munson. He captained the 1967 United States national team that won the Gold Medal at the Pan-Am Games.

Mohegan Sun Coaches Clinic A Success
The third annual Mohegan Sun World Baseball Coaches Convention in January attracted more than 1,000 national coaches, an increase of 250 from last year. The clinic boasted over 75 vendor exhibits and appearances by former and current major leaguers. Also included were several former Cape League players presently involved with coaching like Joe Girardi and Bill Springman.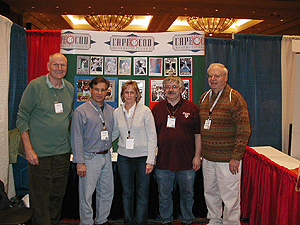 John Wylde, Tom and Sheri Gay, Jim McKiernan and Bill Reed
staff the CCBL booth at the World Baseball Clinic
CCBL Photo 2006
"Our goal is to make this clinic something special and to set us apart from every other baseball offering in the winter," said clinic organizer Roger LaFrancois. "Our event included 30-plus presenters, over 60 topics and one of the best venues in the world - the fabulous Mohegan Sun, which sold out over 400 rooms."
The CCBL had a booth at the World Baseball Clinic that was manned by volunteers from Wareham, Chatham, Yarmouth-Dennis and the league.
"It is always a great opportunity to network," said CCBL President Judy Walden Scarafile. "It is also important to show our support of this clinic and the coaches in New England. Roger has done a tremendous job in organizing it."

CCBL To Host Two U.S. Military Exhibitions In 2006
After last season's successful exhibition game against the touring U.S. Military All-Stars in Hyannis, the CCBL will play two preseason games against Combined Armed Forces teams in 2006. Chatham will host the first game on Saturday, June 10 at 7 p.m., and Cotuit will host the second game on Sunday, June 11 at 5 p.m. The Military Games Committee will be chaired by Jim Higgins and members include Peter Troy, Sue Pina, John Garner, Bruce Murphy, John Wylde, Peter Ford, Paul Galop, and Sol Yas.

Around The Horn:
The next CCBL Merchandise Committee Meeting will be held on February 22 at the Comfort Inn at 6:30 p.m.
The Cape League will be a partial benefactor and host an information booth at the Cape Cod Chamber of Commerce BizWiz on March 14 at the Four Points Sheraton Hyannis. League volunteers include Kim Wolfe, chair; Peter Ford, Bill Bussiere, Phil Edwards, Paul Galop, Bill Reed, Tom Fink, Diane Troy, Peg Rose, Mary Henderson, Jim Higgins, and Nancy Woodworth. Dick Sullivan and John Garner will serve as emcees and Dr. Charles Steinberg of the Boston Red Sox will be the keynote speaker.
The Cape League volunteers will man the phones for the final hour in the Cape Cod and the Islands March of Dimes Telethon on Sunday, February 19 at Cape Cod Community College from 9 to 10 p.m. The Rowdy Hour, a name it picked up three years ago for its excitement and enthusiasm in raising money in the late hours, has been one of the most successful groups in raising money for the telethon. Eye Health Services CEO Randy Shepard will host the hour with the Cape League. In addition, Peg Rose is coordinating volunteers to man the phones and sell pledges. Anyone wishing to support the Cape League hour of the telethon can make a pledge at 508-432-6909. Dick Sullivan and Matt Pitta of AP in Boston will once again emcee the event.
The Hyannis Mets will celebrate "spring training" on Sunday, March 5 from 4 to 6 p.m. at the Roadhouse Cafe on South Street in Hyannis. The Mets will present the roster for the 2006 season. A 50/50 raffle with prizes will be held as the Hyannis Athletic Association celebrates the upcoming season. The cost is $15.00 per person or $25.00 per couple. All proceeds benefit improvements for McKeon Park in Hyannis. Please RSVP to Kim Wolfe at 508-771-7205.
CCBL Hall of Fame nominations are due by March 31.
The next league executive committee meeting is Wednesday, March 1 at 6:30 p.m. in Shepley's Marvin Showroom.