Pitcher & Player of the Week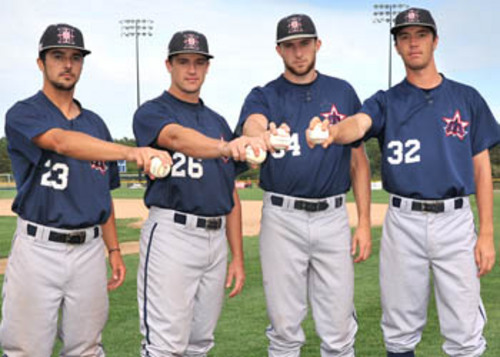 Pitchers: Peter Solomon, Zach Schellenger, Tommy DeJuneas, Nick Brown - Harwich

While this feature typically highlights one pitcher and his standout performance in the past week, this particular week features a standout win that was brought in by four outstanding pitchers. Mariner pitchers Peter Solomon (Notre Dame), Zach Schellenger (Seton Hall), Tommy DeJuneas (NC State), and Nick Brown (William & Mary) pitched an incredible game that earned them the first four-way Coca Cola's Pitcher of the Week.

These Mariner's firearms all teamed up for a no-hitter against the Anglers last Wednesday, escorting Harwich to a 10-0 victory. East Division All-Stars Solomon and Schellenger are currently sporting respective 0.84 and 2.75 ERA's. Mariner teammate DeJuneas has racked up a 5.83 ERA and Brown is posting a 0.94 ERA.

Solomon, originally from Endicott City, MD., plays for Notre Dame. This summer he has racked up 27 strikeouts in his 31.1 innings pitched.

Hailing from Malvern, Pa., Schellenger plays for Seton Hall. During his 2016 season with the Pirates, Schellenger racked up a 4.34 ERA with 70 strikeouts during his 45.2 innings on the mound.

DeJuneas, a native of Charlotte, N.C., pitches for North Carolina State. In his 2016 season with the Wolfpack, DeJuneas went 2-3 and racked up 27 strikeouts during his 29.2 innings of work.

Brown, a senior at the College of William of Mary, hails from Gainesville, Va. He finished the 2016 strong, going 5-7 and leading the team with 85 strikeouts during his 96.0 innings on the mound.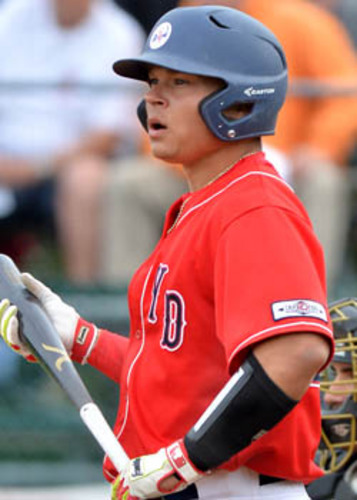 Player: Deon Stafford Jr. – Yarmouth-Dennis
As we close the books on July, players are reminded that they only have a select few games left of the regular season and of their time on the Cape fields. Yarmouth-Dennis player Deon Stafford Jr. (St. Josephs U) didn't waste any of his time on the fields, making some key plays that earned him this week's Coca Cola's Player of the Week.

Despite their string of losses last week, Stafford continually put forth a strong offense for the Red Sox. In last Wednesday's game against Falmouth, Stafford racked up two RBI's on one hit and homered in the fourth inning. Stafford truly came to play in last Friday's outing against Brewster. Though his efforts didn't quite match the power hitters of Brewster, Stafford was a standout player with two home runs against the Whitecaps. He is currently sporting a .283 batting average with an impressive 6 home runs and 25 RBI under his belt from this summer.

Stafford, a native of Harrisburg, Pa., plays for the St. Joseph's University Hawks. Stafford finished up the 2016 season strong, leading the team with a .395 batting average and 18 home runs during his 215 appearances at bat.