Weekly Season News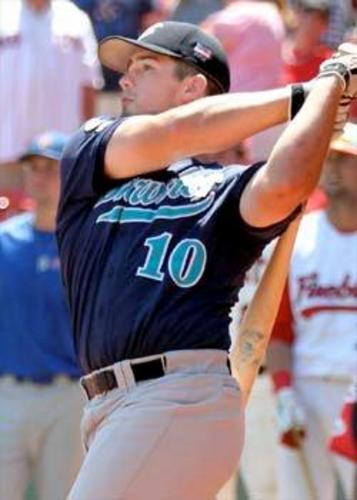 07/25/2012 8:44 PM
Article By: CCBL Public Relations Office
Boston--- Cape Cod Day at Fenway Park was a great success and it featured the Hood Home Run Hitting contest with 10 participants, one from each team Cape League team.
The contest went for 30 minutes and three rounds were needed to declare a winner.. In the end Dylan Davis of the Brewster Whitecaps and Oregon State won with five shots over the green Monster. One blast, high over the Monster Seats in left field actually landed on Lansdown Street. Dylan will be presented with the Hood Home Run Hitting Contest trophy bat at a home game in Brewster this next week.
When asked what he thought of today's event at Fenway, Dylan replied, "It was a once in a lifetime opportunity. I came to the Work Out at Fenway last week and that was great..….but I wasn't trying to hit home runs. This was more fun because of the competition. Plus I met Jacoby Ellsbury who also went to Oregon State and I met Travis from the Blue Jays."
Cape Cod Day also featured those " major players" who are very involved in the Cape Cod community in a pre- game ceremony. Those recognized were Mike Lauf, CEO of Cape Cod Health Care which is the largest employer on Cape Cod with 4600 employees. Cape Cod Hospital has been named one of the top 100 community hospitals in the United States in 2011 and 2012. Cape Cod Health Care was named one of the top 10 health care systems in the US in 2011.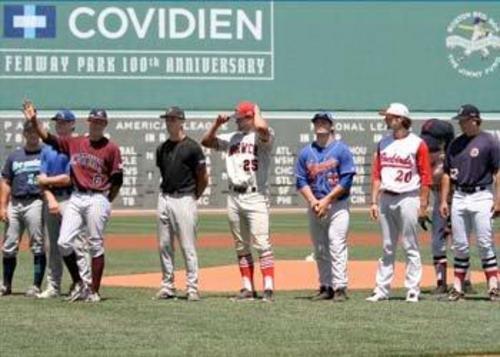 Also introduced was Peter Meyer who has been with the Cape Cod Times since 1986 and is now president and publisher of the Cape Cod Times and Cape Cod Media Group. Last February the Times and Cape Cod On- Line won 46 media awards.. and recognized as New England Newspaper of the Year. Peter Meyer was named Citizen of the Year in 2009 by the Hyannis Area Chamber of Commerce.
Also recognized was Randy Shepard , CEO of Eye Health Services which has 11 locations throughout Cape Cod and the South Shore. Randy became involved in the Cape Cod Baseball League as a Corporate Sponsor in 2001. He served as President of the Hyannis 'Mets' in 2003, and has been a member of the Cape League Board of Directors for five years. Randy also was named the Hyannis Area Chamber Citizen of the year in 2006. Eye Health Services is again a sponsor of the umpires at this year's Cape League All Star game next Saturday in Harwich.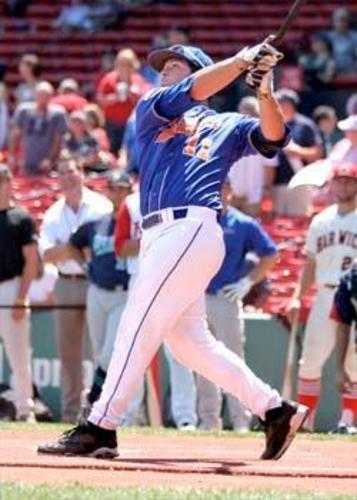 Honored again at Fenway was Dick Bresciani, the director of public relations and statistician for the Cape League from 1967- 1972. He then took a position in PR with the Boston Red Sox and has been with the club ever since. Bresh, as he is best known, has now been with the Sox 40 years and served in a variety of capacities, including Director of PR, VP of Public Affairs and now team historian.. Bresh has been inducted into four Halls of Fame which are Cape Cod League, UMASS, Italian American and the Boston Red Sox. Bresh and his wife Joanne spend their "free time "in Harwich.
Three Cape League officials were recognized for their work with the League. They are:
Sol Yas, who has been with the Cape League for 19 years. This includes 7 years as GM of the Brewster Whitecaps and 12 years as League Deputy Commissioner, and 10 years as League Director of Officiating. Sol currently holds these two positions of Deputy Commissioner and Director of Officiating. In addition to his many talents, Sol was a High school umpire for 19 years, "senior baseball player" for 27 years. Sol received the League's most prestigious Dick Sullivan Executive of the Year award in 2009.
Paul Galop has been with the Cape League for 29 years, serving as the League's commissioner for the past 9 years. Prior to that he was a director for the Chatham Athletic Association for 20 years completing several terms as President and Treasurer. Paul works for First Citizen's Federal Credit Union as a Commercial Lending Officer. He and his wife, Laurie, live in Chatham and they have two grown children, Kate and Pete. The entire Galop Family was involved in the Chatham organization for many years making it truly a family activity and passion.
Judy Walden Scarafile has been part of the Cape Cod League for the past 42 years and has been president since 1991. Nearly 25 years ago Judy was named the National Amateur Baseball Woman of the Year by USA Baseball. In 2003 she was the first woman inducted into the Cape League Hall of Fame. Then in October 2010 she because part of the Women in Baseball Exhibit in Cooperstown. Judy is a pharmacist by profession.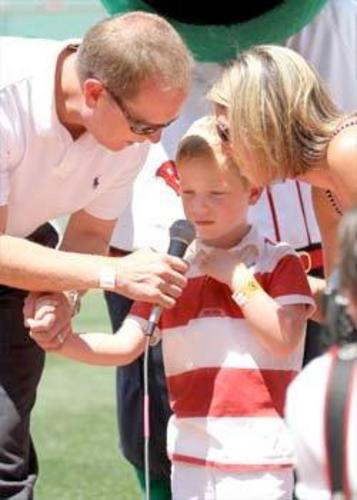 In addition, Abby Higgins, age 12, of South Yarmouth and Remy Rogers of Marstons Mills were Honorary Bat Kids for the pre game activities. And Little Stars were Remy and his sister,Emily Rogers and Mark Beal from Barnstable Village.
Lisa Sullivan Jason, Deputy Commissioner Dick Sullivan's daughter made her debut at Fenway and sang the National Anthem to a sell out crowd. Her performance was spectacular and the park went crazy at the end!
Barnstable Police Officer Steven O'Brien, who has sung at Fenway and many Cape League ball parks sang the Canadian Anthem and then God Bless America in the 6th inning. Both performances were superb.
Throwing out the ceremonial first pitch was Wendy Northcross, CEO of the Cape Cod Chamber of Commerce. A graduate of Yarmouth public schools and Cape Cod Community College, Wendy has dedicated her adult life to making the Cape a great place to live, work, play and create. She co-founded the John F Kennedy Hyannis Museum, and is active in many organizations that help Cape Codders including Cape Cod Community College, the Arts Foundation of Cape Cod, Hyannis Rotary Club and more.
The day's event was also highlighted by a large contingent of color guard from several towns on Cape Cod, joining to present the colors on the field at Fenway. There were:
Lynn Francis, age 18 from Sea Scout Ship 40 from Falmouth; David Francis, age 16 from Boy Scout Troop 42, from East Falmouth; Michael Wheeler age 14, from Boy Scout Troop 38 from N. Falmouth; Adam Beal, age 11 from Boy Scout Troop 54 from Centerville; Mark Beal, age 8 from Cub Scout Pack 56 from West Barnstable and Devinn Cleveland, age 8 from Cub Scout Pack 41 from East Falmouth
Adult Leaders: included Al Beal, Unit Commissioner from Falmouth, Ken Cleveland Cub Scout DenLeader, from Falmouth and Chris Beal Scout parent & Eagle Scout from Barnstable Village.
Last but certainly not least, we all waited for that "green light" to start the game.
Announcing those 2 famous words to get the game officially started was the Lauf family of Sandwich. Mike, Jill and 5-year old Harrison said it not once but twice….PLAY BALL!

| | |
| --- | --- |
| | |
| Lisa Sullivan Jason singing National Anthem on Cape Cod Day. | Lisa Sullivan Jason and Barnstable Police Officer Steve O'Brien during pre-game ceremonies honoring Cape Cod Day. |