Weekly Season News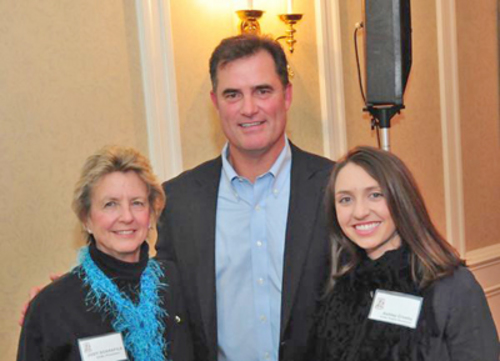 01/18/2013 7:04 PM
Article By:
Red Sox Manager John Farrell Leads Panel Discussion
By Ashley Crosby, Director of Social Media
MASHPEE, Mass. -- What's better than spending a cold January evening talking baseball with new Red Sox Manager John Farrell?
How about raising poorly needed money to rebuild your favorite team's press box while talking baseball with Farrell, Falmouth manager Jeff Trundy, Miami Marlins closer and Falmouth native Steve Cishek, free agent pitcher Rich Hill, and New York Yankees area scout Matt Hyde?
The panel of baseball minds gathered together at New Seabury Country Club to answer questions that ranged from their own opinions on the controversial lack of new inductees into Cooperstown to the importance of playing on the Cape and what it takes to make it to the big leagues.
The event, brain child of Commodores vice president Mike White, was to help raise money to rebuild the Eric Palmer Press Box at Guv Fuller Field.
With the help of neighbor Tim Schorer, who housed all three of Farrell's sons while they played on the Cape, the new Red Sox manager was invited and the event quickly fell into place in just six weeks' time.
Brothers Tim and Patrick Callahan, of Bridgewater-based Callahan Construction, volunteered their time and materials, and the proceeds from the hot stove will help further defray costs.
Former WBZ-TV sports anchor and frequent CCBL guest broadcaster Scott Wahle emceed the evening's proceedings.
Trundy, entering his 15th season with the Commodores, began the night discussing recruiting college players and his philosophy on coaching them when they arrive on the Cape for the summer.
His philosophy of taking care of players and sticking to their college coaches' training programs has given Trundy a great reputation amongst coaches, said Farrell, who also noted that the best players look to test their skills against other top players by coming to the Cape.
"It's about players playing against the best," agreed Hyde. "It's talent that gets players drafted but it's makeup that gets them to the big leagues."
Hyde noted that the fierce competiveness he looks for in players is unveiled on the Cape each summer, whether players had a good or bad outing when he saw them perform. It's a quality that helped him sign former Yarmouth-Dennis star reliever David Robertson, who has pitched well for the Yankees. Players, Hyde said, will show you what they're capable of if you watch. It isn't always about the statistics.
Cishek, who never played in the Cape League, agreed there's a mental toughness often developed in atmospheres such as the Cape that helps players on the road "to the bigs."
In his first year in minor league ball, Cishek said he struggled. "I took it pretty hard," he said in reference to any poor outings. "I learned the necessary mental toughness the hard way there."
"[The Cape League] is where you want to be as a college player," said Hill, who played for Chatham in 2000-01, before being drafted by the Chicago Cubs in 2004 and pitching for the Red Sox last summer.
Farrell pitched for the then-Hyannis Mets in 1982, while his sons, Jeremy, Shane, and Luke played for Falmouth ('07 and '09), and Wareham ('11), respectively. The family has made league history by having the father and all three sons play in the Cape League.
The five panelists also discussed the upcoming major league season, with Farrell providing insights into his return to Boston, among other topics.
The evening wrapped up with some questions from the audience and autographs after the event.
"It's great to be able to give back to the community," said White, who conveyed a sentiment echoed by Farrell and others over the course of the night.
Quotables:
"It's a long season and you have to love the game. For me it's easy. I have a burning desire to get out and pitch." – Cishek
"The only thing you can control is the routine you establish. It has to be your center."
– Farrell
"It goes back to having fun with the game, having fun with the challenge, and remembering why we play in the first place." – Trundy
"It's the fans that make the ballpark and the game." – Hill
"[Fenway is] a playoff atmosphere, whether it's May or November" – Farrell
"Players today are so overwhelmingly for testing, to level the playing field." – Farrell
"We're fortunate enough to chase down the dream. I don't think we've ever worked a day in our lives because we love what we do." – Farrell