Weekly Season News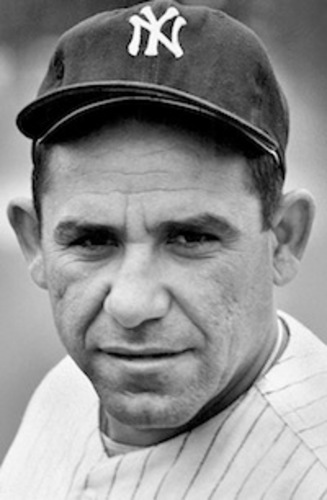 09/24/2015 4:57 PM
Article By: CCBL Public Relations Office
Since his death Tuesday at age 90, much has been written about Lawrence Peter "Yogi" Berra – Yogi the ballplayer, Yogi the man, Yogi the World War II veteran. Yogi the master of malapropos.
But as the Cape Cod Baseball League joins all of baseball in mourning the loss of one of the game's greats, our thoughts turn to Yogi, the Cape League dad, and his close ties to three Cape League greats of yesteryear.
Yogi's first-born son played at Cotuit in 1970. By then, 21-year-old Larry Berra had two brothers – Dale, 14, who would enjoy a decade-long career as a major league infielder, and Tim, 19, who would star as a wide receiver at the University of Massachusetts and play one season in the NFL for the old Baltimore Colts.
When he came to the Cape, Larry was a student at Montclair State and an adequate catcher. But he struggled at the plate and under the pressure of being recognized as Yogi Berra's son.
"Nobody called him Larry at that time," recalled then-GM Arnold Mycock. "We all called him Yogi."
Larry is just one of many sons of baseball dads who saw the wisdom in having their offspring gain experience by spending a summer playing on the Cape against the country's best college talent. For some, it proved to be an important steppingstone on a pathway to the major leagues.
That was the case with eventual big leaguers Jack Armstrong Jr., Aaron Boone, Drew Butera, Matt Clark, C.J. Cron, Ike Davis, Cole Figueroa, Jason Grilli, Tony Gwynn Jr., Jerry Hairston Jr., Andy LaRoche, John Mayberry Jr., Andrew Romine, Travis Shaw, Mel Jr. and Todd Stottlemyre, Marc Sullivan and Nick Swisher. All grew up watching their fathers play in the big league and all spent at least one summer playing on the Cape.
Larry Berra was not so fortunate. Though his Hall of Fame-bound dad arguably was the most famous of them all, Larry did not inherit Yogi's ability with a bat, and it soon became obvious that he did not possess big league skills. He was given a brief opportunity in pro baseball in 1971 and early 1972 after signing with the New York Mets, but he was used sparingly as a backup catcher in the low minors and he hit just .127 in 22 professional games before being released.
He actually played more games at Cotuit (26) than he did as a pro.
Today, the eldest son of a true baseball icon is the proud father of sports writer Lindsay Berra. Lindsay, 37, is a graduate of Livingston (N.J.) High School, where she captained the boys ice hockey team. She graduated in 1999 with a bachelor of arts in journalism from the University of North Carolina at Chapel Hill and soon landed a job working at ESPN The Magazine, where she became a senior writer. She was appointed national correspondent at MLB.com in 2012 and in 2013 she became a freelance writer for The Box magazine.
Lindsay loved "Grampa," as she called Yogi, and on her Twitter page, she posted a beautiful photo of him smiling as his wife of 65 years, Carmen, planted a kiss on his cheek. Carmen passed away last March at age 85 and Lindsay's caption read, simply, "Together again."
Yogi was a World War II hero, a 10-time World Series champion and a three-time American League MVP with the New York Yankees

–

a true American icon.
He was also a close friend of Cape League Hall of Famer Lou Lamoriello.
"Yogi and Carmen were like part of our family with the (New Jersey) Devils for a long time. That's the best way I can describe it," said Lamoriello, the longtime Devils president and general manager who now serves as GM of the Toronto Maple Leafs.
"He loved the game of hockey, he knew how much I loved baseball and we established a relationship that goes back some 28 years. He was a dear friend," said Lamoriello, who from 1961-64 played at Harwich, Orleans and Bourne and won a Cape League championship in 1965 as manager at Sagamore.
Lamoriello continued: "Yogi was a true fan. He lived and died with every result. He'd let me know if we didn't play well, in a nice way. He attended just about every one of our functions

–

holiday parties, Stanley Cup celebrations, every one of our private parties. Like I said, they were family for a long, long time."
Berra came to know Lamoriello through Dr. John McMullen, the former owner of both the Devils and the Houston Astros. Yogi served as a coach with the Astros from 1985-89, after being fired for the second time as manager of the New York Yankees.
Lamoriello, also a former catcher, who played hockey and baseball at Providence College and played and managed in the Cape League in the 1960s, said he didn't meet Berra until taking command of the Devils in 1987.
"Yogi lived nearby in Montclair. He was at our practice rink (the Richard J. Codey Arena at South Mountain in West Orange) anywhere between five and six days a week," Lamoriello said. "He used our facilities to work out in the morning, some days with Dr. McMullen and some days not, but he really enjoyed hockey and being around the athletes.
"I know just how much he meant to our young Devils players. Imagine these guys going back and telling their dads that they just met Yogi Berra, or that Yogi is walking around after practice. I know how I felt, so I can just imagine how they felt."
Former Devils defenseman and current broadcaster Ken Daneyko referred to Yogi on Twitter on Wednesday as "a great influence and good luck charm in our @NHLDevils championship years!"
"Imagine as a young kid, getting to walk in the @NHLDevils locker room and seeing the Legendary Yogi working out every morning! #priceless," Daneyko tweeted.
The relationship between Lamoriello and Berra was enhanced when the Devils became part of the YankeesNets corporate merger in the late 1990s. Lamoriello was tapped to oversee the basketball and hockey operations, and he spent considerable time at Yankee Stadium watching games from owner George Steinbrenner's luxury box. Sometimes Lou and Yogi would drive to the Bronx together.
Steinbrenner took a liking to the Devils/Nets leader and Lamoriello grew quite fond of "The Boss."
Lamoriello recalls Steinbrenner sitting comfortably in his office during the Devils' Stanley Cup clinching Game 7 in 2003 against the Mighty Ducks of Anaheim. "He watched the final Stanley Cup game in my office because he didn't want to go in the crowd," Lamoriello recalled. "He went to a few games, and he was there that seventh game. He did things like that because he wanted to."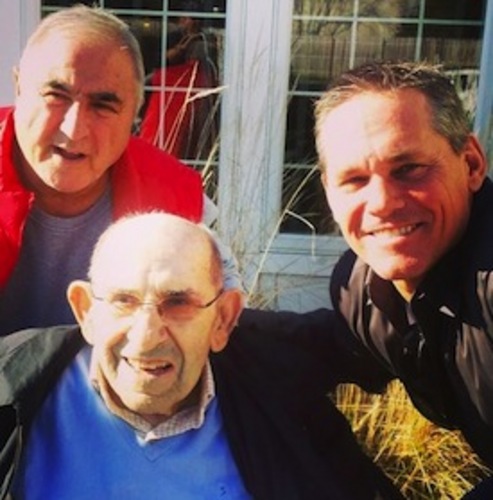 George Steinbrenner died on July 13, 2010. He had celebrated his 80th birthday nine days earlier, on Independence Day.
Despite growing up in Rhode Island, Lamoriello, now 72, admits he "always has been a Yankee fan. I know a lot of people in New England aren't going to like hearing that," he said. "For a lot of different reasons, I started out a Yankee fan and still am. The Steinbrenner family all have been great to me. It's just a great organization."
Lamoriello remains a member of the Yogi Berra Museum board of directors.
New Baseball Hall of Famer Craig Biggio also remembers Yogi with great fondness.
On Wednesday, when reacting to Berra's death, the fourth Cape League graduate to be enshrined in Cooperstown uttered a Yogi-ism that would have made his fellow Hall of Fame member proud. It was unintentional, albeit appropriate.
Biggio, like Berra a catcher when he broke into the majors, debuted with the Astros in June 1988 and says he benefited from Berra's presence well before that. Biggio told Alyson Footer of MLB.com: "He's known for his Yogi-isms, but he was the smartest baseball person I've ever been around."
Then Biggio made his own Yogi-esque statement:
"The man lived his life right. He's one of the most recognizable people in the world and you would never know it."
Perfect … just the kind of Berra would say.
Biggio added: "He's one of the most humble people you could ever meet. If we could all just grab a little piece of that, and live our lives like he lived his life, it would be pretty amazing."
Biggio, who played for Red Wilson at Yarmouth-Dennis in 1986, shares another bond with Yogi. He also has a son who played in the Cape League. Cavan, a member of the Notre Dame baseball team, spent his 2014 and 2015 summers with the Harwich Mariners. He participated in the league's All-Star game at Wareham the night before Craig's induction in Cooperstown. But, after an all-night drive, a beaming Cavan was there, alongside brother Conor, sister Quinn and mom Patty, for Dad's big moment.
During Yogi's time in Houston, he not only took Biggio under his wing, but he also struck up a friendship with a fellow Houston coach that would continue for the rest of his life. Matt Galante, a second baseman at St. John's, Cotuit (1964) and in the minor leagues, teamed with ex-catcher Berra to figure out the best way to convert Biggio from an all-star catcher to a second baseman.
Both were equal to the task, particularly Galante, who spent countless hours with the former Seton Hall University star in the offseason and in spring training prior to the 1992 season. The rest is history. Biggio went on to win four Gold Gloves and five Silver Sluggers, make seven All-Star appearances and become the first Astro to accumulate more than 3,000 career hits.
After winning his first Gold Glove in 1994, Biggio gave it to Galante. "You earned it," he said.
Galante stood just 5 feet, 6 inches tall, but like Yogi had a huge heart. The Yankees selected him out of St. John's in 1966, the second year of the amateur draft, but not until the 63rd round. Still, he played six years in the Yankees' minor league system, reaching the Triple-A level. The last two years of his playing career were as a Milwaukee Brewers farmhand in 1972 and 1973. He fashioned a .269 lifetime average and never hit a home run.
Galante turned to managing in 1973 and spent five years in the Milwaukee system before being hired by the New York Mets. After an unsuccessful 1979 season at Little Falls in the New York-Penn League, he moved to the Houston organization, with whom he managed for five years before joining the parent club as a coach. In 1999, when manager Larry Dierker was sidelined by illness, Galante was named acting manager of the Astros and in 27 games with him as skipper, Houston went 13-14.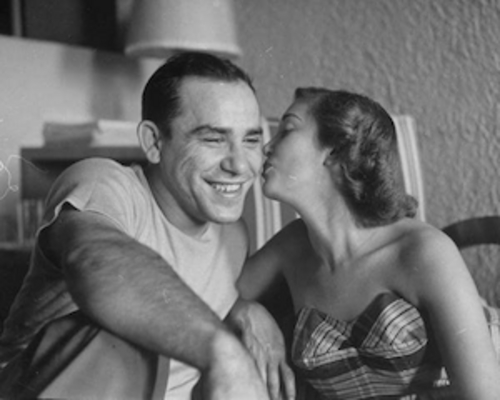 As the sports world expressed its grief, two other former Cape Leaguers commented on Yogi's passing.
John Flaherty (Harwich, 1987), former Yankee catcher (2003-05) and current YES Network analyst:
"My favorite memories of Yogi were from the field. He would be walking around the hallways or stop in the food room and stop me with the same greeting: 'How's it goin', slim?' I never understood why … I'm not that tall or skinny. But maybe he thought I was tall compared to him. It would always put a smile on my face. It was always great to see him every time he came around.
"He was always great to the young players, always had a joke to share or a great story to tell. He was nice and respectful to everyone and he brought a great positivity to the clubhouse. He was a legend, so it was just nice to be in his presence.
"I felt like we were instant friends the first time I met him. I felt like I've been around him my whole life. That's how comfortable he made you feel.
"He wasn't the biggest guy, but I wish I'd had been around to see him play. He must have been the toughest, hard-nosed competitor ever. It seems like everyone says he was a bad-ball hitter, which sounds like a nightmare to face."
David Robertson (Y-D, 2006), former Yankees closer:
"I've been around a long time and come across many really successful athletes and celebrities in their own right. A lot of times, they're not as approachable as someone like Yogi. With all the success, he was one of the most humble, warm, welcoming and kind people you'd ever know. You'd have no idea that this was a man with the history and background of success that he had. He never projected that. He was really your everyday walk of life human being and such a good man. We were lucky to have him around us and because of the success he had and the humility he seemed to teach and preach with the way he went about his business, we were all better for it.
"He was around the team a lot. For those that were really interested in unlocking that door and opening up and learning a little bit or a lot about the era he played in, the era he managed and coached in, this guy had a lot of experience. For those that were interested, they got a treat. Whether it as the (Derek) Jeters or the (Andy) Pettittes or those guys, but I've also seen five-star generals walk into our clubhouse in spring training and sit down and not want to leave for hours. Yogi would just sit back; he loved engaging people. It didn't matter if it was a baseball player, a clubbie or somebody in the military, an actor

–

he just loved to communicate and interact with anybody."
Buster Posey (Y-D, 2006-07), San Francisco Giants catcher:
While traveling to New York to receive his 2012 National League MVP trophy, Posey visited Yogi Berra's museum in Little Falls, N.J., where he was personally welcomed by Berra, who gave Posey a personal tour and spent more than an hour with him, according to the San Jose Mercury News.
"He was one of those people you're instantly comfortable around," Posey said. "You feel like you've known him for a while. You can just tell the genuinely nice people. He's one of the most unique people I've had the privilege to meet. The short time I got to spend with him, there was just not a hint of arrogance.
"I don't think there's a chance (his 10 World Series titles) will be matched by anybody," said Posey, who already has three World Series titles to his name at age 28. "Not 10 titles. I don't think anybody will get close to that."
Posey was also awed by Berra's extremely low strikeout rate, as he only struck out 5.5 percent of the time throughout his career, never striking out more than 38 times in a season, and only striking out 12 times in 656 at-bats (1.8 percent) in 1950.
Posey has maintained a strikeout rate of 13.9 percent over his six-plus seasons in the majors, which is relatively low for the modern era, but nowhere near Berra.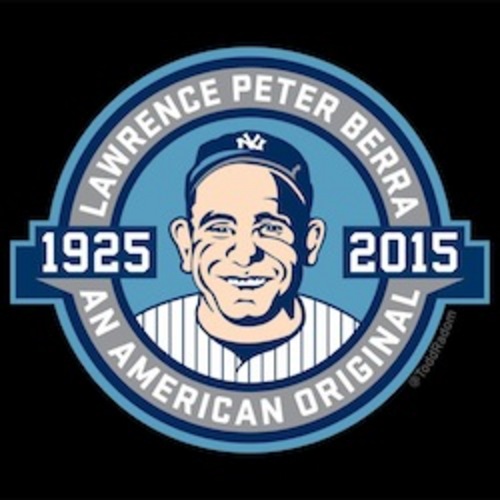 Finally, a story about Yogi could not be complete without including some of his best lines. So, with thanks to Mark Feeney of The Boston Globe, here is a selection of Mr. Berra's remarks, taken from the 18th edition of Bartlett's Familiar Quotations:
"You can't think and hit at the same time."
On a popular restaurant: "Nobody goes there anymore. It's too crowded."
"We made too many wrong mistakes."
"If people don't want to come to the ballpark, how are you going to stop them?"
"When you come to a fork in the road, take it."
On the shadows in left field in Yankee Stadium: "It gets late early out there."
"Ninety percent of the game is half mental."
"A nickel ain't worth a dime anymore."
"You can observe a lot by watching."
"The future ain't what it used to be."
In acknowledgment of Yogi Berra Day: "Thank you for making this day necessary."
And finally: "It ain't over till it's over."
Sadly, for the great Yogi Berra, it's finally over. Rest in peace, Yogi.