Weekly Season News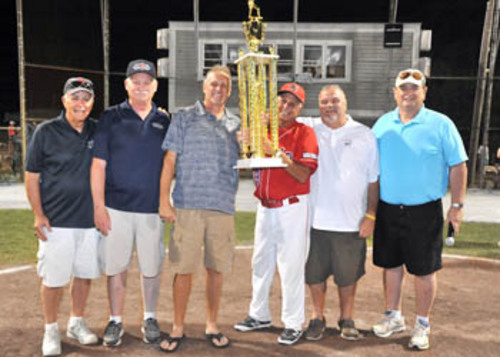 06/15/2017 6:32 AM
Article By: CCBL Public Relations Office
"May the Fourth be with us!" could be new motto for the team that holds the second-most consecutive championships in Cape League modern-era (since 1963) history.
With its Game 3 championship series victory over Falmouth last August, the Yarmouth-Dennis Red Sox captured its third straight league title, trailing only Falmouth (1968-71) and Cotuit (1972-75), which both won four consecutive CCBL crowns.
"Here we go Sox! Here we go!!" the crowd repeated over Guv Fuller Field in the final championship game against the Commodores.
Led by playoff MVP Kevin Smith and holding a 3-0 lead, the Yarmouth-Dennis Red Sox had one out to go in the bottom of the 9th inning. The crowd roared as the final pitch swept the plate and the umpire declared "STRIKE!"
Fans and players alike flooded the pitcher's mound in celebration of the 2016 Cape League Championship for the Yarmouth-Dennis Red Sox.
This is not the first time the Red Sox experienced the thrill of victory. In fact, it's the third time in a row this East Division team has captured the Cape League Championship.
Over the past four decades, no team in Cape League history has won more than two championship titles in a row. But the Red Sox were determined to change that fact in their 2016 season with their ongoing motto being, "Road to the 3-peat".
In true "3-peat" fashion, the three-time champions came out on top in their third game of the series, with a 3-0 shutout and a third strikeout to win the final game.
Their streak began in 2014, when the Red Sox took their first victory since 2007 after a tough face-off against the Falmouth Commodores. Their success continued in 2015, as they battled and won against the Hyannis Harbor Hawks.
In 2016, after finishing their regular season in second place in the Eastern Division with a 26-17-1 record, the Red Sox were more determined than ever to come out on top.
Their "3-peat" season motto proved to be a success as they came out on top of the Commodores once again after a rocky start to their regular season.
The win allowed Y-D Field Manager Scott Pickler to add a sixth championship to his resume, after 12 seasons with the Y-D Red Sox.
In addition to Pickler, Steve Faucher, Y-D's general manager, was on-hand to accept their third Championship trophy in three years. Together this duo has produced a top tier group of players year-after-year, which has contributed to the team's repeated success.
The Yarmouth-Dennis Red Sox jump-start their 2017 season Wednesday (June 14) at 6:30 at the Harwich Mariners' Whitehouse Field.
The reigning Cape Cod Baseball League champions go into this season with hopes of another phenomenal summer.