Weekly Season News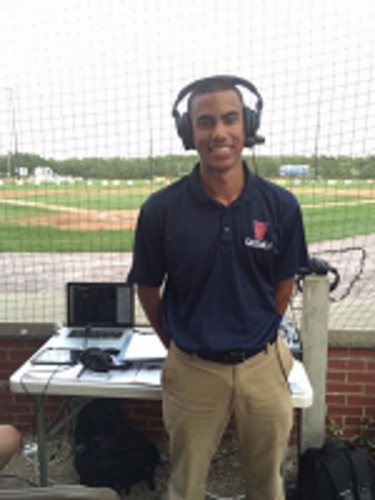 06/22/2017 6:48 AM
Article By: Jacob Tobey
Wareham Gatemen intern reveals rookie gaffes, importance of pre-game prep
I had never broadcasted a baseball game at the collegiate level before signing up to do the Wareham Gatemen games in the summer of 2016 as a summer intern for Cape Cod Baseball League.
Sure, I had been in the booth for high school games and had done about 10 live games, but the college game is very different. I had no idea what to expect from the Cape League.
Like any new situation, there was a learning curve and some embarrassing moments, but the best way to learn is by making those mistakes and capitalizing on the next opportunity, knowing in the back of your head that "I cannot make that mistake again." Well, you probably will but hey, that is part of the fun and the learning process.
One embarrassing moment in my first season as a CCBL broadcaster was that I did not know how to score a baseball game. I know you're probably thinking, "Well how did he get hired if he didn't know how to score a ball game?"
My then broadcast partner, Arizona State alum and current sports reporter for NewsWatch 12 KDRV, Jake García, was a big help to teaching me how to score a baseball game. He may not even know this, but I copied off his scorebook the first pre-season game we had broadcasted together. And it wasn't just a "here or there" type of copying. It was a lot. For example, I needed help on how to score a simple groundout to shortstop. So he would write down 6-3 and I would copy it, looking at shortstop and saying "OK, that is the number six," then doing the same with first base and then with every position on every play until I finally memorized all the position's numbers. Within two weeks, I had a firm grasp on how to do the scoring.
Then I had a real wake-up call: game-day preparation.
Play-by-play broadcasters take great pride in is their preparation for each broadcast. Whether it is Doc Emrick's style of color-coded notes or Ernie Johnson's index card strategy, they all do the same thing for many hours before a game: preparation. This typically includes note taking, reading game stories, listening to podcasts and interviews, researching and writing down stats.
When doing my high school's (Sturgis East Charter School, Hyannis, Mass.) baseball games, I thought I was doing a decent job preparing. I studied the night before. I wrote down notes. I looked at past game articles and tried getting some statistics, but it was challenging.
When I started doing Wareham's games, I prepped longer than I did for high school baseball. There was more information for every player and every team. I again thought I was doing a decent job. But then one day I saw Jake's prep in his folder and it made me stop and think: Am I doing this right? Could I be doing a better job? The answers were obviously no, I wasn't doing it right and yes, I could do a better job.
From that point on, I changed my whole mindset about preparation. Everyday I would get home from work, eat lunch, shower and sit down at my desk and focus for two hours. Before, my prep time was maybe 45 minutes to an hour. Now it's more than two hours every day with intense focus.
I created a routine formula for my preparation and it works really well. I use a sheet of paper labeled "game script" with game notes/stories and statistical information, and I also have yellow Sticky notes for my baseball scorebook. The notes are a way of easily accessing previous games against the same opponent so I don't have to go flipping through every page during the broadcast. It works for me but I know that it doesn't work for everyone. That is the whole point of coming to Cape Cod to broadcast baseball: you find your style. You find your way of doing things. Everyone's brain is different. That is the beauty of being a Cape League broadcaster: you make realizations, you notice certain aspects and you improve on them.
After I had learned how to score a baseball game and had fixed my game day preparation, I then started to focus on improving my actual play-by-play delivery. This is where most mistakes happen: during the live broadcasts. Some errors are oblivious to the viewers and are things only people in our business would realize. Others are very obvious: misprouncing a name, jumbling up your words, and the biggest one of them all: calling a home run when the ball didn't even leave the ballpark.
Yes, that happened to me and boy, was I embarrassed. I acknowledged to the viewers that I had made a mistake but it was not a fun time. I could hear people in the crowd laughing behind me. Even Jake and our other broadcast interns were chuckling a bit.
For about a full inning I was very angry and upset. I couldn't believe I had done that! But then after one or two innings, I forgot about it and continued on with my life. That is what you have to do. You can't just settle and be upset. You have to go out and fix it, move on. And sooner or later you will be looking back and laughing about it, too.
My two takeaways were: 1. Look at the umpire to make sure the home run signal is given unless you know that ball was hit to the moon and is never coming back and 2. It's better to make that mistake now, when you are 20 years old and still in college, and not when you're on a major sports network broadcasting to millions of viewers.
With all the mistakes that I made in the summer of 2016, it was still the best summer of my life. I got to call 44 baseball games over the span of 50-plus days. It was the busiest but most rewarding summer. The CCBL schedule mimics a Major League Baseball team's schedule and that is huge when it comes to gaining experience.
It's hard to find somewhere where you can mimic a professional sports season, make giant mistakes and not get fired from your position which then allows you to improve and also to have fun. The Wareham Gatemen and the Cape League have not just made me a better broadcaster, or a bigger baseball fan, but a better man in general. I will always be thankful that I was given a chance to chase my dream while laughing at the fact that my own two eyes couldn't see that the baseball did not leave the yard and that the player was standing on second base with a "2B" written down in the scorebook, not a "HR."
Jacob Tobey, a senior broadcasting journalism student at Suffolk University in Boston, is beginning third season as a league broadcaster intern as voice of the Wareham Gatemen.