Weekly Season News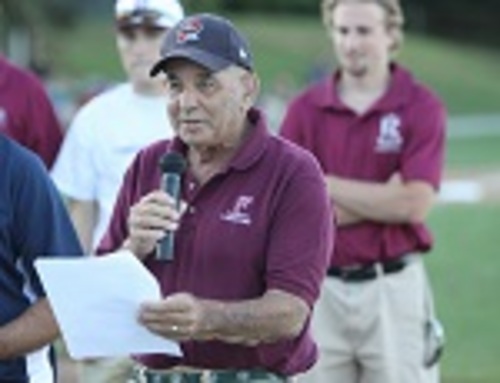 07/10/2017 12:44 PM
Article By: CCBL Public Relations Office
In April of 1989, Eric Palmer, a student at Springfield College and baseball player from Falmouth Mass was taken from us after an evening out with friends. In his honor, the Eric Palmer Press Box was erected/dedicated at Guv Fuller field. Over the years wear and tear deteriorated the press box, to the point of almost being un-usable and in 2013 the Falmouth Commodores raised funds via their Hot Stove, with John Farrell and Peter Gammons, to make the press box improvements. Regardless of the condition of the press box, each summer it continued to be used for broadcasting Falmouth Commodores games.

In 2008 Pat Loftus developed and formalized the Falmouth Commodores' internship program focusing on broadcasting and media. Each summer Pat would welcome a new class of interns into the program and mentor them as they sharpened their skills. Many of these interns, such as Mike Couzens who is with us tonight and currently with ESPN, went on to broadcasting careers.

After Pat's death, in the fall of 2016 the broadcasting area of the Press box was dedicated and named Pat's Loft, in recognition of Pat's service to these young people and the Falmouth Commodores. Following that dedication, one year ago, Pat's Family, Friends and many members of the Manhanut Yacht Club raised over $22,000 to begin the renovation of the broadcasting area of the press box.

After the initial donation of $22,000 this project took on a life of its own. The Falmouth Road Race, the premiere seaside road race in the country, granted an additional $30,000 for the extension of the press box, where the field equipment and game day operation equipment is now stored and used by both the Falmouth Commodores and the Falmouth High School baseball teams. With the grant from the Falmouth Road Race and the donations raised by the Loftus family, the renovation project still needed additional support from the community. Countless businesses and individuals giving time, discounted materials and donated labor, making this truly a community project.

We would like to recognize the businesses, the Town and individuals who have donated significant time, materials and/or offered discounts in the off season to complete this project:
Holmes & McGrath: surveys, field site plans, as-built building plans
Gary Sylvester's Building Movers and Excavation: Moving of the press box off the original foundation and onto the new foundation
Eastman's Hardware: Paint, painting supplies, and riding lawn mower
Bill Valadao Electrical: Complete rough and finish electrical labor
C.H. Newton Builders: Deck Floor Framing
Hamilton Tree & Landscaping: Finish site grading, roadway, driveway, foundation plantings
Cavossa Disposal & Recycling: Crushed bluestone Installation
David Wolf Building and Remodeling: Framing, exterior trim, roofing, windows, deck railings, interior finish work
Lawrence Lynch: Foundation fill, gravel, driveway base, crushed bluestone driveway top coat.
Granite City Electric: Paddle Fans
Nauset Disposal: Dumpster and trash removal
J Miller Pictureframer: Memory wall picture framing
Clarke Construction: Merchandise area epoxy floor coating
Johnson Electric Supplies – Bob Price: Electrical supplies
Silvio Rodriques: Interior and Exterior painting labor
Inman Tree Specialist: Hydro seeding
P&S Concrete, Inc: Foundation Labor
Curran Concrete, Inc: Concrete Slab Labor
Todd Willis Plastering, Inc: Plastering
The Carpet Barn: Carpet Installation
Canal Garage Door Company: Overhead Garage door and installation
The Town of Falmouth Highway Department: Foundation and concrete slab demo
The Town of Falmouth Parks & Recreation: Excavation and back filling

Town Employees:
Rod Palmer – Town Building Commissioner
Rocky Gomes – Superintendent Parks & Recreation
Richie Plescia & Shawn Speroni – Parks Department
Gary Forbes – Building Department – Electrical Inspector
Wayne King – Town Electrician
Mike Sousa – Assistant Highway Superintendent

In addition, there were several individuals who donated extraordinary amounts of time and effort to the renovation project:
The Uhl Family: David, Cathy and Anderson – Design, Finish work, and painting of the merchandising area
Steve & Deb Brocklebank – Design and Finishing for the Broadcast area and Game Day Ops Area and solicitation
Marty, Ann, Ryan Loftus – Installation of anchor bolts, installation of decking and Electrical
Richard Taylor & Sean Lincoln – Installation of decking, Electrical and Finishing
Kevin & Nan FitzGerald – General Help and solicitation
Bob Curtis – Grant Writing and solicitation
Gary Rabesa – Warehouse Storage
Mark Kasprzyk – Project Management

However, there is one individual who donated endless time and energy from inception to the completion of this project. Without him this project would never have been ready before the start of the season. David Johnson, a member of the Falmouth Commodores' board and owner of Johnson Homes, Inc represents the construction aspect of this project and has embraced this project each step of the way. At any given point, you could find him sketching designs, putting up rails, hanging hooks, sweeping, holding a paint brush, coordinating workers, procuring materials and the list goes on. In addition to donating his time as the general contractor he participated in each aspect of the project. We can honestly say this project could not have come to fruition without him.

We are truly proud of the result of the press box and we look forward to many years ahead of helping broadcasters achieve their dreams of broadcast success!