Weekly Season News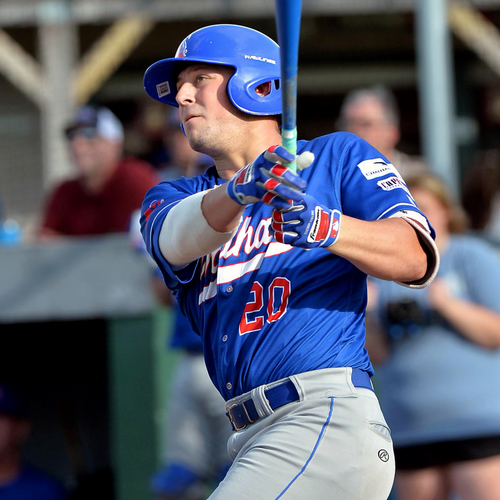 06/09/2020 4:50 AM
Article By: Ethan Kagno
Top 20 MLB Draft CCBL Prospect Comparisons
(Player Profile below from MLB.com)
Top Draft Prospects


With the MLB Draft just days away, we decided to take a deeper look into each of the top 20 former Cape Cod League standouts and how they compare with upcoming, current, and past Major League Baseball players.

1. Spencer Torkelson - (Arizona State, Chatham Anglers)

Profile:
Age: 20 years old
Size: 6'1", 220 lbs
Position: 1B
Bats/Throws: R/R

Analysis:
Has a tight and compact stance in the batter's box, as well as a balanced level swing through the zone. He can maintain great plate discipline as he turned in a stellar 1.06 BB/SO ratio from 2018-2020 with ASU and Chatham. Can hit to all fields and is projected to maintain a solid average with plus power. Torkelson's athleticism combined with his above-average power and hit tool, allows him to fill in as a middle of the order hitter with all-star potential. Although he presents a lack of speed on the base paths, it isn't a major concern considering his position and can compensate with plus hitting traits. Regardless, many believe "Tork" is the best offensive talent in the MLB Draft which is why he could very well be selected first overall to the Detroit Tigers.

Comparison: Andrew Vaughn
Selected 3rd overall in last year's MLB Draft, Vaughn caught the eye of scouts who profile him as a premier 30 home-run guy. Both have a quick bat speed and solid plate recognition. These two sluggers have great power and could contribute as cornerstone pieces for future contending teams. In my opinion, although he's a lefty, Torkelson is reminiscent of Joey Votto in terms of his plate approach. Very calm in the box and a beautiful swing.

2. Nick Gonzales - (New Mexico State, Cotuit Kettleers)

Profile:
Age: 20 years old
Size: 5'10", 190 lbs
Position: SS/2B
Bats/Throws: R/R

Analysis:
Much like his Cape Cod comrade Spencer Torkelson, Gonzales has a short and quick swing through the zone with a balanced approach. Able to use his quick hands to hit the ball hard and is viewed as an above-average hitter. Although not known for his power, he is a great runner and solid defender, most likely to fill in at 2B due to his below-average arm. Due to his fantastic hit tool, Gonzales has the chance of becoming a top-5 pick in this year's MLB Draft.

Comparison: Keston Hiura
Both relatively the same size, both have shown glimpses of power but are best suited as contact hitters. They have decent speed and the ability to play the middle infield. The strongest similarity between the two is their compact bat path starting at contact and finishing through the ball. Although power is not seen as a major component of his game, Hiura was able to show some pop in his first year as a major leaguer and so did Gonzales during his tenure with the Kettleers. He hit 7 home runs in 154 at-bats, per MLB.com.

3. Reid Detmers - (Louisville, Brewster Whitecaps)

Profile:
Age: 20 years old
Size: 6'2", 210 lbs
Position: SP
Bats/Throws: L/L

Analysis:
Straight out of the gate, Detmers has great control. Although his fastball can dip into the high 80's, he compensates with a plus curveball and solid changeup. Able to show above-average command and can mix up his pitches well. Per MLB.com, Detmers finished his 2019 Division I season, second in strikeouts (167), while setting Louisville's record in wins during a single-season (13), which was also first in all of D1 baseball. His delivery is nothing dramatic as he is able to explicitly repeat his motion out of the windup and stretch. He also has great mound presence in doing so.

Comparison: Mark Buehrle
Both Buehrle and Detmers show a crisp motion start to finish and seem to have this natural tail in their fastballs and sinking changeups. They hide the ball well and will not overpower you with a fastball as they rely heavily on their entire arsenal of pitches. At first glance, the way he dips especially in his windup is similar to James Paxton. While not as lanky or dramatic, he does generate a lot of power in doing so as he manages to get balanced upon striding towards the plate.




4. Patrick Bailey - (NC State, Y-D Red Sox)

Profile:
Age: 20
Size 6'2", 192 lbs
Position: C
Bats/Throws: S/R


Analysis:
Most likely the first catcher off the draft board due to his athleticism behind the dish, Bailey also shows power from both sides of the batter's box, and overall his hitting and contact ability are still in development. Regardless, he is able to show great pop time and can deliver sharp throws from home plate to second base with ease. He has had some trouble with his receiving skills however this is something that can certainly improve throughout the lower levels once drafted. Although many project him as more of a backup catcher if the hit tool doesn't develop, Bailey could turn into an every day, lower to middle of the order bat, depending on how well he generates consistent contact.

Comparison: Matt Wieters
Although physically they are different, the athleticism both of them bring to the position is hard to ignore. Like Wieters, Bailey is able to demonstrate terrific pop offensively and can make seamless throws to all bases. It just so happens both can switch hit which brings a little more versatility to their respective game.

5. Carmen Mlodzinski - (South Carolina, Falmouth Commodores)

Profile:
Age: 21
Size: 6'2", 232 lbs
Position: P
Bats/Throws: R/R

Analysis:
Mlodzinksi missed some time early in his collegiate career due to some random injuries which had nothing to do with his arm. With that being said, he bounced back not only for South Carolina but also became rated the top arm in the Cape League in 2019. His best pitch is the fastball which sits in the mid-90s but has touched the upper 90's on occasion. Mlodzinski is able to show versatility with his slider/cutter as well as a changeup with a great sinking movement. He shows great velocity with his cutter and his slider has similar movement just not thrown as hard. His changeup can still get better but he has impressed scouts with his plethora of off-speed pitches and mound presence. Scouts have also loved his demeanor and work ethic.

Comparison: Jake Arrieta
Both with the same physical stature, Arrieta has been known to work as a ground ball pitcher who still has the stuff to put out multiple batters per game. Mlodzinski, with his slider and cutter, can make batters swing at pitches that dive out of the zone and has proven to keep balls low resulting in many groundouts. Both players have used their third pitch effectively and Mlodzinski's willingness to work hard and develop his arsenal, even more, bodes well for his future in the MLB.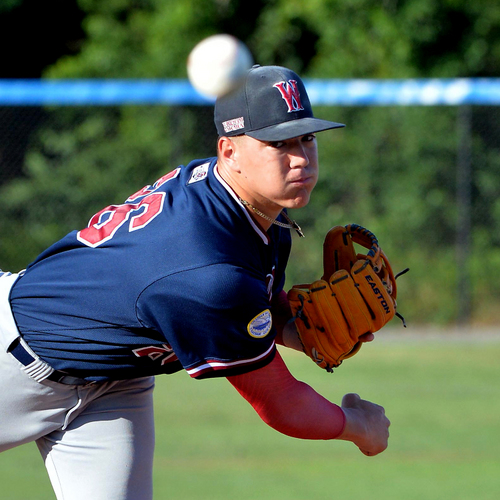 .

6. Cade Cavalli - (Oklahoma, Wareham Gatemen)

Profile:
Age: 21
Size: 6'4", 226
Position: P
Bats/Throws: R/R

Analysis:
Cavalli has some of the best pitching mechanics and fastball/curveball combination in this year's draft class. His mid to upper 90's fastball and top-tier curve allow him to mix in a slider which he's gained confidence in throwing as well as an average changeup. While his frame projects him to be a solid MLB build, durability and control have remained a concern for the ultra-talented prospect. Due to the lack of command, his pitches of choice aren't as overpowering as they could be. He has also dealt with back and arm injuries which should never be taken lightly. Therefore, staying healthy and honing down on his command will be his main priorities going into the minor leagues.

Comparison: Aaron Sanchez
Like Sanchez, Cavalli seems to have the upper body strength to pound the zone and relies on his secondary pitch to put away batters. Sanchez in the past has battled some injuries however he has been able to power through them and profiles best as a swingman who can also start in certain situations. Cavalli may end up being used similarly especially if control remains to be an issue.

7. Cole Wilcox - (Georgia, Orleans Firebirds)

Profile:
Age: 20
Size: 6'5", 232 lbs
Position: P
Bats/Throws: R/R

Analysis:
Wilcox is a strong pitcher whose fastball sits in the mid-90's which can occasionally reach triple digits. While slightly overshadowed by UGA teammate Emerson Hancock, his secondary pitches offer some upside but are still a work in progress. Has a strong enough build to maintain a solid velocity but his delivery and control are somewhat shaky. Per MLB.com, Wilcox "features a low elbow and a long arm stroke that allows hitters to track the ball well out of his hand. His fastball has a history of getting hit harder than it should and he sometimes struggles to provide quality strikes." When reviewing some of his tapes, it was easy to point out the long arm stroke to be somewhat detrimental considering batters are able to have a prior read on the ball, as he isn't able to hide it as well as other pitchers do. However, this will be something to monitor starting off in the lower levels where he should develop.

Comparison: Trevor Cahill
Due to their longer and slower delivery to the plate, Cahill was fit as a solid comparison. They are both power pitchers who can make batters whiff at their fastballs and have secondary pitches that compliment it well. Also, their mechanics are similar especially when it comes to the follow-through where it seems like they let their arms whip around after releasing the ball.

8. Bryce Jarvis - (Duke, Cotuit Kettleers)

Profile:
Age: 22
Size: 6'2", 195 lbs
Position: P
Bats/Throws: L/R

Analysis:
Although older than many prospects at 22, Jarvis was able to build muscle to add to his 6'2" frame and has a balanced repertoire of pitches at his disposal. He's been able to add velocity to his fastball and is able to hit his spots as he maintained a 40-2 K-BB ratio, per MLB.com. The only drawback to Jarvis' game is that besides being 22, his smaller frame and lack of consistency in the past may see him go at the end of the first round, or possibly sometime in the second.

Comparison: Roy Oswalt
Both seem to have similar mechanics and aren't going to throw the hardest but can work with all of their pitches by moving around the strike zone and having solid placement. Even though Jarvis is a couple of inches taller than Oswalt, both have similar frames as well and can really generate power on their stride to the plate. Jarvis has a chance to be one of the steals of the draft if he is able to show consistency early on in his career.



9. Bobby Miller - (Louisville, Brewster Whitecaps)

Profile:
Age: 21 years old
Size: 6'5", 220 lbs
Position: P
Bats/Throws: L/R

Analysis:
Considering his dominant 6'5" frame, Miller is able to maintain his stamina which can see him last through the 7th inning of games, especially when his stuff is on point. However, control has been a concern for him while his mechanics make it tough to hit his spots at times. He stands out when maintaining his fastball in the upper 90's and a powerful slider that has clocked in the high 80's. His changeup acts as his best-offspeed pitch as it's more traditional in the lower 80's. Due to his large frame and questionable delivery, many scouts could see him as a high-end reliever but with improving his control, he could slot in as a mid-rotational piece.

Comparison: Tanner Houck
A similar physical appearance at 6'5", 215 lbs, Houck was taken late in the first round back in 2017. Both pitchers can bring the heater into the upper 90's and their sliders reach the mid to high 80's. The only difference between the two is that Houck slings the ball a bit more where Miller appears to come over the top. Regardless, both have long arm action in their deliveries. Many looked at Houck coming out as a set-up man but certainly has the stuff to be a mid-late rotational starter just like Miller projects.

10. Austin Wells - (Arizona, Y-D Red Sox)

Profile:
Age: 20 years old
Size: 6'2", 220 lbs
Position: C
Bats/Throws: L/R

Analysis:
A lefty-hitting catcher, Wells has the power and a sweet stroke to be able to produce offensively in the Major Leagues. One of the, if not the best bat at his position, Wells has considerable plate discipline and can draw a lot of walks. However, they come with a lot of strikeouts. The only downside to his game is that he may not be efficient enough to stick at catcher due to his inconsistencies defensively and a below-average arm. Regardless, the bat is more than appealing for a team to take a chance on him with their first draft selection.



Comparison: Stephen Vogt
Wells may not have the power that Vogt possesses currently, however, Wells' ability to hit could see him be a better contact hitter than his counterpart. Vogt occasionally will play behind the dish but has stuck to first base and corner outfield for most of his career. Another option would be at designated-hitter but this would surely limit his overall potential.


.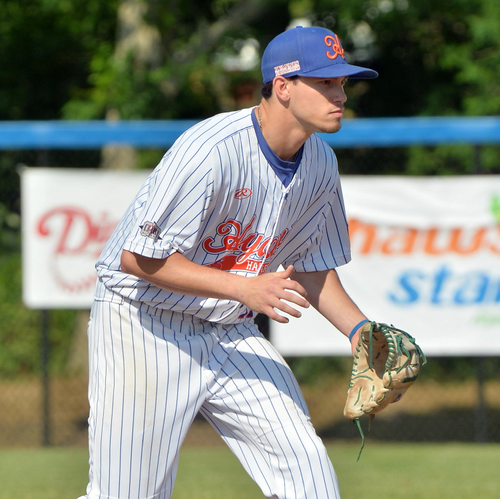 11. Nick Loftin - (Baylor, Hyannis Harbor Hawks)

Profile:
Age: 21 years old
Size: 6'1", 185 lbs
Position: SS
Bats/Throws: R/R

Analysis:
Loftin is a jack of all trades type player with the athletic ability and baseball IQ to play the corner outfield positions as well as shortstop, second, and third base. While he doesn't possess much power, he looks to drive the ball to all fields by making solid contact. He sports a narrow batting stance that looks stiff but he's able to remain loose in the box. He doesn't stand out in any specific category however the utility upside he brings will surely bring value to the team that selects him.

Comparison: Kike Hernandez
While he primarily plays second base, the Dodgers have been able to move him all around. They each have narrow stances but are able to hit the ball anywhere for contact and provide the utility aspect which has become an increasingly important part of the game. Loftin should fit in nicely wherever he lands and has the upside offensively to add power to his 6'1" frame.

12. Jordan Westburg - (Mississippi State, Hyannis Harbor Hawks)

Profile:
Age: 21 years old
Size: 6'3", 191 lbs
Position: SS
Bats/Throws: R/R



Analysis:
At 6'3" and room to fill out, Westburg could be a candidate to shift to third base. Defensively he is smooth and athletic enough to stay at shortstop for the time being, and should not have an issue if he makes the transition. Offensively he has tremendous power and is ultra-aggressive in the box. Therefore, his plate discipline and pitch selection isn't the best but can be worked on. One of the downsides to his game is that he primarily pulls the ball to left and has trouble pushing the ball to the opposite field. If he can diversify his approach in the box and get better at hitting the ball on a line, he could profile as a solid all-around player.

Comparison: Will Middlebrooks
Middlebrooks never really made any appearances at shortstop, however, he had quick hands and was solid defensively at third base which is where Westburg could end up. They possess strong quick hands through the zone looking to pull the ball. Westburg could be an intriguing prospect, dynamic enough to last in the MLB if he works on his plate approach.

13. Daniel Cabrera - (LSU, Harwich Mariners)

Profile:
Age: 21 years old
Size: 6'1", 191 lbs
Position: OF
Bats/Throws: L/L

Analysis:
Seen as one of the best pure hitters in the upcoming draft, Cabrera has one of those sweet lefty swings that is simple and pure. Although he doesn't have the eye-popping power, his swing allows him to naturally carry the ball and the power could potentially develop over time. Defensively he can play the corner outfield positions and has a strong enough arm to be a plus defender. He's articulate at the plate and can hit for a solid average. An average runner at best, he won't blow you away with base stealing capabilities, however, teams won't overlook him because of this.

Comparison: Andrew Benintendi
Coming out of Arkansas, Benintendi has a smaller frame but his sweet swing led him to hit 20 homers in 2017 with Boston. Although he may have more speed than Cabrera, the LSU prospect may not be super flashy but is solid in various categories. This is high praise for Cabrera considering Benintendi was a top 10 pick in the 2015 draft.






14. Alika Williams - (Arizona State, Bourne Braves)

Profile:
Age: 21 years old
Size: 6'2", 180 lbs
Position: SS
Bats/Throws: R/R

Analysis:
Williams is best defensively where his quick hands, solid range, and ability to throw across the diamond will see him stick to shortstop through his development. While the power offensively isn't really a strength to his game, he can make do with a disciplined plate approach and keen eye in the box. He is able to draw walks (which he did more than striking out as a sophomore at ASU) and is one of the better defensive infielders in the draft. From the tape I've seen, he seems very selective at the dish and he could definitely benefit from adding some more muscle to combat major league pitching one day. He is great at hitting for contact and his above-average speed could truly maximize his game offensively.

Comparison: Trea Turner
Although not as fast as the speed demon, Williams is built similarly and has the same strides through the zone. Both hitters aren't known for their power but their defensive game and athletic ability offer great upside at the position. Hopefully, Williams will gain a little more weight but his characteristics and pure athleticism could have him land as a late first-rounder.


15. Logan Allen - (FIU, Harwich Mariners)

Profile:
Age: 21 years old
Size: 6'0", 180 lbs
Position: P
Bats/Throws: R/L

Analysis:
Not really known as a flashy pitching prospect, Allen's fastball sits in the low 90's and relies on his plus changeup to generate swings and misses. His curveball is average but is generally able to control all of his pitches. He's got great athleticism on the mound and can hit his spots in order to set up batters. While his small frame could limit his overall ceiling, he still has the stuff to be a mid to end of the rotation starter due to his ability to strike batters out.

Comparison: Jesus Luzardo
It was difficult finding a comp for Allen due to his size and lack of overpowering stuff. Luzardo throws a little harder but their quick and smooth pitching mechanics paired with solid secondary pitches to put batters away. To compensate for lower velocities, Allen uses deception and keeps hitters guessing, sometimes resulting in off-balanced swings which is why he could continue striking out hitters at the next level.



16. Seth Lonsway - (Ohio State, Brewster Whitecaps)

Profile:
Age: 21
Size: 6'3", 200 lbs
Position: P
Bats/Throws: L/L

Analysis:
Lonsway wowed scouts with an impressive strikeout rate of 21.0 per 9 innings during the shortened 2020 season. His curveball is by far the best and most controlled pitch which is a curse and a blessing at the same time. He was graded a mere 40 in the control department (on a 20-80 scale) by MLB.com. This was evident when "he walked eight in two innings against Stetson in his final start" and "...18 in as many innings as a redshirt sophomore," per MLB.com. There's no doubt about it, Lonsway has the nastiness with a mid 90s fastball and a curveball that has drawn comparisons to Barry Zito's 12-6. Due to his solid size and pure talent he could be drafted early on however continued control issues could land him as a premier bullpen arm.

Comparison: Steven Matz
Matz has been able to find himself a spot in the Mets rotation however he can be flexed as a reliever in certain situations. Many sources have said he could follow the trajectory of a Dellin Betances type player who couldn't remain a starter due to control issues. Considering he's a righty, larger in size, and throws harder, it wasn't an adequate comp. Even if Lonsway doesn't make it as a rotational piece, he could become one of the game's next best relievers among other lefties such as Josh Hader, Brad Hand, and Aroldis Chapman, to name a few.

17. Jeff Criswell - (Michigan, Brewster Whitecaps)

Profile:
Age: 21 years old
Size: 6'4", 225 lbs
Position: P
Bats/Throws: R/R

Analysis:
Criswell is an interesting prospect who is expected to be selected some time in the second round. He's got a solid fastball with a slider and changeup as his secondary pitches. Due to control issues, many have questioned his consistency in order to be a mid-rotational guy as he starred as Michigan's best reliever at times. If he's able to hone in on his command, he could trend as a hybrid depending on how teams best see fit.

Comparison: Brandon Morrow
With good size, Criswell is reminiscent of Morrow because he came into the league as a reliever but ultimately made the switch to a starter in Toronto, who ended up having a few solid seasons. Now, despite battling injuries, Morrow had a 22 save season during his last healthy campaign in 2018 with the Cubs. Both pitchers have been able to produce whiffs out of their opponents however as said before, they can get erratic with their control resulting in a ton of free passes.

18. Jake Eder - (Vanderbilt, Orleans Firebirds)

Profile:
Age: 21 years old
Size: 6'4", 220 lbs
Position: P
Bats/Throws: L/L

Analysis:
Eder has a solid prototypical frame at 6'4"-220 and has a mid 90s fastball with an average curveball and somewhat below-average changeup. Inconsistencies with maintaining velocity and control have been an issue for Eder's game. However, if he can develop his changeup as more of a tertiary pitch selection, while consistently hitting his marks, Eder could find the back of a starting rotation in the big leagues.

Comparison: Patrick Corbin
In his first four seasons with Arizona, Corbin had command issues but had the makings of a promising rotational piece if he could cut down on his walks per nine innings, and so he did. After truly breaking out in 2018 after throwing 246 strikeouts, Corbin eventually earned a massive contract with Washington in 2019. Eder could very well have the same talent and promise Corbin possesses. While control remains an issue, he has the chance to become drafted in the second round of this year's draft.





19. Kyle Nicolas - (Ball State, Cotuit Kettleers)

Profile:
Age: 21 years old
Size: 6'4", 225 lbs
Position: P
Bats/Throws: R/R


Analysis:
Nicolas is someone who will look to overpower his opponents on the mound with a mid 90's fastball which has touched 100 and a harder slider as his best secondary pitch known to generate whiffs. He has an average curve and his changeup is well behind his other pitches. This issue with Nicolas remains to be his control and his delivery which needs more consistency when replicating his mechanics. In one of the tapes I reviewed, Nicolas spiked the ball before it reached the plate which isn't the greatest sign. Still, Nicolas has time to refine his accuracy and be selected within the first two or three rounds.

Comparison: Michael Lorenzen
Both have similar deliveries in the sense that there isn't much going on. It's a pretty clean-cut approach and both hurlers can finish hard through the zone. Lorenzen debuted as a starting pitcher but has primarily been used as a reliever or spot starter. There have been rumors that if Nicolas can't improve on his command, then it wouldn't be surprising to see him in a similar role as Lorenzen.

20. Tommy Mace - (Florida, Y-D Red Sox)

Profile:
Age: 21 years old
Size: 6'6", 200 lbs
Position: P
Bats/Throws: R/R

Analysis:
At 6'6", Mace shows good control and mound presence as he really pushes off the mound. He's got a 4-pitch repertoire consisting of a fastball, cutter, curveball, and changeup. His curve is slower than normal however it complements his hard cutter as solid secondary pitches. Considering his height and weighing only 200 pounds, you'd think he'd have more of a lanky, spread out delivery. However, it remains compact and he is able to generate more than enough power.



Comparison: Forrest Whitley
With similar frames (Whitley measured at 6'7", 195 lbs), both pound the zone with mid 90's heat, and each is capable of throwing four or more types of pitches. They both get downhill in a hurry and have solid command and the ability to last longer in games. Mace should be taken somewhere in the second or third round but certainly has the upside to be an intriguing selection in the draft.