Weekly Season News
08/14/2004 9:14 AM
Article By:
14 August 2004
THIS WEEK IN THE CAPE LEAGUE
Championship Week
Cape League Intern Brian MacPherson

Red Sox Crowned Champions in Thrilling Finale
FALMOUTH – You want drama?

All too often, lopsided games render championships anticlimactic. The result is obvious early in the game, and the rest of the contest serves as nothing more than a coronation for the winner. And if that's what you wanted, you had no place at Guv Fuller Field on Saturday.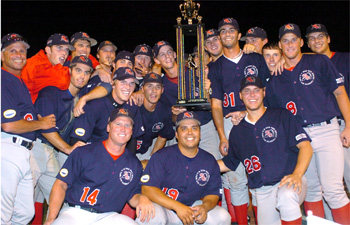 Cape League 2004 Championship Y-D Red Sox
SportsPix 2004
But if you wanted timely hits, clutch defense and fearless pitching, if you wanted passion in the dugouts and in the stands, if you wanted arguably the greatest game in the history of the Cape Cod Baseball League, the 11-inning battle between Yarmouth-Dennis and Falmouth couldn't have been more magical.

In the end, the Red Sox emerged as champions for the first time in Scott Pickler's tenure as field manager. They scored four runs in the top of the 11th inning to win the Cape League's longest season-ending game since Wareham beat Brewster in 13 innings in 1994.

"To win a big game like that, and there were some crazy moments in that game, it feels great to finally win it," said third baseman Adam Davis (Florida).

The teams traded a pair of single runs early. Falmouth's Danny Perales (Southern California) hit a sacrifice fly in the bottom of the first, and Y-D's Ryan Rohlinger (Oklahoma) scored on a balk in the top of the second. Commodore designated hitter Paul Christian (Brown) hit a solo home run in the bottom of the second, and Red Sox center fielder Ramon Glasgow (Cosumnes River) doubled home Ben Crabtree (Ohio) in the top of the fourth.

The story early, though, was the heroic effort of Falmouth starter Jensen Lewis (Vanderbilt). Pitching on three days' rest, Lewis held the Red Sox at bay for 6 1/3 innings, allowing one earned run while striking out 12.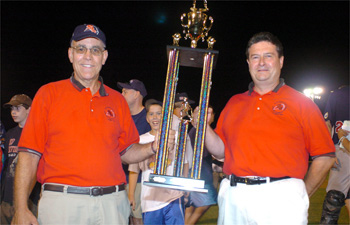 Y-D Red Sox President Robert Mayo and General Manager Jim Martin
with the Arnold Mycock Championship Trophy 2004
SportsPix 2004
His biggest jam came in the third inning, when an error allowed Y-D to load the bases with just one out. But Lewis came back with six straight strikes to the next two hitters and struck his way out of the inning.

"What a gutty effort by Jensen Lewis," Pickler said. "I thought he was outstanding."

The Commodores gave Lewis plenty of support in the bottom of the fourth. First baseman Mark Hamilton (Tulane) and shortstop Chris Lewis (Stanford) each connected for solo home runs to center field, and Falmouth went ahead, 4-2.

That lead held until the top of the ninth.

Davis, Joe Anthonsen (Campbell) and Will Harris (Louisiana State) each drew walks to begin the inning. Frank Curreri (UMass) took a ball and a strike, fouled off the next pitch, and then hit a seeing-eye ground ball up the middle and through for a game-tying two-run single.

Falmouth went quietly in the bottom of the ninth, and the game went to extra innings with the score tied at 4.

The Commodores had their best chance to send the series to a third game in the home half of the 10th inning. Catcher Barry Gunther (Mississippi) hit a one-out double, and Kevin Roberts (Houston) moved him to third with a ground ball to first. The Red Sox opted to intentionally walk Jacob Ellsbury (Oregon State) and face Matt Antonelli (Wake Forest), but Antonelli worked a walk of his own to load the bases.

Josh Faiola (Dartmouth) induced a pop fly in the infield, but with two outs, Perales hit a sinking line drive to right field with game-winning single written all over it.

Enter Jim Rapaport. The Stanford outfielder sprinted in and dove headlong for the ball, and it found its way into his glove to end the threat.

The Red Sox finally broke through in the top of the 11th inning. Anthonsen drew his second walk of the game, and pinch-hitter P.J. Finigan (Southern Illinois) beat out an infield single to give Yarmouth-Dennis two critical base-runners with no outs.

Curreri, he of the clutch single in his previous at-bat, laid down a perfect sacrifice bunt to advance Anthonsen and Finegan to third and second, respectively.

The Commodores decided to walk the hot-hitting Rohlinger to load the bases, but the first pitch from pitcher Kyle Young (Wake Forest) sailed to the backstop and allowed Anthonsen to score the go-ahead run.

Rohlinger then executed a textbook squeeze to score Finigan and extend the lead to two runs. And after a single to right by Rapaport, Nick Moresi (Fresno State) stroked a long home run to left field to put the game out of reach at 8-4.

All that remained was for reliever Brett Harker (College of Charleston) – who turned in the third strong relief outing of the night from the Red Sox bullpen – to close the door on the Commodores.

"Faiola went as long as he could, and then Harker came in, and (Cory) VanAllen was great," Davis said. "He's been great all year."

League officials named Rohlinger, whose eighth-inning home run provided the margin of victory on Friday, and Faiola, who earned a win and two saves in the playoffs, co-winners of the playoffs' Most Valuable Player award.

"These kids deserve this, as hard as they've played all year," Pickler said. "Finigan comes off the bench right there and gets a big hit, Faiola closes the door, Rapaport makes a great catch. It just goes on and on."

You want drama?

On Saturday night at Guv Fuller Field, you got drama. - By Brian MacPherson, CCBL Intern, [email protected]
John Garner, Jr.
CCBL Director of Public Relations & Broadcasting
(508) 790-0394 [email protected]
Bruce hack, League Historian