Weekly Season News
08/18/2004 9:18 AM
Article By:
18 August 2004
THIS WEEK IN THE CAPE LEAGUE
2004
ROBERT A. MCNEECE
OUTSTANDING PRO PROSPECT AWARD
ORLEANS- Tyler Greene's single in the top of the fourteenth inning of a crucial game at Wareham on August 6 did more than just drive in the winning run of one of the most thrilling games of the Cape League season.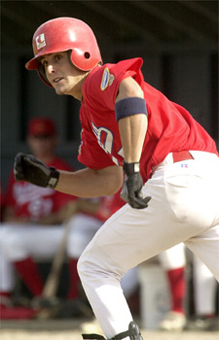 Tyler Greene, Orleans Cardinals
SportsPix 2004
It breathed life back into Orleans' season, and the Cardinals went on to finish just one point shy of earning their third consecutive playoff berth.
But that wasn't the only big hit of the season for Greene, who won the Robert A. McNeece Award as the league's top pro prospect.
The Georgia Tech shortstop hit .296, ninth best in the league, with one home run and 13 runs batted in for the Cardinals this season, and he led the team with 23 runs scored and 13 stolen bases.
And he was at his best when the Cardinals needed him. With runners on base, he hit for a team-best .360 batting average. And his third-inning triple led to the game-winning run in the first game of what would be an eight-game winning streak for the Cardinals during the last week of the season.
Greene also impressed a league-wide audience at the Home-Run Hitting Contest at Eldredge Park, where he hit eight home runs in the final round only to finish second to Bourne's Austin Easley.
He also played outstanding defense, as he possesses advanced instincts, a smooth ability to field tough ground balls and a cannon for a throwing arm.
Greene becomes the fifth Cardinal to win the McNeece Award since its inception in 1976. The two most recent recipients are Russ Adams of North Carolina (2001) and Mark Teixiera of Georgia Tech (1999) who each won the award while playing their home games at Eldredge Park. The 1994 winner was right hander Dave Shepard (Mansfield) and in 1981 shortstop Wade Rowdon was the winner.
Ironically he is the second Tyler Green(e) to win the award. Hyannis Mets right handed pitcher Tyler Green of Wichita State won the award in 1989.
By Brian MacPherson, 2004 CCBL Intern, [email protected]

Written by John Garner, Director of Public Relations & Broadcasting
Cape League Interns Britt Berry, TJ Lasita and Brian MacPherson
Contributing writer, Bruce Hack, CCBL Historian