Weekly Season News
08/29/2004 9:28 AM
Article By:
29 August 2004
THIS WEEK IN THE CAPE LEAGUE
2004
THURMAN MUNSON
BATTING CHAMPION AWARD
Brewster fans might be experiencing a flashback. No, it's not August 2003, even though the Whitecaps were knocked out of the playoffs in the first round, and a player has won the Batting Champion title.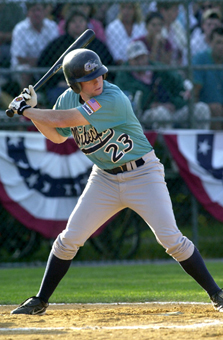 Ryan Patterson, Brewster Whitecaps
SportsPix 2004
For the second straight year, a Brewster Whitecap, who also plays for the LSU Tigers, has won the Thurman Munson Batting Champion Award.
Ryan Patterson followed in the footsteps of former Whitecap teammate and former LSU teammate J.C. Holt, who won the title in 2003 with a .388 batting average and was drafted 101 overall by the Atlanta Braves in 2004.
The quest for the 2004 Thurman Munson Award wasn't over until the last day of regular season play. Going in to the games of August 8, Patterson was leading the league in batting at .330. In second place was Orleans' Jordan Brown (Arizona) at .328, and in third was Hyannis' Pat Reilly (Arizona) at .321.
Patterson went 1-for-4, bringing him to .32727, Brown was 0-for-4, finishing at .318, and Reilly went 2-for-4, putting him at .32673 on the season. Patterson edged out Reilly by five ten-thousandths of a point, the second closest race for the batting title in the modern history of the league. Patterson's .327 is the second lowest of batting title winners.
The Thurman Munson Batting Champion Award is given to the player who leads the league in batting average in the regular season. The award is named for the New York Yankee great, Thurman Munson, whose untimely death came in 1979 in a tragic plane crash. Munson won the batting title in 1967 as a catcher for the Chatham A's from Kent State with a final average of .420.
Patterson joins Holt and Steve Stanley (Notre Dame) in 2000, and Bobby Kielty (Mississippi) in 1998 as thee other Brewster Whitecaps to win this esteemed award. Past winners of the batting title include Lance Berkman (Wareham, 1996), Jason Varitek (Hyannis, 1993), Chuck Knoblauch (Wareham, 1988), and current Texas Rangers manager Buck Showalter (Hyannis, 1976.
Patterson lead the Whitecaps with 25 RBI (fifth in the league), and a slugging percentage of .518 (third in the league). Patterson and teammate Ryan Roberson (George Washington) lead the Whitecaps with five homeruns each.
For LSU in 2004, Patterson was fourth on the team in batting average at .341 overall, and hit .326 in SEC games. Patterson led the Tigers with 14 homers.
By Britt Berry, 2004 CCBL Intern, [email protected]

Written by John Garner, Director of Public Relations & Broadcasting
Cape League Interns Britt Berry, TJ Lasita and Brian MacPherson
Contributing writer, Bruce Hack, CCBL Historian