Weekly Season News
08/29/2004 9:41 AM
Article By:
29 August 2004
THIS WEEK IN THE CAPE LEAGUE
2004
PAT SORENTI AWARD
MVP
One name found its way onto the lips and into the discussions of every Cape League spectator in 2004. That name, Daniel Carte, can now be preceded by Pat Sorenti MVP Award winner.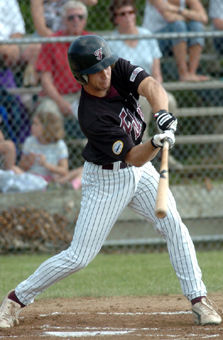 Daniel Carte, Falmouth Commodorers
SportsPix 2004
Carte (Winthrop) could not have begun the summer more unassumingly, and could not have finished it in more prolific fashion. The Falmouth right fielder kicked off the 2004 Cape League season with a 0-for-19 skid, while his Commodore team slipped out of the shoot at 0-5. Both Carte and his team made a significant turnaround.
Falmouth took the West Division crown, and Carte was one of the biggest reasons. He quelled his 0-for slump with a walk-off home run in the bottom of the ninth to give the Commodores their first victory.
Carte never cooled off, as his first three hits of the season were round trippers. It was the long ball that put Carte on the Cape League radar screen, but his overall consistency at the plate had heads turning all summer.
His name was scattered along nearly every corner of the league leader's page, as Carte was quickly recognized as the league's most dangerous hitter. Up to the last days of the season, Carte flirted with becoming the league's first Triple Crown winner.
He took two-thirds of the Triple Crown with ease. His 11 home runs were two better than any other Cape League hitter, and his 38 runs batted in were miles above second place.
The final circuit of the Triple Crown—batting average—was all that halted Carte's bid. But it was a close call. Carte finished the season with a .308 clip, tied for fourth in the league, and only 19 points shy of first.
Carte finished second in hits (49), first in slugging percentage (.560), tied for first in extra base hits (17) and second in runs scored (30). He also became the sixth player to reach double digits in home runs (11) and stolen bases (13).
Summer league MVP awards are nothing new for Carte, as he was given the same distinction last year as a member of the Columbus All-Americans of the Great Lakes League.
Twice earning Player of the Week honors, Carte is the winner of the Cape League's 42nd MVP Award and only the second Commodore to win the award. Previous winners include Darin Erstad (Falmouth, 1994), Jason Varitek (1993), Ron Darling (1980) and Thurman Munson (1967).
By T.J. Lasita, 2004 CCBL Intern, [email protected]

Written by John Garner, Director of Public Relations & Broadcasting
Cape League Interns Britt Berry, TJ Lasita and Brian MacPherson
Contributing writer, Bruce Hack, CCBL Historian