Weekly Season News
08/29/2004 9:51 AM
Article By:
29 August 2004
THIS WEEK IN THE CAPE LEAGUE
2004
MIKE CURRAN AWARD
MANAGER OF THE YEAR
Jeff Trundy never doubted his guys. The rest of the league may have doubted the Falmouth Commodores, but it was Trundy who got the last laugh.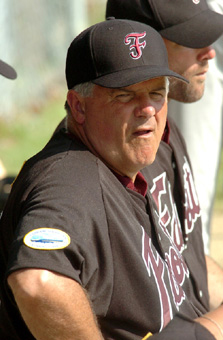 Jeff Trundy, Falmouth Commodores
SportsPix 2004
The Falmouth skipper kept faith in his ball club—even after a 0-5 start—and led the Commodores to the West Division crown in 2004. It was this resurgence that has earned Trundy the Mike Curran Manager of the Year award.
Falmouth struggled mightily out of the gate, as they completed week one of the season without a win. But a walk-off home run against Cotuit handed the Commodores their first victory of the season, and many more would follow. Falmouth ended the season with 25 wins, good for second in the Cape League.
In the playoffs, Falmouth knocked off Hyannis in the West Division Championship Series, before falling in the Cape League Championship Series to a hot Yarmouth-Dennis Red Sox club.
Still, 2004 marked the first time the Commodores made a trip to the playoffs since 1996. That year, they were also defeated in the Cape League Championship Series.
In 2004, Trundy—who has completed his sixth year as the Falmouth field boss—earned his 100th win as a Cape League manager. He became just the 27th skipper to reach the milestone on the Cape.
Trundy is known league-wide as producing quality talent on the field, and excellent young men off the field. The Commodores—along with the Wareham Gatemen—were selected to be the inaugural winners of the Commissioner's Cup. The award is given to the team that exhibits class, on and off the field.
The Mike Curran Manager of the Year Award has been presented since 1978. Trundy is the second Falmouth skipper to earn the award, as current Bourne Braves manager Harvey Shapiro took home the prize in 1996.
By T.J. Lasita, 2004 CCBL Intern, [email protected]

Written by John Garner, Director of Public Relations & Broadcasting
Cape League Interns Britt Berry, TJ Lasita and Brian MacPherson
Contributing writer, Bruce Hack, CCBL Historian