Weekly Season News
08/29/2004 9:53 AM
Article By:
18 August 2004
THIS WEEK IN THE CAPE LEAGUE
2004
CURLEY CLEMENT
UMPIRE AWARD
Walter Bentson
Walter Bentson Named First Recipient of the Curley Clement Award
CAPE COD – . After umpiring close to 200 games this past year, veteran official Walter Bentson has been named the first recipient of the Cape Cod Baseball League's Curly Clement Award.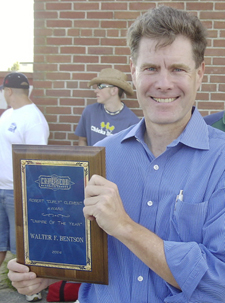 Walter Bentson is the proud recipient of the first Curly Clement Award
Photo by Dominic DiMare
South Shore Umpires Association (SSUA)
Clement worked as a Cape League umpire for four decades and was inducted into the CCBL Hall of Fame in 2002. He worked 16 NCAA Regionals, several ECAC Division I Baseball Championships and two College World Series during his career. His final Cape League appearance was working home plate at the 2000 CCBL All-Star.
Twenty-five ECAC umpires, along with spouses, friends, and children paid tribute to Bentson on Sunday, August 8.
Despite an illness, he has worked behind the plate in more than 175 games this year at the college, junior college, high school, and top summer league levels.
Bentson, a Boston native, serves on the College Baseball Umpires Association (CBUA)/New England Board of Directors and is President of the Boston Park League, the oldest amateur baseball league in the country.
"Walter is not only a great umpire, but an inspiration to us all," said Nick Zibelli, ECAC Director of Baseball Umpiring. "I tip my hat to the Cape Cod Baseball League for honoring Walter with the first annual Curly Clement Award."
The presentation was made by CCBL Commissioner Paul Galop and Deputy Commissioner Sol Yas, along with Zibelli. The Wareham crowd of 1,100 fans paid tribute to Bentson with a standing ovation.
The ECAC is in its fourth consecutive season assigning umpires for the CCBL. There are 86 ECAC umpires assigned to the 660 Cape Cod Baseball League games this summer.
By John Garner, Jr., Director of Public Relations & Broadcasting, [email protected]
Written by John Garner, Director of Public Relations & Broadcasting
Cape League Interns Britt Berry, TJ Lasita and Brian MacPherson
Contributing writer, Bruce Hack, CCBL Historian