Weekly Season News
08/09/2006 9:49 AM
Article By:
9 August 2006
THIS WEEK IN THE CAPE LEAGUE
Championship Week
Wareham's Bleich Shines in Game 1
COTUIT, MA -- Tuesday's playoff game between Wareham and Cotuit featured some outstanding performances, including a diving unassisted double play by Kettleers third basemen Brett Lilley and the go-ahead and eventual game-winning RBI double by Jason Ogata of the Gatemen. Everyone's eyes, however, were set on both starting pitchers, as they gave the fans an exciting duel which came down to the very last out. Although Kettleers starter James Simmons pitched a solid nine innings while recording five strikeouts and allowing only one earned run, the game's most valuable player had to be winning pitcher Jeremy Bleich, who came into the playoffs with a 1-1 record and a minute ERA of 2.09.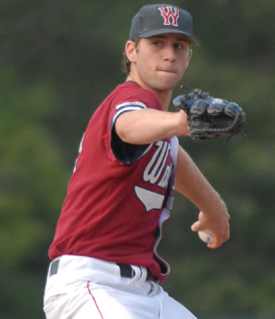 Jeremy Bleich

The left-handed Stanford freshman hit all his spots, made no mistakes while throwing to his catcher, and even flashed some leather on the mound with a quick glove. After escaping a bases-loaded, one-out jam in the second, Bleich settled down and cruised to seven scoreless innings, giving up seven hits and walking only one.

Although he did not strike out a Cotuit hitter, Bleich remained focused with each pitch and let his solid defense do the work. The power pitcher, who entered the game with 31 strikeouts in 43 innings in the regular season, commented on his inability to "blow anyone away."
"My stuff wasn't overpowering today, but I just continued to battle," Bleich said.

Nevertheless, the number of strikeouts recorded doesn't win baseball games – getting outs does. Bleich was simply brilliant in mowing down the Kettleers' offense, which came into the game leading the league in batting with a .256 average.

By Jason Itzkowitz, CCBL Intern [email protected]

Interns 2006 : Chad Burkart, Johnna DeChristoforo, Jonathan French, Michael Kydd, Lauren Malone
Adam McGillen, Nicholas Mucci, Courtney Reilly, Daniel Scalia, Shannon Taylor, Kevin Wolfe