News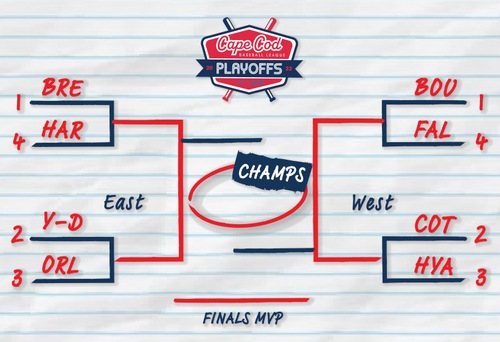 08/04/2022 9:27 AM
Article By: Michael Lane
The 2022 Cape League Playoffs, presented by National Grid, are set to get underway this afternoon. We have a full first round preview for you!
West Division:
(1) Bourne Braves vs. (4) Falmouth Commodores
Game 1: Falmouth at Bourne 6:00pm - Thursday, Aug. 4th
Game 2: Bourne at Falmouth 6:00pm - Friday, Aug. 5th
Game 3 (If Nec.): Falmouth at Bourne 6:00pm - Saturday, Aug. 6th
Season Series: Tied 3-3
How Bourne Got Here:
Led by first-year manager Scott Landers, the Bourne Braves won their second consecutive President's Trophy, finishing a league best 23-14-7. Their 3.04 team ERA is best in the league, with the next closest being a full 0.2 behind. They combine that with good defense, having the best fielding percentage amongst all playoff teams. Their team offensive numbers rank between second and fifth depending on the stat, proving their a well balanced team. Matt Shaw has been not just the best player on Bourne, but arguably the best player in the CCBL. Shaw ended the year as batting champion, hitting .360 with a 1.006 OPS, five home runs, 19 RBI, and 21 SBs.
How Falmouth Got Here:
Falmouth and Wareham were battling for the final playoff spot most of the season. Between July 14th and July 25th, Falmouth pulled away by going 7-1-1, capturing 15 of 18 potential points in that stretch. That run was enough to secure the final playoff spot in the West comfortably. Colby Halter has been the star for the Falmouth lineup, providing consistent numbers all year. Halter finished with a .307 average (5th in CCBL), seven home runs (1st in CCBL), and a .914 OPS. Falmouth's pitching is strong, led by Chase Jeter and Philip Abner in the rotation; and Josh Stewart and Joey Ryan in the bullpen. One concern to watch for, Falmouth led the league in errors this summer and can't afford to give teams extra outs in the playoffs.
(2) Cotuit Kettleers vs. (3) Hyannis Harbor Hawks
Game 1: Hyannis at Cotuit 4:00pm - Thursday, Aug. 4th
Game 2: Cotuit at Hyannis 6:00pm - Friday, Aug. 5th
Game 3 (If Nec.): Hyannis at Cotuit - Saturday, Aug. 6th
Season Series: Cotuit led 3-2-1
How Cotuit Got Here:
Mike Roberts has seen a lot of talent come and go this summer. Chandler Simpson hit .455 with 8 SBs during his time. Brooks Baldwin, back for a second year, hit .361 with 11 SBs. Tyler Johnson led the league in home runs with seven when he departed. Cotuit has remained successful though, having a chance to win the President's Trophy up to the last day. Their offensive power has been key, leading the West in both home runs (31) and OPS (.713). If Cotuit makes a deep playoff run, chasing their league-leading 18th CCBL title, Tommy Troy and Enrique Bradfield Jr. will be big reasons why. As will Cam Schuelke, one of the best relievers in the league, who finished with a 0.80 ERA over 22.1 innings.
How Hyannis Got Here:
Hyannis entered the year with new leadership across the board, Eric Beattie as first-year manager, Nick Johnson as first-year general manager, and Dan Johnson as the organization's new team president. Their roster is constructed in a very specific way: they don't strike out, they get on base, and then they run. They have a league leading 95 SBs and .346 on-base percentage. Mitch Jebb has made a case for league MVP, hitting .356, leading the league in runs (40) and finishing second in RBI (22), SBs (26), and hits (53). Their bullpen is also elite. Jordy Allard, Jackson Emus, and Zachary Voelker have combined for a 0.53 ERA in relief outings over 51 innings. Hyannis has a chance to go from worst to first this postseason, after finishing just 8-28 last summer.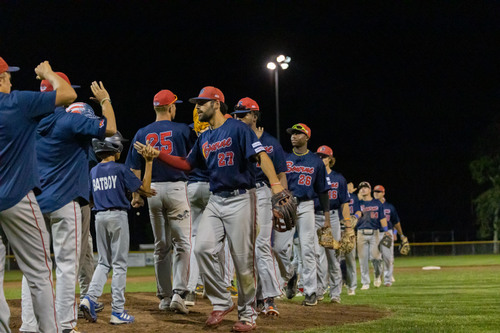 East Division:
(1) Brewster Whitecaps vs. (4) Harwich Mariners
Game 1: Harwich at Brewster 4:00pm - Thursday, Aug. 4th
Game 2: Brewster at Harwich 6:30pm - Friday, Aug. 5th
Game 3 (If Nec.): Harwich at Brewster 4:00pm - Saturday, Aug. 6th
Season Series: Harwich led 3-2-1
How Brewster Got Here:
Jaime Shevchik has established himself as one of the top coaches in the Cape League. In his seven seasons, the Whitecaps have five playoff appearances, including two as the #1 seed in the East, and have won two titles (2017 & 2021). This year's team looks very similar to last year, despite ranking in the bottom half of most offensive categories, they come through with timely hits and rely on strong pitching. Their 3.24 ERA is best in the East and second best in the league. Brennan Oxford, returning from last year's championship team, has been a weapon out of the bullpen. Oxford has only allowed one run over 20.1 innings. Kurtis Byrne, another returnee, has gotten hot just in time for the playoffs. Byrne is hitting .417 with a 1.218 OPS over the last week. If any team wants to win the title this year, they're going to have to go through Stony Brook Field to try and knock off the reigning champs.
How Harwich Got Here:
Steve Englert and the Mariners have come so close in two consecutive seasons. In 2019 the Mariners fell to Cotuit in the Cape League Championship, after losing Game 1 in 15 innings. Last year, Harwich fell to Brewster in the East Division Finals in two close games. This year, despite being the four seed, they have an amazing chance to finish the job. Their offense is led by returning MVP Brock Wilken, who finished with a .797 OPS and five home runs. Joe Vetrano finished with five home runs as well, and led the league in RBI (30). Nick Goodwin finished second in both home runs (6) and RBI (22). Ethan O'Donnell has been a solid addition, hitting .314 since arriving on July 12th. Overall Harwich's team led the East in home runs (30) and runs (193), so if their pitching can get hot they could be a dangerous dark horse.
(2) Yarmouth-Dennis Red Sox vs. (3) Orleans Firebirds
Game 1: Orleans at Yarmouth-Dennis 4:00pm - Thursday, Aug. 4th
Game 2: Yarmouth-Dennis at Orleans 6:30pm - Friday, Aug. 5th
Game 3 (If Nec.): Orleans at Yarmouth-Dennis 3:30pm - Saturday, Aug. 6th
Season Series: Orleans led 3-2-1
How Yarmouth-Dennis Got Here:
It looked like Yarmouth-Dennis (Y-D) was running away with the East Division and had a chance at the President's Trophy entering the All-Star break. Since the All-Star break though Y-D has stumbled to the finish line, ending the year on a 0-7-1 skid and losing the East Division tiebreaker to Brewster. Despite the recent struggles, Y-D has a core of hitters they hope to rely on in the postseason. Cole Carrigg has been a consistent name at the top of the Y-D lineup, only missing three games, and finishing with a .329 average. Homer Bush Jr. and Michael Boeve each hit above .275 this summer. Braden Montgomery might be the biggest x-factor for Y-D. Despite arriving on July 12th, Montgomery finished second for Y-D in home runs (4) and RBI (19). Ivran Romero, Y-D's current ace, will likely take the bump in Game 1 or 2.
How Orleans Got Here:
Like most Kelly Nicholson led teams, Orleans' biggest strength is their pitching staff. They finished the season fourth in the league in ERA (3.51) and led the league in shutouts (8). One of those shutouts came on June 29th when three Orleans pitchers, led by Bryce Warrecker, threw a combined no-hitter. Warrecker has had an impressive season, finishing with a 4-1 record, 2.07 ERA, and 35 strikeouts. Cam Jones has contributed for the Firebirds on both sides of the ball. Jones had a 2.20 ERA over 16.1 innings of relief, in addition to hitting .341 with a .790 OPS. Luke Keaschall, in his second year, led the team in home runs (5) and RBI (20). Orleans survived a late push from Chatham for the final playoff spot. The Firebirds enter the playoffs with some momentum, having won four of their last six games to finish the season.