Alumni Transactions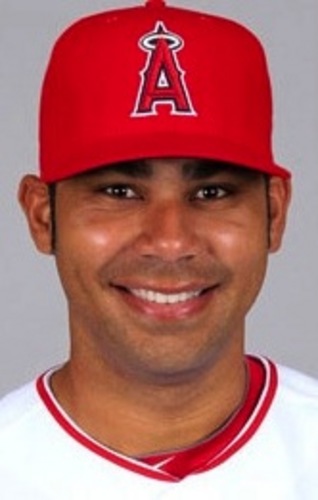 Has slugger Carlos Pena's career in Major League Baseball finally come to an end?
Not if you believe Pena (Harwich, 1996; Wareham, 1997), who was given his unconditional release Sunday by the Los Angeles Angels of Anaheim.
"I feel too good (to retire)," the first baseman/DH said. "That's not even an option right now. I love the way it feels when you square up a ball, when you make a good play in the field. I'll continue to stay ready and look forward to playing and being successful."
The Cape League Hall of Famer (Class of 2003), a 13-year major league veteran, had signed a minor league contract with the Angels, which included an invitation to spring training as a nonroster player. He never got untracked, though, batting just .139 and striking out 14 times in 20 Cactus League games. A former Northeastern University star, Pena has 285 career home runs, but failed to hit one this spring.
Pena exercised an opt-out clause in his contract which allowed him to become a free agent if not added to the 40-man roster by Sunday. He was one of three non-roster players in the Angels camp to do so as veteran catcher Yorvit Torrealba and another Cape League grad, infielder Chad Tracy (Orleans, 2000), also got the bad news on Sunday.
Pena, who split 2013 between Kansas City and Houston, knew the odds of making the Angels were stacked against him with first base occupied by Albert Pujols, who is in the third year of a 10-year, $240 million deal. "It's hard to put into words," he said in a February interview. "You just have this feeling, this hunch, that this is the right place."
Halos manager Mike Scioscia said he believes the three players released Sunday will land on their feet. "Chad, Carlos and Yorvit -- they're pros, and they can still play. I'm sure they're going to find a fit somewhere," Scioscia said.
Tracy hit .303 with a homer and seven RBIs in 17 spring games and Torrealba hit .278 in 12 games. Both left camp immediately after learning they hadn't made the team. But Pena stuck around to exchange hugs and handshakes with several players and coaches.
Pena, whose family resides in Haverhill, Mass., has seen service with eight big league clubs. His best season came at Tampa Bay in 2007 when he belted 46 homers, hit 26 doubles and drove in 121 runs. All were career highs, as were his .282 batting average, 138 hits and 99 runs scored. For his efforts, he was voted American League Comeback Player of the Year.
In 2009, he was named to the American League All-Star team as a member of the Rays and led the AL in home runs with 39. In 2008, also with the Rays, he compiled a .998 fielding percentage and was awarded the Gold Glove as the AL's best fielding first baseman.
Throughout his career, Pena has credited the Cape League with helping him make it to the big leagues. When he was inducted into the Cape League Hall of Fame in 2003 while a member of the Detroit Tigers, he could not attend in person because he was playing winter ball in the Dominican, but he sent his father, mother, brother and sister to represent him and instructed his sister, Femaris, to read the following letter:
"The summer of '97 will always be the most unforgettable summer of my life. I understand summers that perfect only come around once in a lifetime … Because of that summer in the Cape League, I am a major league ballplayer."
"That summer" Pena batted .318, hit eight home runs and drove in 33 runs. He accounted for 84 total bases and a .545 slugging percentage while displaying extraordinary skill as a first baseman. He set records for consecutive errorless chances (416) and consecutive games without an error (43). He was named winner of the Pat Sorenti Award as league MVP and the Daniel J. Silva Award for Sportsmanship. He also was chosen for the West Division All-Star team and the All-League team named at the end of the season.
He was the 10th player selected in the 1998 amateur draft, taken by the Texas Rangers in the first round. He broke into the big leagues with the Rangers as a September call-up in 2001 at age 23 and since then has played for Oakland, Detroit, Boston, Tampa Bay, the Chicago Cubs, Houston and Kansas City.