League News
05/20/2008 9:21 AM
Article By:
for immediate release: 20 May, 2008
L.A. Dodgers' New Bench Coach
Bob Schaefer Honed His Skills
On Cape Cod League Diamonds
LOS ANGELES – Bob Schaefer sat on the Dodgers' bench before the game against their NL West Division rivals, the San Francisco Giants. It was the home opener for the Dodgers and it began Schaefer's 32nd year in professional baseball.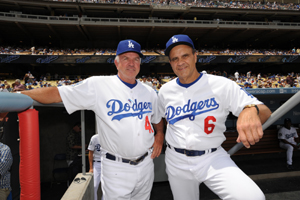 Bob Schaefer and Joe Torrre
Photo by Jon SooHoo / Los Angeles Dodgers / 2008
Schaefer scanned the roster sheets, statistics and charts in front of him, preparing himself as bench coach under new Dodgers manager and future Hall of Famer Joe Torre. Thirty-two years had gone by in a hurry for Schaefer who celebrates his 64th birthday on May 22.

Schaefer's odyssey in professional baseball began in the late 1960s when he played three years as a shortstop in the St. Louis Cardinals organization. He progressed as far as high Class A ball and ended his playing career in 1968 at Modesto. He wouldn't don a professional baseball uniform again until 1980, a return to pro ball that he directly attributes to a two-year stint managing the Hyannis Mets in the Cape Cod Baseball League.

Schaefer was born in Putnam, Conn., and graduated from Norwalk High School. He went on to the University of Connecticut, earning his bachelor's degree and starring at shortstop on a fine Huskies baseball team that led the NCAA in home runs and played in the College World Series in 1965.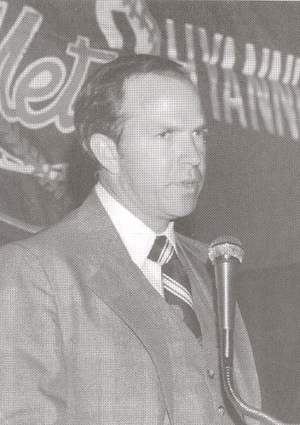 Bob Schaefer with the Hyannis Mets
Photo by Jack Aylmer / 1978
His performance for UConn did not go unnoticed and he was recruited by Sagamore of the Cape Cod Baseball League, where he helped lead the Canalmen to the league championship under first-year manager Lou Lamoriello. No Bourne-based team has won a Cape League championship since.

Schaefer was drafted by the Cardinals the following spring.

After leaving pro ball, Schaefer returned to Storrs, Conn., to work on his master's degree in physical education, which he received in 1970. "I thought my future was more in coaching and teaching than in playing," he said. "I was determined to get to the big leagues and felt that if I went back and learned how to coach and teach a little, I might make it."

He took a high school job, coaching at Ledyard (Conn.) High School from 1968 until 1980. During that period, he was also hired to manage his old Cape League team, which by then had become the Bourne Canalmen. But after two seasons, the team folded. "The Bourne situation wasn't very good at that time," Schaefer recalled. "We had very little support and they finally had to fold and I was out of a job."

In 1978, Jack Aylmer a founder of the Hyannis Mets, offered Schaefer another chance at managing, and this time his career took off. "I think some people thought I was just a high school coach and they wanted a more high-profile coach from the college ranks," said Schaefer. "Jack believed in me and convinced the rest of the people that I could do the job, so I really owe it all to Jack Aylmer. We had a great organization."

Schaefer managed the Mets to back-to-back Cape League championships. His 1979 team set a league record for highest batting average (.314), most runs scored (348), and total bases (724) while winning 33 games, a league record that still stands. Two of Schaefer's Hyannis players -- Ross Jones and Ron Perry Jr. – went on to be inducted into the Cape Cod Baseball League Hall of Fame, an honor that would be bestowed upon Schaefer himself 28 years later.

Schafer's background in education and working with young baseball players had served him well. He was an excellent teacher and a very efficient organizer. His talents were evident -- so much so that he was approached by Jack Butterfield, director of player personnel for the New York Yankees.

"After my first year in Hyannis, Butterfield offered me a job as a minor league coach with the Yankees. I told him I would be interested in a managing job, but I would rather manage in the Cape League than be a coach in the minor leagues."

The following year, 1980, Butterfield offered Schaefer a job as manager of the Yankees' Class A affiliate in Greensboro, N.C. Although giving up a life in education was a difficult decision for Schaefer, he jumped at the chance. "I knew I didn't want to coach at the high school level for the rest of my life, and my goal had always been to get to the major leagues," he said.

In his first year at Greensboro, one of his players was Don Mattingly. "After I left the Yankees, Don and I stayed in touch. We talked about hitting and the whole game. We would go out after games when I was with Kansas City and Oakland and we played in New York. We always felt we would work together again." Schaefer was very successful in his two years in the Yankee organization, winning the pennant each year and winning the South Atlantic League Manager of the Year award in both 1980 and 1981.

There appeared to be no room for advancement in the Yankee organization and in 1982 he moved to the New York Mets, becoming third-base coach at Triple-A Tidewater for the 1982 season. However, throughout his career, Schaefer has always held dual positions. He has doubled as an infield coach, outfield coach and hitting instructor, in addition to whatever official position he held within an organization.

For the next five years, Schaefer managed at all levels, working with teams in Jackson, Tidewater, Glens Falls and Memphis. He won another pennant at Tidewater in 1985, and was named the Eastern League Manager of the Year in 1986 while piloting the Glens Falls Tigers. Schaefer had managed seven years in the minor leagues and had earned the respect of many throughout baseball. "I never had a bad job in professional baseball," he says today. "I loved the minor leagues -- except for the money."

His hard work had paid off and in 1988 he was promoted to the Kansas City Royals, serving as their first base coach from 1988 until 1990 and becoming bench coach under manager John Wathan in 1991. Wathan was fired during the season and Schaefer stepped in for one game to manage the Royals to a win. When Hal McRae was brought in to take over the reins, Schaefer returned to his role as bench coach. He spent 1992 as a special assignment scout for the Royals.

In 1993, the native New Englander was offered a job as a special assignment scout for the Boston Red Sox. He did such a fine job in his first year with the Red Sox that he was promoted to director of player development and held that job until 1998.

It was a dream job. Schaefer was essentially in charge of the entire Red Sox minor league operation. "I really enjoyed being in charge of the minor leagues and working with managers, coaches and players on a daily basis," he said. "Over the years, scouting had made me a better coach and coaching made me a better scout. We had a great program with some very good coaches. Twelve of them ended up coaching and two managing in the major leagues."

During the 1988 season. Red Sox general manager Dan Duquette and Schaefer ran into some differences of opinion and Schaefer was cut loose.

He spent the next three years with the Baltimore Orioles as a special assistant to the general manager before returning to the Royals as bench coach once again in 2002. He served in this capacity through 2005 when manager Tony Pena resigned during the season.

Once again, Schaefer was asked to step in to run the Royals. Schaefer was very loyal to Pena and understood the pressures of managing. In a press conference after being named interim manager, he lauded his former boss: "Tony Pena did a lot for this organization that the average person doesn't know about ... Tony was a father to some of these guys, a big brother to a lot of other guys. That's what this game is all about. A lot of young rookies broke in that couldn't have broken in with too many managers. I'm going to miss Tony," he concluded.

This time, Schaefer's fill-in stint lasted 17 games with the Royals going 5-12 before Buddy Bell was named manager.

During the 2005 off-season, Schaefer was invited back to his alma mater and received the Distinguished Alumni Award from the University of Connecticut.

In 2006, Schaefer served once again as a special assistant to the general manager, this time with the Atlanta Braves. In 2007, he was the bench coach for the Oakland A's under manager Bob Geren.

During the fall of 2007, the Cape Cod Baseball League contacted Schaefer to inform him that he had been elected to the league's Hall of Fame. He traveled to Chatham for the ceremony and was inducted on Nov. 3.

"When I got the call, it certainly was a tremendous thrill to be included with such an elite group. The Cape League meant so much to me and my career and now to be in the Hall of Fame is a special honor," he said.

Schaefer asked Aylmer to be his presenter at the Hall of Fame ceremony. Aylmer recalls that, "Bob got into the Hall of Fame really for two reasons. First was his unbelievable tenure as manager of the Mets, where the team set all sorts of records. The second was for his dedication to the struggling Bourne team in the early 1970s. They ended up switching fields during both seasons and the team was really struggling. Bob never gave up and stayed with it until the end. It would have been a hardship on the league had the Bourne team dropped out during the season, leaving an odd number of teams. What Bob did for the league during those two years can't be underestimated and it was one of the reasons I wanted him so badly to run the Mets when the chance came up. He's a top-notch person."

While on the Cape for the Hall of Fame ceremony, Schaefer had a few phone conversations with his old Yankee friend, Mattingly, who knew that Schaefer would not be returning to Oakland and was curious about his future plans in baseball.

After Mattingly was bypassed as Joe Torre's successor as Yankees manager for the 2008 season, he decided he would join Torre, who had been hired to manage the Dodgers. One of the first suggestions he made to Torre was to take advantage of Schaefer's experience and organizational abilities and bring him aboard.

Torre called Schaefer and invited him to New York for an interview. "Two days later, I flew to New York to meet with Joe," Schaefer recalled. "We never really knew each other before, even though I coached against his teams for a few years. After about 10 minutes of conversation, I felt like I had known him my whole life. We had a lot of mutual friends and I just liked his philosophy of what it took to win, and I guess he liked mine also."

A couple of days later, Dodgers general manager Ned Colletti called and offered Schaefer the job as Dodgers bench coach. Schaefer accepted the job after promising his wife Betty that Florida would still be their home. "We're East Coast people," Betty Schaefer said. "He's elated to have the chance to work with Joe and Don. We had some tough years in Kansas City because he loves baseball but hates losing."

Torre put Schaefer in charge of organizing spring training. "The job of major league manager today is so complex with all the distractions with the media and all that, so you need someone to keeps things organized and running smoothly," Schaefer explained.

In addition to helping to organize the team, Schaefer also coaches the outfielders, studies scouting reports and match-ups, and serves as a sounding board for Torre on strategy during the games.

Not many people make it to a major league dugout as a coach or manager after getting their coaching start in high school baseball, but Schaefer is one of those fortunate few who accomplished exactly that. During 32 years in professional baseball, including three years as a minor league player, Schaefer has worked for 10 organizations -- the Cardinals, Yankees, Mets, Tigers, Royals, Red Sox, Orioles, Braves, Athletics and Dodgers.

After landing the Los Angeles job, Schaefer stated, "This is the cherry on top of the sundae. I've had a lot of good jobs in baseball, but this is the best one so far."

Life in baseball has been very good to Bob Schaefer.
By Bill Watson
CCBL Public Relations Staff