League News
01/13/2009 8:51 AM
Article By:
Brewster Selects West Coast
Pitching Coach Tom Myers
As New Manager for Whitecaps
BREWSTER, Mass. – Thomas Myers, pitching coach and recruiting coordinator at the University of California at Santa Barbara, is the new manager of the Cape Cod Baseball League's Brewster Whitecaps. Myers succeeds Bob Macaluso, Whitecaps manager from 2002 through 2008.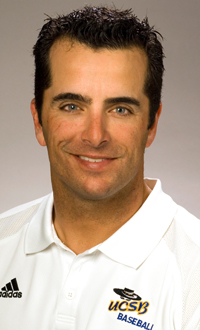 Tom Myers
photo / Sports Information Office UCSB
Myers is in his eighth season in his current role after spending four seasons on the Gauchos' coaching staff from 1998 to 2001. His other duties include academic affairs, fund-raising and Gaucho Baseball Camp development. Prior to returning to UCSB, Myers spent three seasons in the West Coast Conference as pitching coach at Santa Clara University.

Myer said he considers the Brewster job to be "an honor and a great opportunity to be surrounded by the best collegiate players and coaches in the country." He said, "My goal is to provide an experience for the players and my staff that will benefit them with their development on and off the baseball field."

Myers is considered one of college baseball's outstanding recruiters as well as a very successful developer of young pitchers.

Three of his hurlers received MLB contract offers after the 2008 season (Chuck Huggins - second time drafted as a Gaucho, Toronto Blue Jays; Jason Roenicke, Toronto Blue Jays, and Kyle Brown, Seattle Mariners). In addition, sophomore pitcher Mike Ford earned Second Team All-Big West honors as did Mike Martin while freshman pitcher Mario Hollands received Freshman Big West Pitcher of the Year. Hollands also garnered Freshman All-America honors from Collegiate Baseball and Louisville Slugger. The Gaucho pitching staff was ranked 61st in the country in team ERA.

As pitching coach for the Santa Clara Broncos from 2002-2004, Myers was instrumental in shaping two recruiting classes that ranked in the top 15 in the country according to Baseball America. The 2003 Bronco pitching staff finished second in the WCC in several pitching categories. During his time at Santa Clara, Myers coached three All-America pitchers and eight Bronco hurlers signed professional contracts.

The 2001 UCSB pitching staff assembled by Myers is considered one of the best in the program's history. The staff maintained a 3.96 team ERA during the regular season en route to an NCAA Regional appearance and a 40-17 overall record. The staff had three pitchers selected in the MLB first-year amateur draft, Jim Bullard (seventh round, Chicago White Sox), Jamie Gonzalez (18th round, Detroit Tigers) and Rylie Ogle (32nd round, New York Mets).

From 1998-2007, Myers has overseen 29 pitchers who have signed professional contracts. Including 23 who had never been drafted prior to their tenure with Myers. Ten pitchers have garnered All-Conference honors in the Big West and West Coast Conference and seven have been named All-Americas. Myers has worked with a total of 51 players who have been drafted or have signed pro contracts.

Last summer, Myers managed in the Alaskan League, where he guided the Kenai Peninsula Oilers to a 33-19 overall record and took the team to a ninth-place finish in the National Baseball Congress World Series in Wichita, Kansas. Under Myers' tutelage right-hander Joe Gardner earned Alaskan League co-Pitcher of the Year honors and was rated the fifth-best prospect in the league according to "Perfect Game." In 2007, Myers was pitching coach for the California Collegiate League champion Santa Barbara Foresters. The Foresters finished fourth in the country in the 2007 NBC World Series.

Myers was an All-Big West selection in his only season as a UCSB player, winning 10 games and saving three in 24 appearances. Myers joined UC Santa Barbara for his senior season after two years playing for Barry Woodhead at San Jose City College and one year playing for Jerry Kindall at the University of Arizona. Following his senior year at UCSB, Myers was selected by the Oakland Athletics in the 1991 first-year amateur draft. Myers spent 5 1/2 seasons playing professional baseball in the Oakland A's, Baltimore Orioles and St. Louis Cardinals organizations.

In 1997, Myers began his coaching career at Porterville Junior College. In the summer of 1998, he served as player-coach in the Dutch Professional League in Haarlem, Holland, and in 1999 he was an envoy coach for Major League Baseball International in Wavre, Belgium.

A graduate of Archbishop Mitty School in San Jose, Calif., Myers earned his BA in history from UCSB and his MA in physical education from Azusa Pacific. Myers resides in Santa Barbara with his 4-year-old daughter, Lauren.

Meanwhile, a former Whitecaps coach has been named manager of the Brockton Rox. Chris Carminucci was as assistant on Macaluso's staff several years ago. The Can-Am League's Manager of the Year in 2007 with the Atlantic City Surf spent last season as that team's president. He succeeds Chris Myake, who was fired by the Rox after a disappointing 2008 season.

Carminucci was a four-year starter at LaGrange College in Georgia, where he played third base and led the team in hitting in both his junior and senior years. In 1995, he was named team MVP and Georgia Intercollegiate Athletic Conference Player of the Year. Following graduation, he played four years in baseball's minor leagues. He has also worked as a scout for the Kansas City Royals and Philadelphia Phillies.

Joe Sherman, CCBL Public Relations Staff ([email protected])