League News
02/22/2009 8:55 AM
Article By:
Ex-Orleans Cardinal Star Wieters
Is Being Groomed by Baltimore
As No. 1 Catcher in Near Future
FT. LAUDERDALE, Fla. -- Spring is just around the corner. The air is milder. The snow is melting. The days seem to last a little bit longer. And while most birds are returning north from their warm winter getaways, a different flock of birds traveled south to Ft. Lauderdale on Feb. 14 to prepare themselves for the 2009 Major League Baseball season. The Baltimore Orioles' spring training camp is under way, and among those in attendance is former Orleans Cardinals catching phenom Matt Wieters.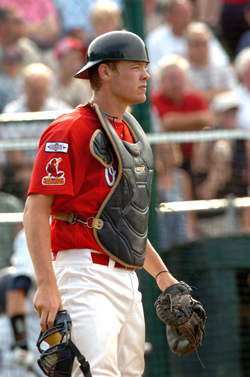 Matt Wieters, Orleans Cardinals
SportsPix 2006
"I'm definitely excited. Spring training is the first real stint," said Wieters. "Baseball season is under way."

Baltimore selected Wieters with the fifth overall pick in the first round of the 2007 MLB amateur draft. A client of super-agent Scott Boras, he accepted a $6-million bonus just ahead of the August 2007 signing deadline. After spending a season in Baltimore's farm system, splitting time between the Bowie Baysox (Class A) and the Frederick Keys (Class AA), Wieters' talent matched the expectations. His average for the season was .355 with 27 home runs and 91 RBI. Baseball America named him the 2008 Minor League Player of the Year. So what is it that makes Matt Wieters so special?

"I really enjoy this game and I love learning about it, "said Wieters when asked abut his best attribute as a player. "My knowledge gives me my biggest advantage. I just try to learn from people and learn what the game is about."

According to seasoned scouts, Wieters possesses rare talent at a position generally regarded as the most difficult in the sport. Wieters is also a switch hitter, which makes him an invaluable offensive player, and at 6-foot-5 and 230 pounds, his size allows him to be a power hitter – one many teams would love to have in the middle of their lineup.

Wieters has even spent some time on the mound. In his three years at Georgia Tech, he had the opportunity to serve as a right-handed closer briefly in his junior year, recording seven saves during the 2006 season.

"In college, I was able to pitch a bit," said Wieters. "As a catcher, it helps you understand a little bit what the pitcher might be thinking in certain situations."

Being on the mound has only strengthened Wieters' game behind the plate. Finding a good catcher is no easy feat in the game of baseball. Every year in the MLB draft, there seems to be a shortage of catching prospects.

"It is a very tough position," explained Wieters. "(When I was) growing up, not too many kids wanted to put the gear on and get behind the plate. It starts at a young age and grows with you."

In the summer of 2006, Wieters arrived on Cape Cod to play for the Orleans Cardinals. Batting .307 with eight home runs and 21 RBI, he was named a member of the Cape Cod Baseball League's All-League Team. He also received the Robert. A. McNeece Award as the Most Outstanding Pro Prospect, an award that had previously been won by big leaguers Todd Helton and fellow Georgia Tech product Nomar Garciaparra.

It wasn't just awards, however, that the Cape League gave to Wieters.

"It helped my perseverance," the 22-year-old explained. "Perseverance is so big up there. That's the first time you get to play every day. Working during the day and playing at night, there are days you feel tired, but you just have to keep on playing. It feels like a minor league season."

While in Orleans, Wieters worked at the Orleans Cardinals Baseball Camp during the day. Mornings were spent assisting aspiring baseball players, while the nights were for games. Like most players, he had a host family, Ed and Sarah Wilcox of Eastham and their two children, and still maintains a close relationship to this day.

"They came to my wedding in December. It was great to see them and we will definitely keep in touch through the season," said Wieters.

The Cape League has been the summer home for countless numbers of baseball superstars over the decades. One of those is Boston Red Sox catcher and Cape League Hall of Famer Jason Varitek, who played for the Hyannis Mets in the early 1990s. There are many similarities between Varitek and Wieters. Both are switch hitters. Both showcase great leadership. Both attended Georgia Tech. Wieters aspires to emulate Varitek.

"He's been with the Sox for so long," said Wieters, "The way he's been able to lead as a catcher to championships is amazing. The goal is to be a leader and he does it better than anybody else in the game right now."

Incidentally, Wieters, Varitek and Garciaparra – all of whom starred on Cape League diamonds – are the only Georgia Tech players to earn back-to-back, first-team All-America honors
Wieters is one of the youngest Birds in the nest at Orioles' spring training, but he is not entirely alone. Baltimore has a lot of young talent, such as Adam Jones and Nick Markakis, that will help mentor Wieters along the way.

"There's a nucleus building here," said Wieters. "To have Jonesy and Markakis here to help me will help my success down the road. They have been there, and I can learn so much from them."

Baltimore's tentative goal with Wieters is to get him through spring training healthy and send him to Triple-A Norfolk to start the season. The Orioles then hope to call him up to the majors right before the All-Star break to contend in the toughest division in the game – the American League East. But Matt Wieters isn't scared.

"Every series is going to be a battle," said Wieters. "Competition is always going to make you better and the other teams in the AL East better … You can't really have fears. Other things in life should be more fearful. You just have to go out there and have fun."

Wieters is the consensus top prospect in baseball. Everybody is talking about him. He compares most favorably to Twins' all-star receiver, Joe Mauer. At 22 years old, some young men in baseball could quite possibly crack under all the pressure and build up put on their shoulders. However, he feels the pressure from a different angle.

"You put the most pressure on yourself. I have expectations of what I believe I can do," said Wieters. "Pressure from other people should be lower than the pressure you put on yourself … My goal is to stay healthy and to get ready to play the most games in the long season."
With spring training well under way, Matt Wieters is certainly making a big impression in the MLB scene at a young age. If he continues to grow as a player and continues down the fast track that he has embarked upon, the early bird will most definitely be getting his worm in the foreseeable future.
By Katy Fitzpatrick (Cape Cod Baseball League)